Taipei Watcher: Learning from the US ruling
With only one legislative session remaining before next year's election, time is running out to pass a marriage equality bill
The lesbian, gay, bisexual and transgender (LGBT) community was ecstatic after the US Supreme Court issued a historic ruling supporting marriage equality last month. Rainbows quickly swept across social media, as an estimated 26 million Facebook users changed their profile pictures with a rainbow filter, turning colorful pictures into powerful statements.
Taiwan's three presidential candidates also praised the landmark ruling. Independent presidential candidate Shih Ming-te (施明德) expressed his full support, promising to legalize same-sex marriage if he is elected president next year, while Chinese Nationalist Party (KMT) presidential candidate Hung Hsiu-chu (洪秀柱) and Democratic Progressive Party (DPP) presidential candidate Tsai Ing-wen (蔡英文) didn't make any concrete commitments.
"The ruling shows respect for differences in US society... With more dialogue and communication, true equality will come someday," Hung said.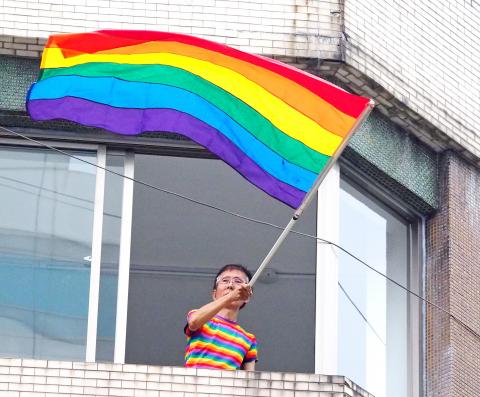 Gay rights pioneer Chi Chia-wei waves a rainbow flag during a rally calling for the legalization of same-sex marriage in Taipei on July 11.
Photo: EPA
Tsai's comment was almost identical, stressing that Taiwan should "reduce social division through rational dialogue." Their statements were polite but vague.
GLOBAL IMPACT
The US Supreme Court's decision had an immediate effect. Puerto Rico signed an executive order requiring government agencies to approve same-sex marriage within 15 days. In conservative Turkey, many LGBTs bravely stood out in downtown Istanbul to fight for equal rights, despite the police's brutal attempt to clear the rally with water cannons, tear gas and dummy bullets. In India, Minister of Law and Justice DV Sadananda Gowda hinted that his country might scrap a law that criminalizes gay sex.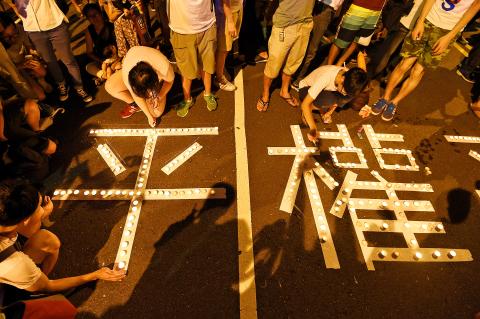 Protesters spell Chinese characters pingquan ("equal rights") with candles in front of the Legislative Yuan at the end of a rally organized by the Taiwan Alliance to Promote Civil Partnership Rights on July 11.
Photo: Chen Chih-chu, Taipei Times
The Taiwan Alliance to Promote Civil Partnership Rights (TAPCPR, 伴侶盟), meanwhile, organized March: Let's Walk to Marriage Equality (為婚姻平權而走), a rally that took place in Taipei on July 11. The alliance called on the KMT and DPP to amend the Civil Code (民法) for marriage equality and put it on the legislative agenda for review.
Thousands of protesters shouted "gay votes are also votes" as they marched between the Legislative Yuan and the headquarters of the two major parties. It was an emotional moment when gay rights pioneer Chi Chia-wei (祁家威) appeared at the march waving a rainbow flag. Chi launched Taiwan's gay rights movement in 1986 when the court rejected his marriage to his same-sex partner.
The alliance originally planned to hold the rally on July 4, but postponed it out of sympathy for the victims of the inferno at New Taipei City's Formosa Fun Coast (八仙樂園), in which nearly 500 people were injured or killed. It also raised money for the victims at the march.
PUNISHMENT FROM GOD?
Fundamentalist Christians, unsurprisingly, wasted no time linking the Formosa Fun Coast disaster with the US ruling.
"After the US legalized same-sex marriage, people changed their profile pictures to rainbow-colored on Facebook. Then the 'color party' burned like hell. The connection between them deserves further consideration," Wang Kai-lun (王凱倫), a pastor at a Taichung church, wrote on his Facebook page.
Wang later told the Chinese-language Apple Daily that it was his "personal opinion," not his church's.
Before Wang deleted his controversial post, more than 100 netizens clicked the "like" buttom to show their support. One netizen even echoed Wang by claiming that, through the blaze, "God was showing his wrath to make his power known."
I remember that when I went to the Bible class in my childhood, I always learned about Jesus' unconditional love. Were these Christians reading a Bible that I don't know of? Or are they pretending to be God?
LEGAL PROTECTION NEEDED
The water park fire has highlighted the necessity of legal protection for same-sex couples. The day after the tragedy, a National Taiwan University (NTU) alumnus wrote on NTU Coming Out (出櫃台大), an online forum, that his same-sex partner was injured in the fire, but he wasn't allowed to visit his partner because they weren't married.
"The nurses at the hospital denied my visitation in a tactful but resolute way, and I do not blame them," the man wrote, adding "I've removed my rainbow-colored profile picture on Facebook. The rainbow on my picture was beautiful, but right now, I just do not see any color in the world," he wrote.
TIME'S RUNNING OUT
This case suggests that more needs to be done about equal marriage rights. But the time for passing legislation is running out. Citing Article 13 of the Act Governing the Legislature's Exercise of Power (立法院職權行使法), TAPCPR says that although the draft bill regarding marriage equality cleared its first reading in 2013, it will become invalid if it cannot pass a second and third reading during the legislative session starting September. If that happens, the LGBT community's efforts will have been in vain, and they will have to start all over again.
The Chinese-language China Times recently conducted an opinion poll on marriage equality in Taiwan, and 70,162 people (or 50.7 percent) voted to support it. Like the results of various opinion polls in recent years, the latest survey proved once again that support for marriage equality has already become the mainstream opinion.
As the current legislature enters its last legislative session, Taipei Watcher would like to call on the ruling and opposition parties to replace empty talk with concrete action. Let's learn from the US ruling and put the draft bill that has been delayed for 30 years on the legislative agenda now.
Meanwhile, after the Taipei City Government announced last month the inclusion of same-sex couples in the city's public mass weddings, the city said Thursday that it plans to seek a "constitutional interpretation" on whether the Civil Code violates the Constitution by restricting marriage to straight couples only. But such an attempt at the moment may be risky, because some grand justices are said to be unfriendly to the LGBT community, a topic I will discuss in next month's column.
Comments will be moderated. Keep comments relevant to the article. Remarks containing abusive and obscene language, personal attacks of any kind or promotion will be removed and the user banned. Final decision will be at the discretion of the Taipei Times.