In pursuit of independence
An artist with Asperger's syndrome returns to Taiwan to pursue his art career and learn to be self sufficient
While Alex McGregor may have trouble understanding concepts, reading between the lines or socializing with people, he can tell you exactly what day of the week you were born a mere second after learning your birthdate.
Alex, 18, has Asperger's syndrome, an autism spectrum disorder that is on the high functioning end. But he doesn't let the condition limit him. He has a full-time job at a restaurant, lives in his own apartment and is a budding artist.
Half Taiwanese and half Australian, Alex moved back to Taiwan in April to pursue his art career and independence after spending junior high and high school in Sydney.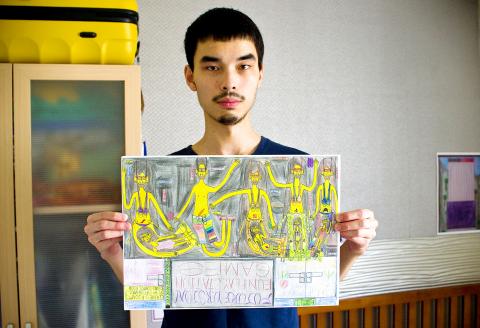 Alex McGregor displays one of his recent color pencil drawings in his apartment.
Photo: Han Cheung, Taipei Times
STRUGGLING TO FIT IN
Alex, who was diagnosed at 18 months, didn't start speaking until he was four, says his father Michael, whom he calls "Mr Mike." In school, Alex enrolled in special education classes. He had trouble learning concepts and ideas, but he is brilliant at math — in part because of his photographic memory.
Higher-functioning autistic people are usually aware of their differences — often painfully. But that awareness also propels them to try and change to be more integrated into society.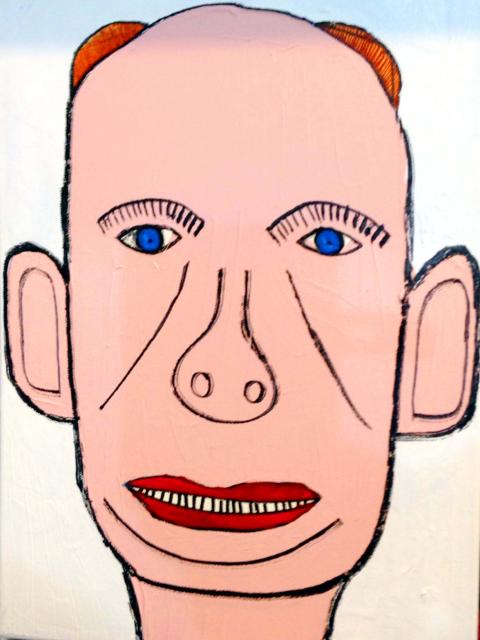 Peter.
Photo courtesy of Alexander McGregor
While Alex is now calmer and has a better idea of what behavior is socially unacceptable, he still has problems socializing.
"He wants to be like everyone else," Michael says. "He doesn't have friends. He finds it hard."
"I'd like to get rid of it," Alex says. "I hate being lonely."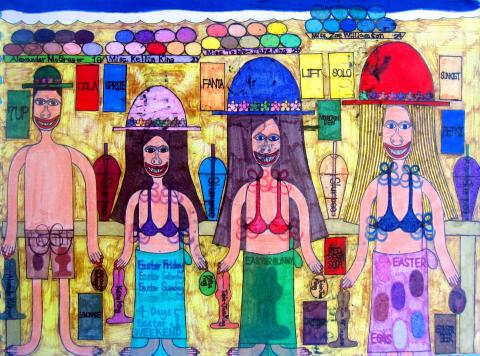 Easter Party.
Photo courtesy of Alexander McGregor
Like many autistic people, Alex has narrow but intense interests. For example, he knows every Sydney train station and their timetables. But he also understands that talking too much about them would prevent himself from making friends.
Michael said he's been encouraging Alex to read, write, watch TV and listen to radio.
"To make new friends he has to expand his interests," he says.
NEW LIFE IN TAIWAN
Michael says Alex came to Taiwan because there are more opportunities to practice being independent.
"In Australia, they get a disability pension but every time you want to do something you have to go through disability services," he says. "He didn't like that."
Early this year, Alex's autism teacher, who has been working with him since he was a small child, arranged for Alex to do a trial run working at a restaurant in Taipei. He washed dishes, counted dumplings, took out the garbage and set boxes.
"He passed," Michael says. "He was accepted for a paid job without volunteering or going through disability services. The boss was patient, and the people were patient. In Australia, he couldn't ever have an opportunity like that."
Michael said at first Alex had problems calming down, often talking or daydreaming too much. But now he's improved.
Esther Liu (劉曉玟), who also works at the restaurant, is a friend of Alex's teacher and has known him since he was in third grade.
"He's improved a lot at work, step by step," she says, adding that his overall social skills have gotten much better since he was a child.
"When he was little, he would keep asking the same questions," she says. "Now he won't focus so much on one point. He knows how to turn."
The next hurdle is seeing if Alex can attend college.
"In Australia, he couldn't do a proper schooling and didn't take exams," Michael said. "He can't do them except for math. So he graduated, but he has no scores so he couldn't go to college."
Alex will start adult education summer classes in National Taiwan Normal University (國立師範大學) this summer to "see if he can do it."
COLORFUL ARTWORK
Alex's apartment is exceptionally clean. He likes things neat and ordered, and doesn't like his things being touched or moved. On his desk, next to a box of color pencils, is his latest creation.
It's a colorful scene with a group of people, all with the same faces, all smiles. They seem to be enjoying their time, drinking a variety of labeled juices. Alex's work is cartoonish, and operates on a flat, two-dimensional basis. But, that doesn't mean they lack depth. Some of his paintings have layers and layers of patterns, text and objects — all brought to life with a his brilliant palette, unique compositions and a subtle yet meticulous attention to detail.
His subjects are often people he knows, and are often set in places he's been, but everything has been reconstructed through his eyes. The pieces are mostly named after people, places and events. He has a book of paintings that chronicle a road trip from Sydney to Perth. There are whimsical elements, though — the way a subjects' legs curve, people depicted on garments people are wearing and the existence of a 1,000,000,000,000-channel future news.
While he is currently working in color pencil, he also paints in acrylic. Having started painting at age 15, Alex has entered a variety of competitions in Australia and won a number of awards, most recently the Hornsby Art Prize and Waverly Art Prize, all claimed last year.
Some of his posters are on display at Dv8, a bar in Taipei.
In 2013, he participated in The Sight Project, a workshop for artists with disabilities, culminating in an exhibition.
Alex is also an avid blogger and sells T-shirts with his paintings on them online.
Many people with Aspergers have trouble settling down and often suffer from anxiety. Art is calming for Alex, who says it makes him happy. He hopes to develop his craft, gain exposure and make a living off his art one day.
"I want to open my own business and go worldwide," he says.
For more information, visit Alex's T-shirt site at www.postatee.com/00000850 and his blog at funnylittledetails.blogspot.tw. His Facebook is www.facebook.com/ampdym.
Comments will be moderated. Keep comments relevant to the article. Remarks containing abusive and obscene language, personal attacks of any kind or promotion will be removed and the user banned. Final decision will be at the discretion of the Taipei Times.