The Vinyl Word
At the end of 2011 and the first half of 2012, Jay-Z and Kanye West preformed together for the Watch the Throne tour, supporting their album of the same name. One of the many highlights of the shows was when they played their big hit, Niggas in Paris, repeatedly at the end. At first, these hip-hop heavyweights played the song three times in a row to great effect, but the crowds still wanted more. In Miami, they played it five times. In Boston, they played it six times. By the time they got to Los Angeles, the crowds wanted to break the other venues' records, so they ended up playing the song 10 times. Fittingly, when the tour hit the capital of France, Jay-Z and West preformed it 12 times, taking up 40 minutes of concert time.
Last Saturday at the Color Play party at the Formosa Fun Coast in New Taipei City, DJ Alyshia L (阿莉殺), along with hypemen Sonic and KZ, played Paris only once, but it was during that track when the powder made from corn starch exploded and literally caught the dance floor, and with that nearly 500 people, on fire.
In the song, West raps, "That shit cray [crazy]" over and over. Watching the video of hundreds of people going from having the time of their lives to battling to save their own and their friends' lives is one of the scariest things I have ever seen. That shit crazy, indeed.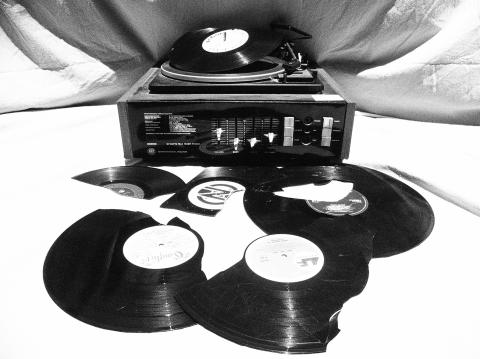 The anti-DJ, Clinton Green, is in Taiwan for two weeks starting today.
Photo courtesy of Clinton Green
THE ANTI-DJ
Have you ever wondered what pieces of vinyl, bottle caps, nails, rocks, a set of keys, or door hinges sound like when they are played on a turntable? Australian experimental musician and performer Clinton Green has, and under his alter ego, Undecisive God, has put them up on YouTube for everyone to see. Green will be in Taiwan today through July 12 giving workshops in experimental sounds as well as preforming with his group Moe Chee (默契).
Green started off his musical journey in the early 1990s playing in punk bands, but soon he became interested in non-traditional sounds like ambient, drone and noise music. From then on, he tried to find new, experimental ways to play his guitar and make recordings under the name Undescisive God.
Some time in 2007, Green came to the end of his interest in guitars and wanted a new challenge, so he started toying around with turntables. Instead of getting into deejaying or turntablism, Green wanted to try something new to see what would happen, so he started playing shards of records as well as other objects on turntables at different speeds to experience the unpredictable loops of different music.
"I focused more on the turntables and vinyl itself, playing multiple turntables simultaneously and writing compositions that dictated when to change the speed on each turntable, with the chaos of the vinyl shards an unpredictable element within the compositional structure," Green said in an e-mail interview. "I was doing some research on the history of experimental music at the time, and was very interested in some of the concepts behind experimental music. I think in retrospect I was trying out some of these ideas for myself, like the role of chance in composition and trying to find new sounds and new ways of doing things that weren't necessarily virtuosic."
Green is in Taiwan for two weeks and will be doing two solo workshops and three performances with his partner in Moe Chee, Liu Chun-liang (劉純良).
For more information about Clinton Green, go to clintongreenmusic.com. For more information on Moe Chee, go to MoeChee.com. For detailed information about Green's two weeks in Taiwan go to tinyurl.com/pjfcw7j.
Green's two workshops are If It Ain't Broke…Break It is today beginning at 3pm at DigiLog, 36, Lane 58, Guangfu S Rd, Taipei City (台北市光復南路58巷36號). Admission is free but registration is required. The second workshop is titled Listen and is July 12 from 7:30pm to 10pm at Murder Ink bookshop, 11, Lane 162, Nanjing W Rd, Taipei City (台北市南京西路262巷11號). Admission is NT$500 and you can register at tinyurl.com/pjxnbd6.
The three Moe Chee performances are Thursday at 182artspace (么八 二空間) starting at 7pm, 182, Xinmei St, Tainan City (台南市新美街182號). Admission is free. July 10 at Ruh Cafe (路人咖啡) starting at 3pm, 217 Siwei 3rd Rd, Kaohsiung City (高雄市四維三路217號). Admission is free. July 12 starting at 7pm at the Lacking Sound Festival at the Minquan District Activity Center, 43, Sec 5, Minquan E Rd, Taipei City (台北市民權東路5段43號). Admission is NT$300.
Comments will be moderated. Keep comments relevant to the article. Remarks containing abusive and obscene language, personal attacks of any kind or promotion will be removed and the user banned. Final decision will be at the discretion of the Taipei Times.