A different kind of dojo
Instead of martial arts, CoderDojo Taipei aims to teach the country's youth about computer programming
Gone are the days of the illegible strings of numbers, letters and symbols running across your monitor. Computer programming, which in the past was reserved for the brilliant minded, is now made easy with intuitive programs where users can click on buttons to automatically generate code.
Simple, colorful platforms such as Scratch and Blockly have enabled even young children to code and create video games.
Now, there are global movements like Hour of Code and CoderDojo that create opportunities for young people to learn computer programming. CoderDojo reached Taipei on May 31 when a few programmers set up a free Scratch workshop at Taipei Hackerspace for those between the ages of seven and 17. The class takes place every two weeks, with the next one on Sunday. The beginner class starts at 10am and the advanced class starts at 2pm. Space is limited, and online reservations are required.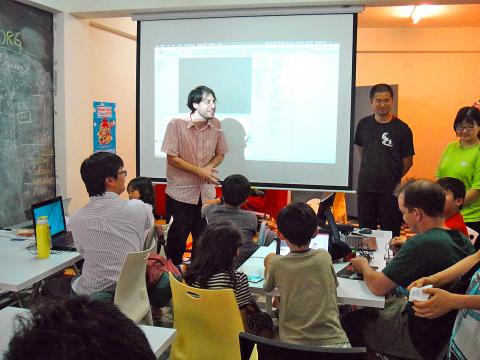 The first CoderDojo Taipei in May.
Photo courtesy of CoderDojo Taipei
Organizer and instructor Vincent Cantin says he and a few other people had already been thinking of teaching children computer science when someone posted on the CoderDojo Web site asking if anybody was willing to host one in Taipei.
After the first event, Cantin divided the students into two sessions due to the disparity among their skill levels.
The second event saw several returnees — one of whom even brought a friend. The students created a "rock, paper, scissors" game — the beginner group made a straightforward version while the advanced group created one where players accumulated points through multiple matches.
The classes are laid back, with having fun as the main goal. Cantin says students are encouraged to learn on their own pace and suggest topics for the next sessions. They also share their work on the CoderDojo Facebook page.
Cantin says computer programming is a skill as well as a means of self-expression.
"It also prepares kids to better understand what a computer is, what it can and cannot do and how to make it do what they want," he says, noting that today's youth should not only learn to use computers but control them.
While there is a strong software engineering culture in Taiwan among adults, many children don't have the resources to explore the subject or socialize with like-minded individuals.
Cantin wants the event to become a club where children "will not only learn how to program, but also where they can develop their sense of creation, self-initiative and interpersonal communication."
With the number of volunteers growing, he hopes that he can eventually expand the classes and also help others organize events.
Publication Notes
Event Notes
What: CoderDojo Taipei Where: Taipei Hackerspace (台北創客空間), 4F, 26, Ln 133, Taiyuan Rd, Taipei City (台北市太原路133巷26號4樓) When: 10am to 12 pm beginners, 2pm to 4pm advanced Details: Class is taught in English, but translators are available. Students under 14 years old must be accompanied by an adult. On the Net: To reserve a spot, visit coder-dojo-taipei.kktix.cc
Comments will be moderated. Keep comments relevant to the article. Remarks containing abusive and obscene language, personal attacks of any kind or promotion will be removed and the user banned. Final decision will be at the discretion of the Taipei Times.