Passion and death stalk the National Theater
The Russian State Opera of Ekaterinburg has returned to Taipei with two classic operatic blood-soaked tales
Yekaterinburg, in the heart of Ural Mountains, is Russia's fourth-largest city. It may be far from the cultural centers of Moscow and St Petersburg, but it boasts one of the oldest opera companies in the nation.
The Russian State Opera of Ekaterinburg (an alternative spelling of Yekaterinburg) traces its history back to a musical society formed by city residents in 1874 that staged opera productions, although it took more than three more decades for the city's opera house to be built. The New City Theater held its first season in 1912 and within a decade, it began to develop not only a provincial reputation, but a national one.
As with many Russian opera and ballet companies, the Ekaterinburg troupe has looked to Asia to expand its international presence over the past decade or so, becoming a frequent visitor to Bangkok and elsewhere in the region.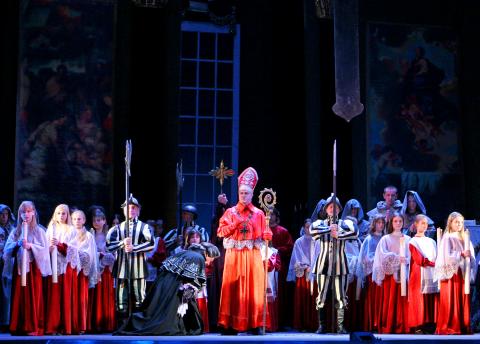 The Russian State Opera of Ekaterinburg will perform Giacomo Puccin's Tosca in two shows on Saturday and the Sunday matinee at the National Theater in Taipei.
Photo courtesy of the Russian State Opera of Ekaterinburg
The company appeared in Taipei at the end of December 2011 at the National Theater with its production of Giuseppe Verdi's La Traviata, performing with the 70-member Evergreen Symphony Orchestra (長榮交響樂團).
It is back this week with two offerings, a brand new production of Verdi's Rigoletto that just premiered on March 1 on its home stage, and its 2007 production of Giacomo Puccin's Tosca.
The company opened its six-performance run at the National last night with Rigoletto, with two more performances tonight and tomorrow, and then squeezes in its three Tosca performances on Saturday and Sunday. Both operas run close to three hours.
The Russian State Opera of Ekaterinburg will perform Giuseppe Verdi's Rigoletto tonight and tomorrow at the National Theater in Taipei.
Photo courtesy of the Russian State Opera of Ekaterinburg
The Evergreen Symphony Orchestra has once again been contracted to support the opera company, under the baton of Ekaterinburg's chief conductor, Pavel Klinichev, a 2000 graduate of the Moscow State Conservatory who is also a staff conductor for the Bolshoi Symphony Orchestra.
Unfortunately, given the shortcomings of both the Ekaterinburg company's Web site and that of its local promoter, Kham, there is no information about who will actually be singing the leads in any of the shows or about the new Rigoletto production.
However, I will try to give a brief recap of Rigoletto, which premiered in 1851.
Based on Victor Hugo's play Le roi s'amuse, the opera tells the story of the licentious Duke of Mantua, who tries to seduce almost every woman he sees; Rigoletto, his hunchbacked court jester who often aids the duke in his seductions, and Gilda, Rigoletto's daughter whom he has kept hidden away from the duke.
The duke and his jester are cursed by Count Monterone, whose daughter the duke had previously seduced. Gilda falls in love with a man she meets at a church and thinks is a poor student, but is really the duke in disguise. She is later kidnapped by courtiers who think that she is Rigoletto's mistress, not his daughter. Rigoletto hires an assassin to kill the duke, believing that he seduced his daughter. Gilda ends up sacrificing herself to save the duke, even though she knows that he is not the man she thought he was.
'TOSCA'
There is betrayal and death at the heart of Tosca as well. For those unfamiliar with the storyline, the key is that no one but the audience gets out alive, at least as far as the main characters go. Tosca is famous for being one of classical opera's bloodiest dramas, which is saying something, as well as having one of its most beautiful scores, filled with lovely arias.
The libretto is based on Victorien Sardou's play by the same name and features Floria Tosca, an opera singer and a very jealous woman; Mario Cavaradossi, the painter she loves who is also a rebel sympathizer; and Baron Scarpia, a police chief who will stop at nothing to have his way with Tosca.
The story is set in Rome in 1800. Mario is hiding an escaped prisoner, Cesare Angelotti, who is being sought by the police. Unable to find Angelotti, Scarpia questions Cavaradossi and has him tortured. Scarpia plays on Tosca's jealous nature and tricks her into betraying Cavaradossi. She then promises herself to Scarpia if he will let her lover live and he agrees to help Cavaradossi evade execution.
Spoiler alert: Scarpia lies to Tosca. She ends up stabbing him and the "fake" execution of Cavaradossi proves real. A despairing Tosca then hurls herself off the battlements (operas always seem to have battlements or cliffs, just for such occasions).
Performance notes:
WHAT: Russian State Opera of Ekaterinburg
WHEN: 'Rigoletto' tonight and tomorrow at 7:30pm; 'Tosca' on Saturday at 2:30pm and 7:30pm, Sunday at 2:30pm
WHERE: National Theater (國家戲劇院), 21-1 Zhongshan S Rd, Taipei City (台北市中山南路21-1號)
ADMISSION: NT$600 TO NT$4,800; available at NTCH box offices, online at www.kham.com.tw and at convenience chain store ticketing kiosks. For more information, call 07-7809900.
Comments will be moderated. Keep comments relevant to the article. Remarks containing abusive and obscene language, personal attacks of any kind or promotion will be removed and the user banned. Final decision will be at the discretion of the Taipei Times.