Dancing at technology's edge
As a youngster, Huang Yi dreamed about having a robot companion. Now he has one as a dance partner and creative muse
Dancer/choreographer Huang Yi (黃翊) had not yet been born when the Jackson 5 popularized "The Robot" dance with their 1973 Dancing Machine, which inspired youngsters around the world to dance like clunky robots (few ever achieved Michael Jackson's smoothness of style). However, years later as a youngster growing up in Taiwan, Huang dreamed not only of having a robot as a friend, but dancing with one.
As an adult, he is living out that childhood fantasy, spending hours — hundreds of hours — with an industrial robot that has been both his muse and a dance partner — and is as graceful as he is.
The fruits of those long hours of programming will be on display this weekend, when Huang Yi Studio + presents Huang Yi & KUKA (黃翊與庫卡) at the Cloud Gate Theater in New Taipei City's Tamsui District (淡水).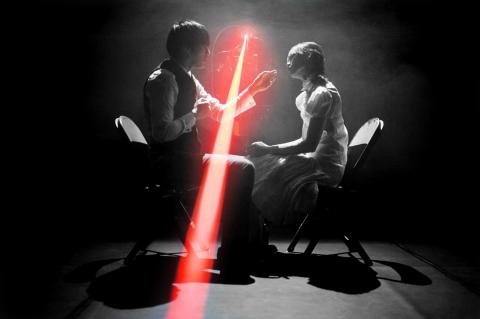 Dancers Hu Chien and Lin Jou-wen will perform alongside choreographer Huang Yi and an industrial robot in Huang Yi & KUKA at the Cloud Gate Theater in Tamsui, New Taipei City, this weekend.
Photo courtesy of Jacob Blinkenstaff
The show is the culmination of a project that Huang began in 2010, which led to a 20-minute duet that he and KUKA performed at the 2013 Ars Electronica in Austria and was then helped enormously by a three-month artistic residency at the 3-Legged Dog Art & Technology Center (3LD) in New York City that he and two dancers, Hu Chien (胡鑑) and Lin Jou-wen (林柔雯), began late last year.
However, Huang's obsession with the intersection of technology and dance began years before, while he was still a student at the Taipei National University of the Arts (TNUA, 國立臺北藝術大學).
The school's dance department is justly proud of Huang, with the teachers noting that he was one of the first to go through the university's seven-year high school-college program, not to mention the masters' of fine arts he earned a few years later.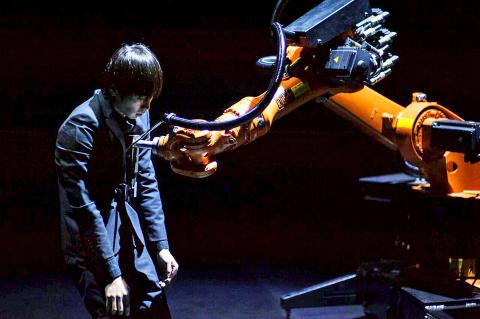 Dancer-choreographer Huang Yi dances with an industrial robot in his Huang Yi & KUKA show, which will be performed at the Cloud Gate Theater in Tamsui, New Taipei City, this weekend.
Photo courtesy of Jacob Blinkenstaff
"I'm a pure [TNUA] product," he joked in a telephone interview on Sunday.
DANCING WITH ROBOTS
Huang used computer programming and other technology in several of his earlier works that he did either on his own or for Cloud Gate 2 (雲門2), including Symphony Project I Violin (機械提琴—交響樂計畫之一), which paired dancers with computer-played violins and won him a Digital Art Performance Award at the Digital Art Festival Taipei, and his Spin series, where he had dancers interacting with and dancing around a video camera mounted on a long crane arm.
Cloud Gate Dance Theatre (雲門) founder and artistic director Lin Hwai-min (林懷民) famously labeled Huang an enfant terrible, although Lin bemoaned his love of technology.
However, thanks to those earlier shows, he was not dismissed out of hand when he contacted Ausberg, Germany-based KUKA AG, a maker of industrial robots, in 2010.
"If I had not done anything with technology, I would not have been able to contact them, but I won first prize in Taipei Digital Art Performance, so I had something to show the company," Huang said.
The company was not sure about his idea of dancing with one of their robots.
"One employee, a Mr. Liao, said that when KUKA is moving, you cannot enter the work area. If you can find a way to dance with KUKA without entering its moving area, then we can loan you a KUKA," Huang said.
"I could not touch it directly, but I could touch using light … it looks like he is touching me, but he is not," Huang said.
"The first year I followed the rules," he added with a laugh.
Huang now longer has to follow those regulations so closely, thanks to sponsorship from the Quanta Arts Foundation (廣藝基金會), which provided him with his own KUKA, although he had to sign a contract that he was responsible for his own safety.
He said he understands the need for caution and he is not going to be reckless about interacting with the robot.
"KUKA is still used in industry; it is really powerful, and if some emergency happens, it won't stop. If someone doesn't know the movement program [it could be dangerous], but I know," he said. "I still use safety limits. Even though it looks really close, I still care about safety."
TIME WITH KUKA
Huang said he has continued to tinker with KUKA and the show since returning from New York City.
"It is slightly different, I changed some positions. Still have some things I can improve … the transitions, but the main parts are still mostly the same," he said.
However, he said the three-month 3LD residency had a major influence on the work.
"There are so many other dancers and performances in New York, you can exchange ideas. Also, the artists at 3LD gave me some ideas. I wanted the dancers to have as much time in New York to explore the city so that they would have new ideas, so they can explore their bodies," he said.
It takes a long time to choreograph for a robot, he said, noting that one-to-two minutes of movement takes 10 to 20 hours of programming.
Huang said he is also tinkering with the stage at the Cloud Gate Theater.
"The space is beautiful, but I have taken off the black marley [a dance flooring], the stage floor is wood, really beautiful. I am also trying to take out some of the curtains so the space looks really wide," he said.
After this weekend's shows, Huang, KUKA and company will head to the US in September for a tour of four university campuses, starting at the University of Maryland, College Park on Sept. 25, plus a trip to New York University's campus in Abu Dhabi in March next year. Then he is going to give KUKA some time off.
"I will put KUKA away for two or three years, then do another version," he said, adding that he has already been working on a project with Berlin-based Japanese sound/video/installation artist Ryoichi Kurokawa called Under the Horizon, which is about the world of shadows.
He said he will showcase that piece at the end of this year, but it will not premiere until 2017.
Performance notes:
WHAT: Huang Yi & KUKA
WHEN: Friday at 8pm, Saturday at 4pm and 8pm, Sunday at 4pm
WHERE: Cloud Gate Theater (淡水雲門劇場), 36, Ln 6, Zhongzheng Rd Sec 1, New Taipei City (新北市中正路一段6巷36號)
ADMISSION: Only seats left are NT$600 and 800 for Friday and Saturday nights; the other shows are sold out. Available at NTCH box offices, online at www.artsticket.com.tw or www.service@cloudgate.org.tw and at convenience store kiosks nationwide. For more information, call (02) 2692-8711.
ADDITIONAL INFORMATION: The Cloud Gate Theater can be reached by the 836 public bus from the Tamsui MRT station. There will be a Q&A session after each show.
This story has been amended to correct the name of Huang Yi's company since it was first published.
Comments will be moderated. Keep comments relevant to the article. Remarks containing abusive and obscene language, personal attacks of any kind or promotion will be removed and the user banned. Final decision will be at the discretion of the Taipei Times.