Boxes and traps
A Spanish choreographer and Dance Forum Taipei prove a winning combination once again, while a Nicaraguan directing a Taiwanese actress and Malaysian actor in a US play turned out a cross-cultural hit
It might seem to be hyperbole to call Dance Forum Taipei's (舞蹈空間) collaboration with Spanish choreographer Marina Mascarell a match made in heaven, but her third production for the company showed that it is the simple truth.
It is like a large animal deep in sleep (沉睡的巨獸), performed at Taipei's Huashan 1914 Culture Park last weekend, proved to be as challenging, stimulating and enjoyable as their first two efforts.
Dance Forum Taipei founder and director Ping Heng (平珩) first asked Mascarell to work with her troupe in 2010, which led to the wonderful Like an Olive Tree. Two years ago, joined by New York composer and cellist Chris Lancaster, she created the moving The Unreality of Time (時境) for the troupe, a show that was co-produced with the Korzo Theater, a Hague-based arts center that is one of the largest production houses for modern dance in the Netherlands.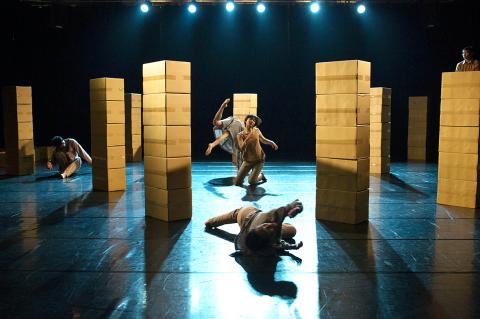 Dance Forum Taipei performed Marina Mascarell's it is like a large animal deep in sleep at the Huashan 1914 Culture Park in Taipei last weekend.
Photo Courtesy of Dance Forum Taipei
Mascarell, in collaboration with Sweden's Skanes Dansteater, created it is like a large animal deep in sleep for Korzo last year. That version had just three dancers, including Dance Forum's Huang Yu-fen (黃于芬).
For the Taipei production, Mascarell expanded the number of dancers to six, exponentially increasing the difficulty for both herself and the performers: Huang, Lo Yi-wei (駱宜蔚), Su Kuan-ying (蘇冠穎), Chang Chih-chieh (張智傑), Chiu Yu-hsuan (邱昱瑄) and Chen Wei-yun (陳韋云): the last four of whom are veterans of The Unreality of Time.
For the soundscape, Mascarell turned to another Netherlands-based Spanish artist, composer and performer Yamila Rios.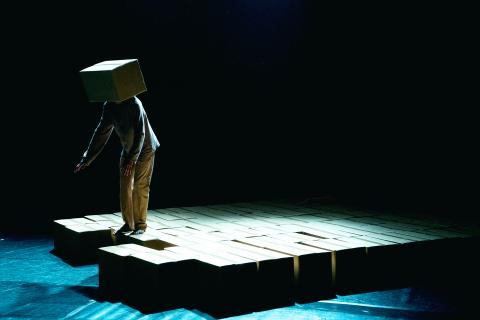 Dance Forum Taipei performed Marina Mascarell's it is like a large animal deep in sleep at the Huashan 1914 Culture Park in Taipei last weekend.
Photo Courtesy of Dance Forum Taipei
The title of the work is taken from a poem by US poet and author Charles Bukowski, a dim view of humanity titled what can we do? Mascarell ponders the state and fate of humanity in the modern world by looking at the choices that humans are asked to make, the illusions of freedom and the traps that our choices create and what people can do to influence their society.
It is like a large animal deep in sleep is a text-heavy piece, with the dancers talking, either live or in recordings, asking questions of themselves or the audience. The texts for the Taipei shows are different from the original because they were taken from answers to a poll that Mascarell conducted in Taipei, including: Do you like to be alone?; what is an individual's place in society?; what is democracy for you?; do you feel free?; and what is the most asocial act that anyone can do?
She also challenges audience members before the show, asking if they want to remain spectators, or become one of the dozen or so who are involved in the show.
Since humans are quick to package themselves and others, cardboard boxes proved apt set pieces. The six performers share the stage with more than 60 boxes that they stack, topple, push around, throw and shuffle about the stage in intricate and precisely plotted moves as seemingly uncomplicated as the choreography itself.
The piece begins with Huang moving a box onto the stage by folding and rolling herself over and around it. Four more dancers emerge from the audience members seated to the left of the stage, slowly spinning and rolling their bodies in between stacks of boxes, watched by the sixth from his perch atop one of the stacks.
One by one the dancers lean against a stack, following the boxes as they topple to the flow. Huang is then propelled by the other dancers, with someone always holding onto her upraised right arm, controlling her movements, even though the motions themselves appear random.
The participating audience members are then asked if they want the show to continue as it has been, or move forward in another direction. Saturday afternoon's audience voted for change. (Mascarell said during a Q&A after the show that in Holland, the audiences usually chose the more painful option — for the dancers — of continuing as before, although that choice eventually moves toward the new direction.)
The dancers coalesce into a cluster and slowly begin to move across the floor with their eyes closed. Again, what might appear random placements of arms, legs, heads are actually tightly plotted — even though each dancer would seem to be moving on his or her own, they must position themselves within the confines of the others, movements.
The dancers build walls with the boxes, shutting out one or more of them at a time, they form new structures, hurl the boxes at one another, stack them like dominos and eventually bury one of the dancers underneath.
It was exhausting work, but it made for gripping theater, even if some questions were left unresolved.
A NIGHT OF FUR
Out at the Taipei National University of the Arts (TNUA, 國立臺北藝術大學) in Guandu on Saturday night, Jaime Zuniga's production of David Ives' two-person play, Venus in Fur also asked a lot of questions — about gender and role-play, sexual politics and what constitutes reality, challenging the audience members about their perceptions and beliefs.
Performed in a third-floor rehearsal space in the school's theater arts building, the play was a major challenge for just two actors: There is a lot of fast-paced dialogue, roles are switched back and forth, as well as accents, and there are just the two of them to hold the audience's attention in a show that runs for just over an hour and a half, with no intermission.
Taiwanese Chi Lee (鍾琪) as wannabe actress Vanda and Malaysian Lawrence Ong (翁書強) as Thomas, a director in search of a leading lady, both did well, although Lee sometimes rushed her readings.
Lee shifted seamlessly between her "real" voice, a British accent — a talent her studies in London no doubt helped hone — and that of the aristocratic Wanda von Dunayev character.
The only real criticism was that both actors toed the line with the sexual dynamics. Lee's vamping was too restrained, too stiff — just as Ong never quite appeared truly submissive, even if his lines indicated that he was supposed to be.
However, the evening left one eager to see more of both actors, as well as more productions by Zuniga.
Comments will be moderated. Keep comments relevant to the article. Remarks containing abusive and obscene language, personal attacks of any kind or promotion will be removed and the user banned. Final decision will be at the discretion of the Taipei Times.