The mighty carrot
Carrots are such a common vegetable that they are often overlooked, but they are very versatile and can even be used in desserts
Carrots are one of our most basic vegetables. They were a perennial annoyance in the standard meat and three veg of my childhood, and like many other vegetables, the boiled carrot became a symbol of the parental gastronomic tyranny. Years of looking on carrots with disdain followed. Their herby undertones seemed no more than an acrid note in an otherwise largely flavorless sodden lump, and I had no time for claims that carrots would improve my eyesight. The reconciliation took many years, but these days, with homegrown carrots and a better understanding of how to bring out the their abundant flavors, they have become something to enjoy rather than just a dutiful nod to healthy eating.
Carrots belong to the Umbelliferae family, and are related to vegetables and herbs such as parsnips, fennel, parsley, anise, caraway, cumin and dill. Indeed, according to The Penguin Companion to Food, for much of the carrot's history it was regarded as an herb rather than a vegetable, and was harvested for its leaves and seeds.
Carrot tops, the green part of carrots, are still eaten by some, but have largely been as compost or animal feed, despite being both nutritious and tasty if properly prepared.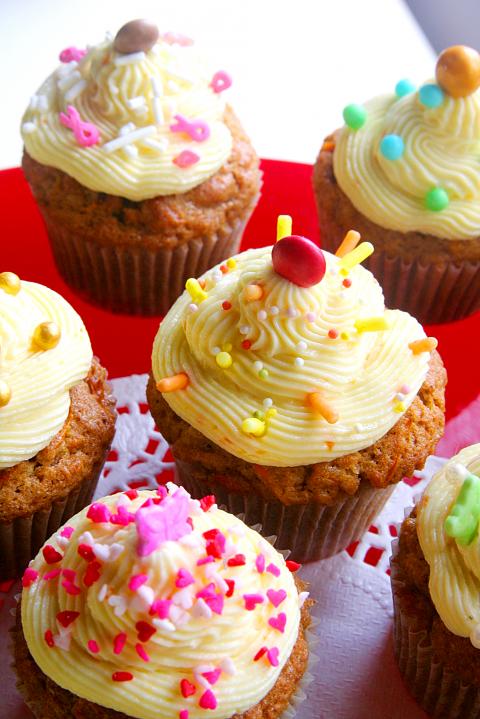 Carrot cup cakes provide a good dose of carrot in a form that kids just can't say no to.
Photo: Ian Bartholomew
The carrots we eat these days are in fact the taproot of the carrot plant, the largest part of the root system. These days, we rarely see any other than orange colored carrots, but in fact this vegetable comes in a variety of colors including white, yellow and purple, with the last being one of the oldest varieties, and which are still commonly cultivated in Central Asia.
It is generally accepted that a big dose of the nutritional value of carrots is stored just under the skin, and much of this gets shaved away when you peel. Of course, for non-organic carrots, the skin also holds the highest levels of pesticide residue. The best solution is to buy organic or grow your own, so that you can use the whole unpeeled carrot without worry. Unpeeled carrots also seem to taste better, but that might just be the food snob in me speaking.
One can go on and on about the nutritional benefits of carrots, and a host of studies are available to show how they do amazing things for the human body, ranging from preventing cardiovascular disease to reducing the risk of glaucoma.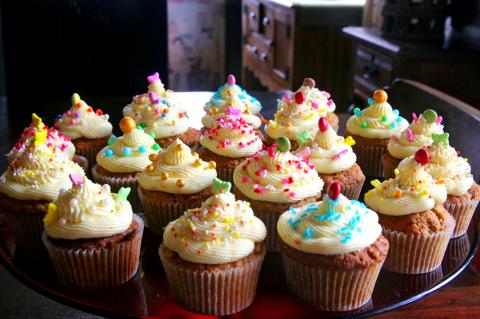 Carrot cup cakes provide a good dose of carrot in a form that kids just can't say no to.
Photo: Ian Bartholomew
Carrots are ridiculously easy to use, with the added advantage of being able to be eaten raw, so you can just crunch on a carrot, or grate it up and put it in a salad. That said, there are suggestions that one of the carrot's key nutrients, beta-carotene, becomes more easily accessible to your body after cooking. And it is a snap to cook. Traditionally boiled, steaming now seems to be the favored means of preparation.
Carrots have quite a high sugar content and this natural sweetness can be emphasized by just the tiniest pinch of sugar when cooking, or by caramelizing the vegetable's natural sugars with butter or oil. My own favorite preparation is to boil/steam the carrots in a mixture of melted butter, water and garlic, with salt, pepper and a pinch of sugar using a covered pot until most of the liquid has been cooked away, then sprinkling with a generous amount of flat-leaf parsley before serving. Indeed carrots can benefit greatly by the addition of many of their Umbelliferae relatives when being prepared in this simple fashion, and a sprinkle of fennel or cumin also gives carrots a huge lift.
Recipe of carrot cupcakes with cream cheese frosting
Simple preparation shows off the amazing flavor of organic carrots.
Photo: Ian Bartholomew
(Makes 20 mini cupcakes)
The carrot cake has undergone something of a revival in these modern health-conscious times, but something similar can be traced back to the Middle Ages when sugar was an expensive luxury and vegetables such as carrots that are rich in sugar, provided a cheap sweetener for cakes and puddings. The use of cinnamon, ginger and nutmeg all hark back to old-style Christmas treats such as gingerbread. Despite its use of whole wheat flour, with its generous amounts of butter, sugar and cream cheese, this snack does not qualify as a health food, but experience has proved that it is a great favorite with children who are often shocked and delighted that it contains the fearsome carrot as one of its major ingredients.
Ingredients
For the Cupcakes
200g whole wheat flour
1/2 tsp baking soda
1 tsp baking powder
generous pinch of salt
1/2 tsp ground cinnamon
1/2 tsp ground ginger
1/2 tsp grated nutmeg
180g unsalted butter, melted
180g sugar
1 egg, large
2 tbsp plain yogurt (or thick cream)
1/2 tsp vanilla extract
150g carrots, grated
For the Frosting
220g cream cheese (8 oz stick), room temperature
75g unsalted butter, room temperature
100g confectioners' sugar
1.5 tsp vanilla extract
zest of one small orange
Directions
1. Preheat your oven to 190 degrees Celsius.
2. Line 20 mini muffin tins (4cm base) with paper liners and place on a baking tray.
3. Whisk together flour, baking powder, baking soda, salt, cinnamon, ginger, and nutmeg; once mixed evenly and free of lumps, set aside.
4. In a large bowl, whisk together melted butter, sugar, egg, yogurt, and vanilla. Stir in the grated carrots. Gradually add the flour mixture, stirring until well combined. Divide among muffin tins, filling each with about one large soup spoon's quantity of mixture. Bake at 190 degrees Celsius for 15 minutes, rotating pan halfway through. The cupcakes are done when a skewer inserted in the center of a cupcake comes out clean.
5. Remove from pan and put on a wire rack to cool. Allow to cool completely before frosting.
6. To make the frosting, beat cream cheese, butter, and confectioners' sugar until smooth; beat in vanilla and orange zest. Frost using a piping bag and nozzle, or simply spread on top with a spatula.
Ian Bartholomew runs Ian's Table, a small guesthouse in Hualien. He has lived in Taiwan for many years writing about the food scene and has decided that until you look at farming, you know nothing about the food you eat. He can be contacted at Hualien202@gmail.com.
Comments will be moderated. Keep comments relevant to the article. Remarks containing abusive and obscene language, personal attacks of any kind or promotion will be removed and the user banned. Final decision will be at the discretion of the Taipei Times.