Live Wire: Fighting fake culture
Since Ko Wen-je (柯文哲) became Taipei mayor late last year, his administration has produced a regular stream of startlingly direct announcements. The latest was a harsh critique of creative and cultural industries, in which the commissioner of the Taipei Department of Urban Development, Lin Jou-min (林洲民), declared Huashan 1914 Creative Park, Songshan Creative Park and several others to be "fake cultural parks" in a Facebook post on Sunday.
"To you CEOs who have no intention of fostering real creative industries, please get back in your black sedans and get out of Taipei! As long as you are here, Taiwan's artists will forever be second class citizens," he wrote.
Lin is right. Taiwan set out to develop "cultural parks" in the late 1990s, and for the most part they have now turned into cultural shopping malls. Huashan now rents the front lawn for beverage advertisements and the exhibition spaces are mostly inhabited by plug-and-play events for candy manufacturers, exhibitions of Beatles memorabilia and, on a good weekend, perhaps a National Geographic photo exhibition. There is no artistic community and a very limited sense that local arts groups have any investment or meaningful participation in these cultural parks.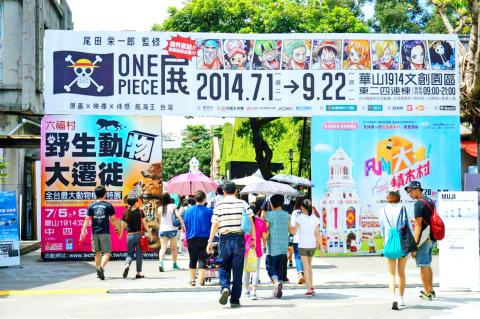 Ko Wen-je's administration has criticized creative and cultural parks like Huashan 1914 and Songshan Creative Park for being too commercial.
Photo: Dana Ter, Taipei Times
Money grab
To a large degree, the exhibitions and events are put on by a new breed of professional event and exhibition groups that formed over the last decade in order to gobble up the new government budgets created to promote "cultural and creative industries" — a government project which has now become a buzzword. The Honhai Group, one of Taiwan's richest companies and the manufacturer of iPhones and other Apple products, invoked the banner of "cultural and creative industries" to build a new building between Huashan and the Guanghua Computer Market, the Sanchuang Digital Life Plaza (三創數位生活園區). By waving the culture flag, one of the richest companies in Taiwan got the land on which the building is constructed for free. When the plaza opens in the next few months, Taipei will see that it is nothing other than an upscale shopping mall.
One of the problems is the conception of cultural and creative industries. In the minds of government and industry, every venture is supposed to make money immediately and every event is supposed to result in direct sales. This mentality is essentially that of a nation that understands manufacturing but little else. There is no sense that creativity needs room and freedom to incubate and grow.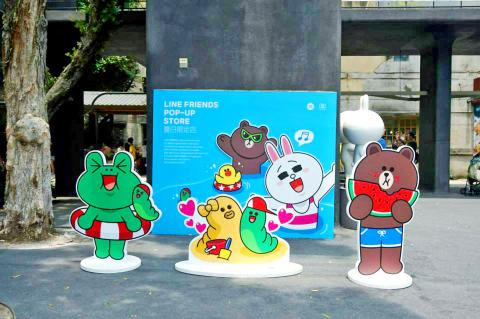 Photo: Dana Ter, Taipei Times
This is why Taiwan will continue to lag behind South Korea and Japan, and it is also falling behind China, when it comes to creating films, music and other salable cultural products. Taiwan's films are mostly considered unwatchable by international audiences, despite the legacy of Hou Hsiao-hsien (侯孝賢) and Taiwan's new wave cinema in the 1990s. The pop music industry is dying and has little idea on how to manufacture new stars. The ongoing decline of Taiwan's actual money-making cultural industries is all the more reason to protect places where the arts can flourish.
Taiwan gained a reputation for indie culture in the 1990s and 2000s, including the indie music scene, auteur cinema, experimental theater groups and artist-run art galleries, as well as the loose agglomeration of coffee shops, live houses and other businesses where creative types liked to hang out. This could not be found in Singapore or Hong Kong, where rents were too expensive.
China lagged behind Taiwan in the 1990s due to a repressive government, but even with moderate liberalization in the last 15 years, it has surpassed Taiwan in contemporary art and indie music. Part of this comes on the strength of China's massive population and huge market size. Another part of the reason is that artists had space to self-organize, as in Beijing's 798 Arts District.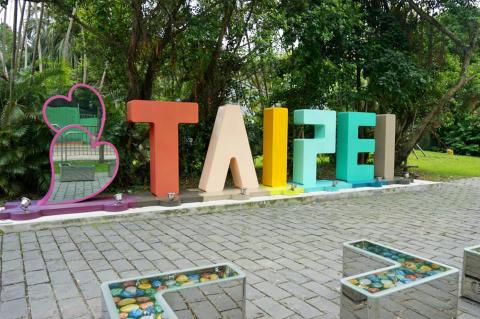 Photo: Dana Ter, Taipei Times
Beijing's 798 arts district
798 started off very similar to Huashan. Both are factory spaces discovered and settled by artist squatters. 798 has now become highly professional and in many senses commercialized, even "touristy," but it is still focused on contemporary art, and is home mainly to artist studios and commercial galleries. Huashan kicked out all the artists long ago, and many of them can no longer afford the rent. Though Huashan contains a music performance space (Legacy) and an independent cinema (Spot Huashan), it treats culture as a commodity to be sold, not as an atmosphere to be experienced.
Taiwan's real challenge is how to harness the "cool energy" of all the indie kids running around throwing funky parties for a few dozen friends, and turn it into something bigger. Professionalism will be part of the equation, but right now there is a huge disconnect between the professionals, who merely swoop in to grab government contracts, and the creative types, who meander from one government grant to the next. Lin's harsh critique is not the ultimate answer, but it seems a good start in refocusing priorities.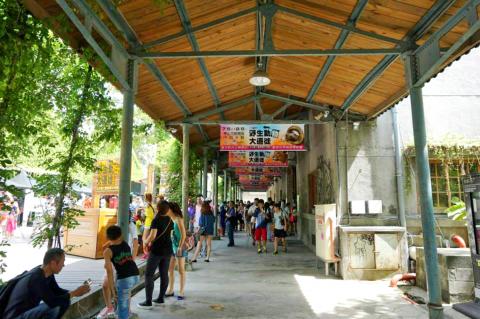 Photo: Dana Ter, Taipei Times
Comments will be moderated. Keep comments relevant to the article. Remarks containing abusive and obscene language, personal attacks of any kind or promotion will be removed and the user banned. Final decision will be at the discretion of the Taipei Times.