Local variations
Coixseed tabouli puts a new twist on a Middle Eastern standard that is packed with healthful benefits and is an absolute breeze to make
From childhood in Australia, my recollection of parsley was of an inadequate culinary ornament, rather than something to eat. The lonely leaf placed atop a steak did little to enhance the dish, and even when it was incorporated into the food, in garnishes like parsley butter, it never seemed to be more than a rather desperate attempt at sophistication. Of course, in the new multicultural world, with its influx of Mediterranean influences, all that has changed, and parsley can stand out loud and proud as a delicious vegetable that could play a starring role in any dish.
These thoughts about parsley were brought forth as I contemplated the over-abundance of the plant in our vegetable garden. My wife had planted it largely because parsley is not easily obtainable in local markets, and what there was often seemed old, fibrous and flavorless, at best suited to its traditional role as ornamental greenery. We had no idea it would take so well to the local climate and soil, and I was suddenly faced with more parsley, both flat-leaf and its curly leafed cousin, than I knew what to do with.
These days it is no great task to find recipes that make plentiful use of parsley, with chefs developing everything from parsley soup to parsley ice cream, but rather than venture out into this brave new world, I though of going back to one of the basics: tabouli, the Lebanese parsley salad. This dish allows quite a bit of freedom, as it already exists in many versions throughout the Middle East, and it seemed right and proper to make a Taiwan version.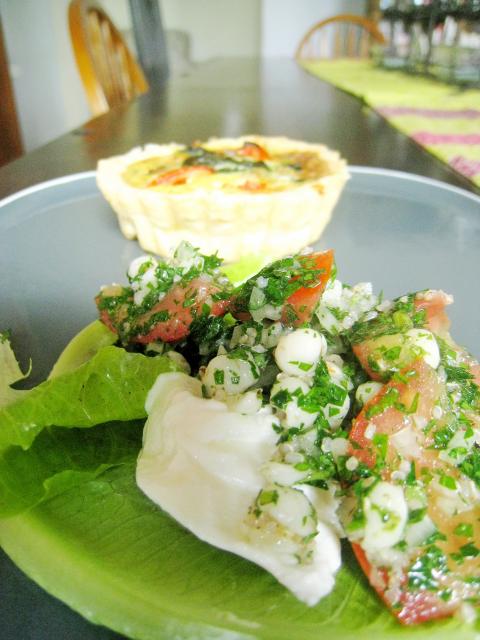 A scoop of yogurt adds another dimension to the coixseed tabouli.
Photo: Ian Bartholomew
Tabouli is often made using bulgur wheat, or sometimes couscous, neither of which is part of the everyday Taiwanese pantry, so I decided to use the grain called coixseed (大薏仁), also known as Job's Tears or hato mugi. This is widely used in sweet soups and ices in Taiwan. Its light nutty flavor makes a lovely counterpoint to parsley's refreshing pungency, and its large grain gives the dish a quite unique texture.
It should be noted that coixseed is often marketed as Chinese Pearl Barley. This can be confusing as coixseed is only distantly related to barley and it has not undergone a pearling or polishing process. The very numerous health benefits of coixseed are not shared by barley, and there are many reports of unintentional, and even intentional, mixups, as coixseed is more expensive than regular pearl barley.
Altogether the mix of parsley and coixseed seemed to promise a mix of incredible benefits. While parsley is wonderful in enhancing the flavor of soups and stews, its greatest benefits come from consuming it raw (as in tabouli). It is a rich source of volatile oils such as myristicin, which makes it a "chemoprotective" food that can help neutralize various types of carcinogens. Apart from its antioxidant qualities, it is also good for promoting a healthy heart and providing protection against rheumatoid arthritis. Coixseed is widely used in Chinese medicine, and is highly regarded for its cooling properties, along with its ability to eliminate excess moisture in the body. It is often part of treatments for stiffness in the joints and is sometimes said to help whiten the skin, with aspiring beauties encouraged to eat plenty of coixseed to produce an alabaster complexion.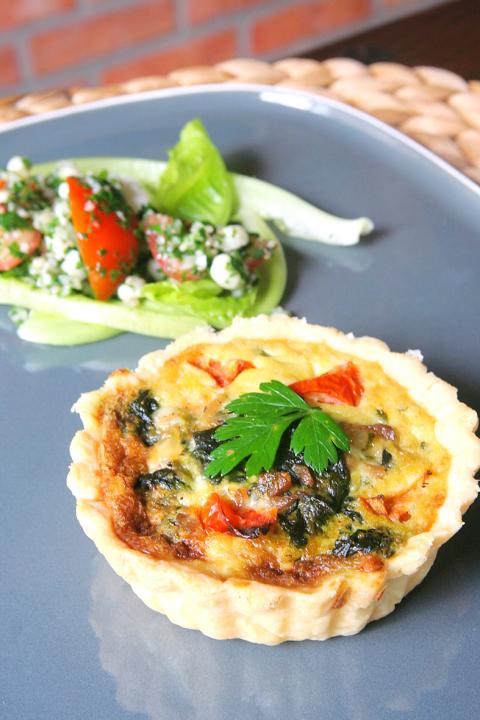 Coixseed tabouli served as a side with a bacon and spinach quiche. The sharp, refreshing flavor of the salad is a perfect accompaniment to the rich custard of the quiche.
Photo: Ian Bartholomew
Coixseed Tabouli
Recipe
(Serves 6-8 as a side dish)
Ingredients
2 cups flat leaf parsley, packed
1/2 cup fresh mint leaves, packed
100g dried coixseed
2 tomatoes
1/2 medium onion, finely chopped
Juice of half a lemon
3 tbsp extra virgin olive oil
Salt and pepper
Small bunch Romaine
Directions
1. Soak the coixseed for 2 hours.
2. Drain and cover with fresh water, bring to a boil and simmer for about 25 minutes (until cooked through but still firm). Drain and set aside.
3. Cut the tomato into wedges. Remove the seeds.
4. Place tomatoes, onion and coixseed in a bowl. Mix in lemon juice, salt and pepper.
5. Add the mint and parsley. Add olive oil and mix. Adjust seasoning with more salt, pepper or lemon juice. Serve with Romaine leaves.
Ian Bartholomew runs Ian's Table, a small guesthouse in Hualien. He has lived in Taiwan for many years writing about the food scene and has decided that until you look at farming, you know nothing about the food you eat. He can be contacted at Hualien202@gmail.com.
Comments will be moderated. Keep comments relevant to the article. Remarks containing abusive and obscene language, personal attacks of any kind or promotion will be removed and the user banned. Final decision will be at the discretion of the Taipei Times.