A pint for our furry friends
The spring time pub quiz organized by Animals Taiwan returns to Carnegie's on Sunday
What better way is there to enjoy a relaxing end to the weekend than with cronies over some trivia and pints? The spring time pub quiz organized by Animals Taiwan (台灣動物協會), a non-profit devoted to the rescue, rehabilitation and adoption of injured stray dogs and cats, returns to Carnegie's on Sunday at 5pm.
Liza Milne, Animals Taiwan's events coordinator and chairperson, has been organizing various happenings over the last few years to raise funds to help the furry friends. The events, which not only include pub quizzes, but also pet festivals, second hand sales and drag nights, have all been hugely successful in raising funds and spreading awareness of the organization's cause.
"We try to diversify as much as possible to attract different crowds of people," Milne, a UK native who has lived in Taiwan for over 20 years, told the Taipei Times.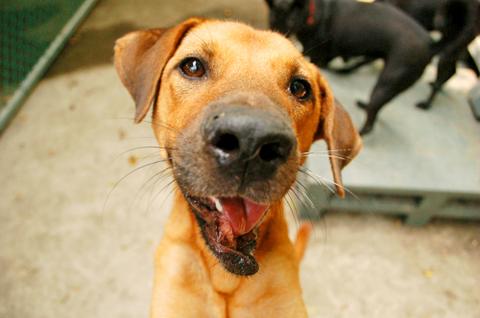 Norton, an injured dog, was successfully rehabilitated by Animals Taiwan and now lives with a family in the Netherlands.
Photo courtesy of Animals Taiwan
Since each fundraiser is markedly different, they won't push the plight of stray animals so much at certain events. While it may be appropriate to bring their animals to pet festivals where they can really devote their time to educating audiences about animal welfare, it may not be so suitable for other types of events.
"People know what the event is about and why we are raising money, and are coming out for a good time while helping the animals," Milne said.
Through their activities, Animals Taiwan has been able to grow and expand their organization's outreach. They now have the capacity to conduct educational programs and perform catch-neuter-returns and trap-neuter-returns on stray dogs and cats, which decreases the likelihood of over-breeding and the spread of diseases.
NORTON'S STORY
Milne said that there has been "hundreds of heartwarming success stories where our animals have come to us in a terrible state and have been rehabilitated both physically and mentally, and have gone on to find loving homes."
One story that struck her though, was that of Norton's, a dog who had severe injuries due to abuse or a car accident. Norton's legs and jaw were broken and he needed to have his lower jaw removed. Over time, Animals Taiwan was able to treat and rehabilitate him to the point where he enjoyed being around other dogs and humans
"However," Milne said, "we didn't hold out much hope of him finding a loving home as he wasn't the most handsome of dogs.
Eventually, Norton was able to find a home in the Netherlands and Animals Taiwan still receives video and photo updates of Norton settling into his new life.
"It revives our faith in people that they can look past a dog's disabilities and love them no matter what," Milne added.
If you're feeling thirsty and in a charitable spirit this Sunday, head over to Carnegie's. There will also be animal-related questions included in the trivia to keep punters on their toes.
Publication Notes
Animals Taiwan Pub Quiz
What: Animals Taiwan Pub Quiz
When: Sunday at 5pm
Where: Carnegie's, 100, Anhe Rd Sec 2, Taipei City (台北市安和路二段100號)
Admission: NT$900 per team, maximum 6 people per team
On the net: www.facebook.com/events
/351729835020199
Comments will be moderated. Keep comments relevant to the article. Remarks containing abusive and obscene language, personal attacks of any kind or promotion will be removed and the user banned. Final decision will be at the discretion of the Taipei Times.