Early end to the Chinese century?
Author, lawyer and television pundit Gordon Chang will discuss at a talk in Taipei on Sunday why he thinks China's economy will eventually crumble
The charming and quick-witted author and lawyer Gordon Chang (章家敦) will give a speech — China's Faltering Economy, Historic Leadership Transition and New Strategic Arc — on Sunday at Taipei's Ting Ting Tsuei Yu (婷婷翠玉), a restaurant near Da-an District's Far Eastern Plaza Hotel.
Space for the talk is limited, and it is advisable to contact organizer Jerome Keating, jkeating@ms67.hinet.net, for a seat.
Chang, an outspoken critic of China and regular contributor to Forbes and the World Affairs Journal and the author of The Coming Collapse of China, was particularly vocal throughout the Sunflower movement's occupation of the legislature and Hong Kong's democracy protests. He continues to maintain his long-held view that China's economy is on the brink of collapse, something which he is not afraid to express in lectures around the world and on news channels like CNN, Fox News and the BBC.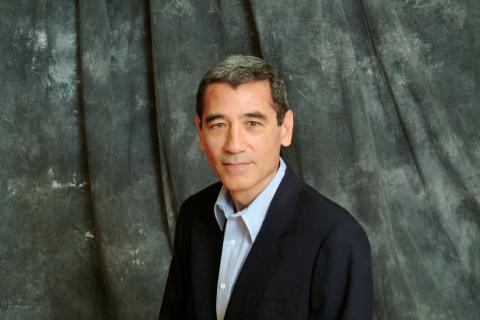 Gordon Chang.
Photo courtesy of Gordon Chang
'SMALL TAIWAN,' BIG IMPACT
In a Forbes article published earlier this month, Chang discussed how Chinese tourists were visiting Japan to purchase higher quality home products such as toilet seats. They were even clearing the shelves of products that were made in China, trusting that Japanese buyers were more inclined to choose top-of-the-range merchandise, Chang argued.
Japan may be the playground for China's wealthy, but Taiwan has something more valuable to offer. As Chang tells the Taipei Times, they are visiting Taiwan for less tangible reasons.
"They come for food, scenery and those things they can find only in a free society, like lively commentary on television and books of all varieties," Chang says.
"The citizens of the world's largest autocracy love freedom, and they find it everywhere in small Taiwan," he adds.
Taiwan may lack the "gargantuan architecture" China has, but the vibrancy found on the streets, Chang says, "is what's missing in the grandiose People's Republic."
Taiwan, he says, has been influencing China for decades by way of soft power and culture. Taiwanese elections in particular, have given the Chinese — especially those who are politically aware — some sense that they too, can self-govern.
Chang says that it's important to draw a distinction between ordinary Chinese citizens and the Communist Party. Although he believes that Taiwanese and Chinese harbor few misconceptions towards each other — something which others may beg to differ especially when seeing Chinese tourists crowd the Taipei 101 or the National Palace Museum — it's a different story when it comes to China's government.
AN ELECTION THAT SHOCKED
Beijing was shocked with the results of last year's nine-in-one elections, Chang says.
"It was inconceivable that Taiwan's people, whom they wrongly consider to be 'Chinese,' could ever vote against economic integration with the People's Republic," Chang says.
"It doesn't matter how many fact-finding missions Beijing's officials make to Taiwan — they just don't get it," he says.
While Taiwan may have the capacity to change the minds of Chinese citizens, it's unlikely that Taipei will be able to affect any meaningful change in the upper echelons in Beijing.
However, China may have bigger domestic problems to worry about. Chang says China's economy is headed for a "historic crisis" since debt is accumulating faster than it is growing.
President Xi Jinping (習近平), Chang says, is undoing reforms from previous decades and "recreating Maoist-inspired monopolies by combining already mammoth state enterprises."
Chang maintains that if China is to avoid an economic crash, it has to grow faster and reform. The problem, he says, is that "further reform would threaten the Communist Party's hold on power, so it will not sponsor change of that sort."
Chang adds that "the Chinese economy has gone just about as far as it can within the confines of the Communist Party's framework."
Publication Notes
What: Gordon Chang: China's Faltering Economy, Historic Leadership Transition and New Strategic Arc
When: Sunday at 10am
Where: Ting Ting Tsuei Yu (婷婷翠玉), 174, Anhe Rd Sec 2, Taipei City (台北市安和路二段174號)
Admission: Seating for the talk is limited. Contact Jerome Keating at jkeating@ms67.hinet.net. A breakfast, average meal is NT$100 to NT$150
Comments will be moderated. Keep comments relevant to the article. Remarks containing abusive and obscene language, personal attacks of any kind or promotion will be removed and the user banned. Final decision will be at the discretion of the Taipei Times.