Shopping spree of the 1 percent
Sotheby's sold a record US$422 million of Impressionist and modern art at its auction last week, suggesting that collectors have regained confidence in the art market
Alberto Giacometti's Chariot sculpture sold for US$101 million, leading Sotheby's record US$422 million Impressionist and modern art sale in New York.
The 4.75-foot-tall painted bronze figure on wheels met its US$100 million estimate on Tuesday at the evening auction but didn't set a new artist record. Sotheby's total exceeded its high estimate of US$300 million. Last night's total was 45.4 percent higher than last November's US$290.2 million tally. Of the 73 lots offered, 58 found buyers. Final prices include commissions.
Sotheby's kicked off a two-week auction season in Manhattan, where art valued at about US$1.8 billion is for sale at three auction houses.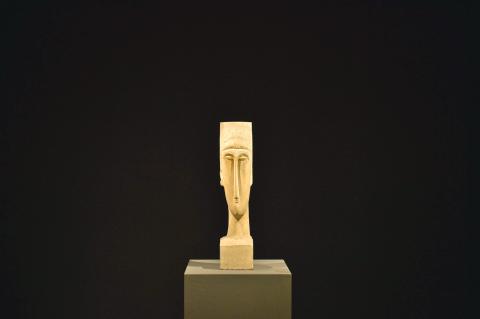 A view of the sculpture Tete by Italian artist Amedeo Modigliani during a preview of an impressionist and modern art auction at Sotheby's in New York last month. The sculpture sold for US$70.7 million, significantly more than its US$45 million pre-auction estimate.
Photo: EPA/Justin Lane
"It was a great night for Sotheby's," said collector Jim Grecco, who purchased a painting of clowns and horses by Fernand Leger for US$5.9 million. "As for the Leger, it will fit well in my collection."
Bidders from 40 countries competed for the works, Sotheby's said.
MODIGLIANI RECORD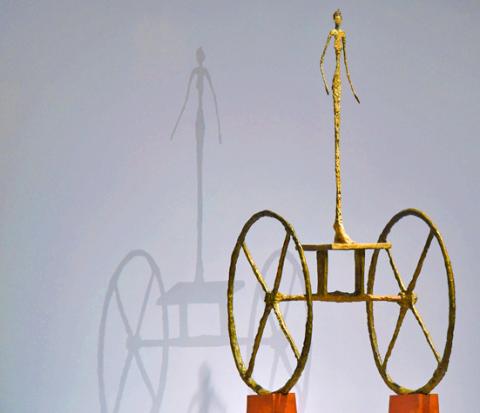 Alberto Giacometti's Chariot is displayed at Sotheby's Autumn evening sale of Impressionist & Modern Art on Tuesday in New York.
Photo: AFP Photo/Don Emmert
Amedeo Modigliani's sculpture of a goddess's head sold for US$70.7 million, setting an auction record for the artist. The 2.4-foot high sculpture, created in 1911-1912 from limestone the artist took from a Parisian subway renovation, sailed past its high estimate of US$45 million. The artist's previous auction record was US$69 million for the 1917 painting Nu Assis Sur un Divan (La Belle Romaine), which sold at Sotheby's in New York in 2010.
Vincent Van Gogh's painting of a bouquet of white, red and blue wildflowers sold for US$61.8 million against an estimate of US$30 million to US$50 million. Still Life, Vase With Daisies and Poppies set an auction record for a still life painting for the artist. It was purchased by Wang Zhongjun, who, with his brother, runs Huayi Brothers Media Corp, a movie producer and distributor in China, The Wall Street Journal reported today, citing a spokesman at Huayi. Sotheby's declined to comment.
SIGNIFICANT FOCUS
"We've spent a lot of time between Hong Kong, Beijing, and Shanghai, really bringing that art to the audience," said David Norman, Sotheby's co-chairman of Impressionist and modern art worldwide. "It's a significant focus and it's paying off in terms of percentages in this sale."
The auction record for a Van Gogh painting was set nearly 25 years ago, when Portrait of Dr. Gachet sold for US$82.5 million (about US$150 million adjusted for inflation).
The price of Chariot didn't break Giacometti's auction record, which was set by Walking Man, a bronze sculpture that sold for US$104.3 million in 2010 at Sotheby's in London.
Claude Monet's 1881 Alice Hoschede au Jardin, which was estimated to sell for US$25 million to US$35 million, sold for US$33.8 million. The work, which was last seen at auction in 1989, is a portrait of Monet's lover Alice Hoschede, who was also the wife of one of his most important patrons.
Eight lots, including the Giacometti and the Modigliani sculptures, had guarantees, in which the auction house or a third party agrees to buy the artwork at a fixed price before the sale. If the work sells for more than that amount, the guarantor receives a percentage of the sale. Auction houses use guarantees to woo consignors with the assurance that the work will sell for an acceptable sum.
PICASSSO'S WORKS
Two out of the three lots that sold for more than US$60 million — the Van Gogh still life and Giacometti's Chariot — each had a guarantee.
"It's the highest total for any auction ever held at Sotheby's," Simon Shaw, co-head of Sotheby's Impressionist and modern art department worldwide, said after the sale.
The 15 works by Picasso spanning more than six decades of his career had mixed results. Femme Allongee, an abstract of a reclining woman, estimated at US$2 million to US$3 million, sold for US$6 million. His Bouffon et Jeune Acrobate, an early work from 1905 of a boy sitting on a clown's lap, estimated at US$2.5 million to US$3.5 million, also sold for US$6 million.
Picasso's almost monochromatic oil painting of a woman in religious contemplation, La Communiante Avec Missel, valued at US$1.2 million to US$1.8 million, failed to find a buyer. Comme Assis, a 4.25-foot tall work from 1969 that sold for US$11.4 million, was painted at the end of Picasso's career. An abstract portrait of a musketeer, the canvas is bright red, green and yellow set against a beige background. The work was valued at US$8 million to US$12 million.
Comments will be moderated. Keep comments relevant to the article. Remarks containing abusive and obscene language, personal attacks of any kind or promotion will be removed and the user banned. Final decision will be at the discretion of the Taipei Times.