Travel: Hotspots
Short list of coming attractions at this year's Taipei International Travel Fair
The Taipei International Travel Fair, open today to Monday at the World Trade Center, will host a record-breaking 1,450 booths and an expected turnout of 320,000 visitors. Here's the short list of this year's top attractions.
FRUGAL-FRIENDLY ITINERARIES
ITF always has one-off bargains ranging from cheap flights (Taipei to Hong Kong via Hong Kong Airlines at NT$2,222) to full itineraries (five-day stay at Hokkaido for NT$29,800 via Life Tour). Interestingly, a host of governmental units are posting their own bargain vacations, such as farm tours (brought to you by the Council of Agriculture) and suburban hikes (Veterans Affair Council's Farm Affiliate Organization). The Environmental Protection Administration (EPA) has its own pavilion for the first time, and it's there that you'll find Taiwan's first EPA-approved tourism agency for "green travel," also touted as inexpensive travel.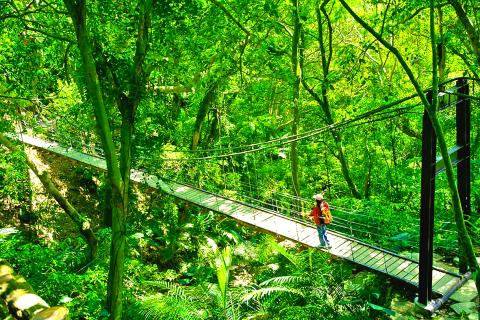 Taipei International Travel Fair runs from today until Monday with booths selling vacation packages, food vouchers and more.
Photo courtesy of Dabagan Hotel
EverBest Travel Service Co. (永嘉旅行社) is rolling out 20 or so new packages like the two-day, one night trip through Hsinchu's Beipu (北埔) mountains at NT$3,200 per person and an overnight at Tamsui District for NT$3,500, said agent Lin Chao-chieh (林照傑). Trips start this month and include transportation, hotel, dining and entertainment, all certified by the EPA's tourism industry green mark.
On Sunday, Sanin Sanyo Tourism Promotion Association from Japan will offer money-saving tips in a talk billed as "Blogger Stingy Boy & Megumi's Sanin Sanyo private tour guide recommendation."
FORUMS ON THE NEXT BIG THING
Every year, industry experts from around the world meet at ITF to discuss latest trends in forums open to all visitors. On Monday, a forum targets tourism in Muslim countries, which forum organizers regard as the next big market. Another forum focuses on smart travel technology, featuring sector leader Ulrike Gretzel from the University of Queensland and CEO Jerome Kuo (郭爵榮) of AllPass Inc, a Taipei-based application.
TEA FOR TWO
Some fair-goers have no intention of vacationing anywhere, but will come for the tea vouchers. ITF food vouchers are some of the best bargains on-site, though you have to factor in the price of gate admission. This year, the catalogue includes Eat Together afternoon tea vouchers (NT$888 for two people, regular price is NT$538 per person) and lunch at the Grand Hotel's Grand Garden Restaurant (松鶴廳), which is NT$1,199 for two people (regular price is NT$850 each).
LIVE SHOWS
Amid the din and flurry of brochures, ITF runs great 30-minute live shows, some of the best for a trade exhibition. This year's program sees the return of iSee Taiwan Foundation (財團法人看見臺灣基金會) with classic folk puppetry and South Korea's The Painters: Hero, a mime and comedy performance that results in a live drawing, organizers said. Also on the bill are troupes from Argentina, Israel, Malaysia, Japan and other countries, plus DIY craft workshops taught by local and international artists.
Publication Notes
Exhibition notes
What: 2014 Taipei International Travel Fair
When: Today from noon to 6pm, tomorrow and Sunday from 10am to 6pm, Monday from 10am to 7pm
Where: Taipei World Trade Center Exhibition (台北世界貿易中心展覽) Halls 1 and 3
Admission: NT$200 at the door, NT$180 in advance
On the Net: www.taipeiitf.org.tw
Comments will be moderated. Keep comments relevant to the article. Remarks containing abusive and obscene language, personal attacks of any kind or promotion will be removed and the user banned. Final decision will be at the discretion of the Taipei Times.