Live Wire: Letting go
Many of us learn all too late in life that we can gain by letting go. You can't have it all—at least not forever. In any musical partnership, what you often have to let go of in order to gain is control. Peter Gabriel argued that their aren't many novels that are written by committee. He said that in 1974, and by 1975, following the release of the gargantuan concept album The Lamb Lies Down On Broadway, he and Genesis went their separate ways. Which brings us to the other thing you have to let go of if one is to keep a creative collaboration going: ego. Ego in the sense of embracing your failings, and seeing criticism not as a slap in the face, but as an opportunity. A chance to get better.
Phin Berry, half of the minimalist and dark synth pop duo Dronetonics, has learned well the process of letting go during the last few years. Starting out writing the songs that are about to see the light of day on Dronetonics full-length debut on his own in 2011, he was contacted via e-mail by the woman who would become his musical other half, Crystal Shien, after the latter heard some of his recordings on the music sharing site Soundcloud. For the first year and a half of their partnership, the band was strictly Berry's monster to manipulate. But the more he tried to keep control, the more he realized that his need to keep things under his thumb was becoming a detriment. Something had to give eventually.
"As time went on, actually, about a year ago," says the well-spoken, thoughtful synth player/singer, "we had some friction between us. Things were getting a bit stunted. I came into practice one day with a song that was only in the very beginning stages. I just started playing through it, and she just started playing something and started singing. A total jam, which we didn't do that much of in the first year and a half."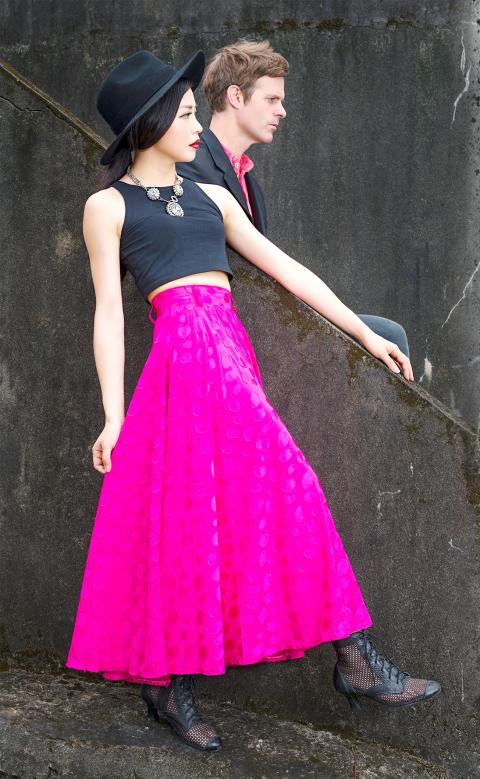 Crystal Shien and Phin Berry are Dronetonics, a synth pop duo that proves darkness and sadness don't necessarily go hand in hand.
Photo Courtesy of Duncan Longden
Call that a watershed moment in Dronetonics history when Shien went from being a mere plus one to a full partner. Since then, things have become much more egalitarian, with the pair sharing everything from songwriting to lyric duties. The result, says Berry, is that by losing a little bit of his control over the band, he has gained something far more valuable.
"It's totally changed," he expresses proudly. "She's got strong opinions about things. She's taken a much more active role in singing and performance as well. She's become much more interested in stage antics, a.k.a. expressing sexuality. It's cool to work with someone you see change and get better."
There's little doubt that letting go took no small amount of humility for Berry, but his life hasn't been without lessons in that regard. A veteran of the Taiwan music scene for the better part of a decade, he recalls a time when he was manning the keys for the short-lived Ramones-esque post-punk band Auto Dafe´. In the band with him was his best friend, then as he is to this day. But a moment of brutal honesty abruptly ended Berry's time in the band, and it was on that day that he learned well the importance of putting ego aside.
"I was fired from that band by my best friend. He said I was a rubbish keyboard player. But it's the best thing that ever happened to me, because my ego was very, very bruised. I was like, 'I'm fired from the band because I suck.' So I was like, 'I'm gonna learn how to properly use this synthesizer.' Because it's true, I really didn't know how to use it. I could play it like a keyboard, but it's a synthesizer."
And so, faced with a choice between getting angry, getting defensive, or taking the setback as a chance to reflect on his abilities, Berry chose the latter, and would spend the next two years getting to know his instrument. This Saturday, the result of that hard work and reflection comes to fruition with the release of Dronetonics debut album, Sentiments, a noir mix of stripped-down synths, noise and distortion, eerie and spaced-out melodies, and lyrical hooks that are by turns sweet and alluringly melancholic. It's a dark album by Berry's own admission, but that doesn't mean it's a sad album for people who prefer sitting at home with the shades drawn tight and have a penchant for putting on too much eyeliner and quoting lines from Edgar Allen Poe over, and over, and over again.
"Darkness and reflection, it's hard for me to draw the line between those two things. I don't see darkness as being sadness. Actually, when I'm happiest I make the darkest music. When I'm depressed I make happy music. I definitely use music. When people say 'Music has saved my soul,' it's true. If I didn't have music, I might not be here."
*Dronetonics play tomorrow at Revolver, 1-2, Roosevelt Road Sec 1, Taipei City (台北市中正區羅斯福路一段1-2號). Tickets are NT$300 at the door. Doors open at 20:30 and the show gets started at 9pm.
Comments will be moderated. Keep comments relevant to the article. Remarks containing abusive and obscene language, personal attacks of any kind or promotion will be removed and the user banned. Final decision will be at the discretion of the Taipei Times.