Expat creates niche making maps of world trouble spots
Based in Greater Kaohsiung, Evan Centanni's Web site PolGeoNow tracks changes to the globe's countries, borders and capitals
Evan Centanni makes maps. Global maps, regional maps, geopolitical maps, cross-strait maps, conflict maps, trouble-spot maps. Based in Greater Kaohsiung where he has settled down with his wife after arriving here five years ago, Centanni grew up in Oregon and double-majored in linguistics and international studies at the University of Oregon.
Welcome to Political Geography Now (PolGeoNow), Centanni's brainchild of a Web site that chronicles changes to the world's countries, borders and capitals, as well as real territorial control in conflict zones and disputed territories.
"PolGeoNow is for anyone with an interest in the world's countries, but it's also designed to be a resource for professionals in the fields of geopolitics, political science, and political geography — that is, the geography of states, borders, and territories," Centanni told the Taipei Times in an e-mail.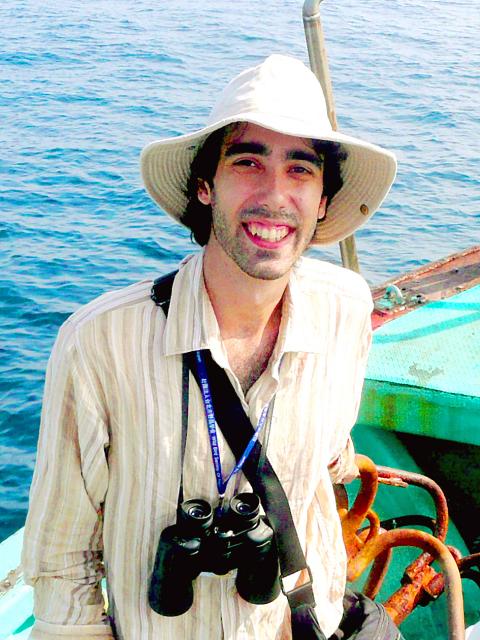 Evan Centanni, during a tour of islets north of Taiwan.
Photo Courtesy of www.polgeonow.com
Most of the content on the site is free, but some in-depth reports require a paid subscription, or can be purchased individually, Centanni, 28, said. There is also a Facebook page and Twitter feed.
MIDDLE EAST
The site is based in Taiwan, a hot spot in world geopolitics, so Centanni is well-positioned to be of use to journalists and academics. At the moment, the greatest amount of interaction comes in relation to his site's reporting on territorial control in Syria and Iraq.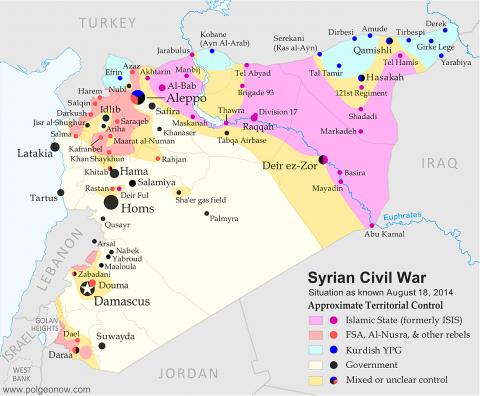 PolGeoNow map of territorial control in Syria, the same one that was featured (with slight modifications) in the International Crisis Group report.
Photo Courtesy of www.polgeonow.com
"Lately I've been in contact with Noah Bonsey, senior Syria analyst at the International Crisis Group, who chose PolGeoNow's Syria map to illustrate the organization's recent report on the civil war," Centanni said.
"I was once contacted by the Canadian embassy in Turkey, asking for information about the control situation along the Syrian-Turkish border, and I've also worked with an editor at the Bloomberg newsroom, cooperating on a map of ISIS [IS] control in Iraq to be used for the Bloomberg Terminal investors' subscription service."
In its own way, PolGeoNow could help put Taiwan on the map in a novel way, and Centanni is getting a sense of the future of his site already.
Revenue is small, but the Web site has potential to turn a profit later on, he said.
"Several publications have mentioned our name and cited us but none of the citations have contributed directly to revenue, but they have helped a great deal to build up a strong reader base and a reputation for reliability," he said.
"The Perry-Castaneda Library at the University of Texas has been an especially big help in that area, by repeatedly linking to PolGeoNow reports on the home page of its map collection Web site. One of highest honors I've had so far was one of my announcements being retweeted by Ana Palacio, the former foreign minister of Spain."
GROWTH POTENTIAL
To grow the site, Centanni is looking into larger-scale cooperation with press outlets and geopolitical consulting organizations worldwide, he said.
"At the moment the staff is me, some occasional contributing writers, and a new researcher who has just come on board," Centanni said. "I'm in contact with several more people who will likely join soon in the writing and researching departments."
According to Centanni, PolGeoNow doesn't take sides in political or moral debates.
"In any trouble spot or with nations fighting over border issues, we report impartially on the real situation and the claims of all parties," he said.
When asked how his Web site will cover disputes between Taiwan and China, for example, he had a ready answer.
"Taiwan and China are controlled by completely separate governments, both of whose constitutions claim sovereignty over both sides of the Strait," he said, adding: "Most of our maps prioritize actual territorial control, so China and Taiwan would be marked in different colors. We apply this principle regardless of political alignment, so Russian-sponsored Abkhazia is marked as outside Georgia's control just as Western-sponsored Kosovo is marked as outside Serbia's control."
CHILDHOOD OBSESSION
Centanni said his involvement with maps began in childhood.
"I've loved maps since elementary school, and as a kid I used to spend hours poring over the National Geographic Atlas of the World, and a second-hand atlas from the 1960s before that," he said.
Other prized possessions as a kid were a topographic atlas of Oregon bought at a roadside convenience store, he added
For Centanni, maps are all in the family.
"It's interesting to me that my youngest brother has followed in my footsteps," he said. "I came home one summer to find he'd declared an independent country on my family's one-acre property. This spring he placed in the top 10 at the Oregon Geographic Bee, and he's already contributed several articles to PolGeoNow."
Centanni said that it was the advent of Wikipedia that got him first thinking about doing something like this. Once-esoteric knowledge, such as lists of all the unrecognized countries in the world, was suddenly online for anyone to access, he said. But there didn't seem to be one place to go to keep up with all the changes to the world political map, whether it was the declaration of a new country, changing borders and flags, or changes to actual territorial control within countries.
That's when Centanni's vision bloomed, he said.
"I envisioned a Web site that could be the go-to destination for that kind of news, while also casting light on the shadows and cracks in the nation-state system that are often ignored by official accounts and paper atlases," he said.
"It started as just a fun project, but also with the idea that maybe I could eventually make a modest living off of it someday."
Comments will be moderated. Keep comments relevant to the article. Remarks containing abusive and obscene language, personal attacks of any kind or promotion will be removed and the user banned. Final decision will be at the discretion of the Taipei Times.