Art exhibition listings
Convolution (迴旋) features new works by ballpoint-pen artist Tzeng Yong-ning (曾雍甯). Tzeng's brilliantly-hued geometric motifs create the illusion of movement. The titular piece, Convolution (迴旋), is a page of disjointed whorls laid in precise progression — up close they appear to gain speed and turn like a kaleidoscope. Viewed from a distance, a clear visual order arises along the central point of the axis, so that the piece is chaotic yet lucid.
■ Nou Gallery (新畫廊), 232, Renai Rd Sec 4, Taipei City (台北市仁愛路四段232號), tel: (02) 2700-0239. Open Tuesdays to Sundays from 11am to 7pm
■ Until August 20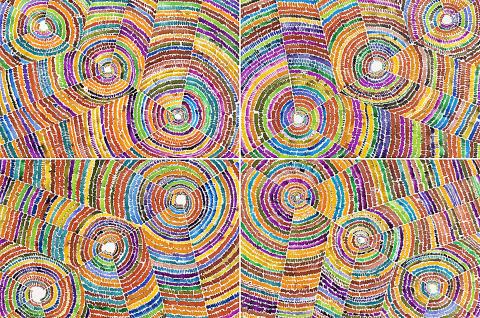 Tzeng Yong-ning, Convolution (2014).
Oceans of Penghu (菊島印象) is a student exhibition of souvenir concepts that draw on the culture of Penghu County. Students from the National Yunlin University of Science and Technology (雲林科技大學) present lamps made of driftwood, educational board games and self-assembly music boxes emblazoned with sea turtles or one of Qimei (七美) island's mythical seven beauties. Floating Bay (飄流海灣), a waffle iron, makes cactus and seaweed ice-cream cakes in the shape of a bay. This exhibition is located within the Penghu Aquarium; designs are sold at the on-site souvenir shop run by co-organizer Lucoral & Lupearl Corp. (大東山希望天地).
■ Penghu Aquarium (澎湖水族館), 58 Citou Village, Baisha Township, Penghu County (澎湖縣白沙鄉岐頭村58號). tel: 06-9933006. Open daily from 8:40am to 5pm. Admission: NT$200
■ Until August 30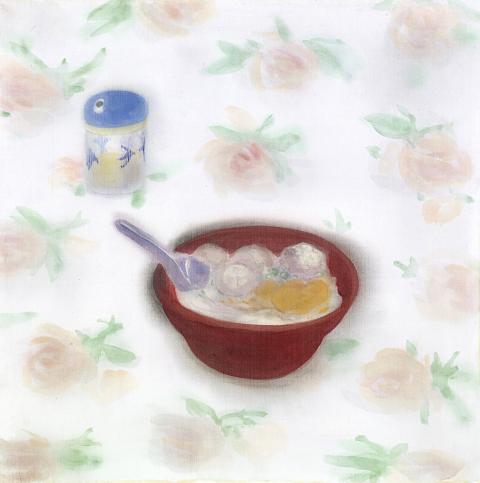 Lin Li-li, The Flavor of Nostalgia: Fish Ball Rice Noodles (2014).
Photo courtesy of VT Artsalon
Very Hazy ll (好朦朧 Ⅱ), a reprise of last year's Very Hazy, brings together 11 artists that riff on the notion of mengleng (朦朧, "hazy beauty")— "a subtle beauty that can be felt but [is] indescribable," writes the gallery. Some works are literally blurred, like Lin Li-li's (林莉酈) glowing bowl of rice noodles brushed onto silk with gouache paint. Some are otherwise concealed: In The Rocking Horse (搖搖馬的前世今生) by Yen Yu-ting (顏妤庭) depicts a tiny, unassuming rocking horse with a story to tell as the eye discovers it in assorted scenes along a single long scroll.
■ VT Artsalon (非常廟藝文空間), B1, 17, Ln 56, Xinsheng Rd Sec 3, Taipei City (台北市新生北路三段56巷17號B1), tel: (02) 2597-2525, open Tuesdays through Fridays from 11:30am to 7pm, Saturdays from 1:30pm to 9pm, closed Sundays and Mondays
■ Opening reception tomorrow at 7pm. Until August 23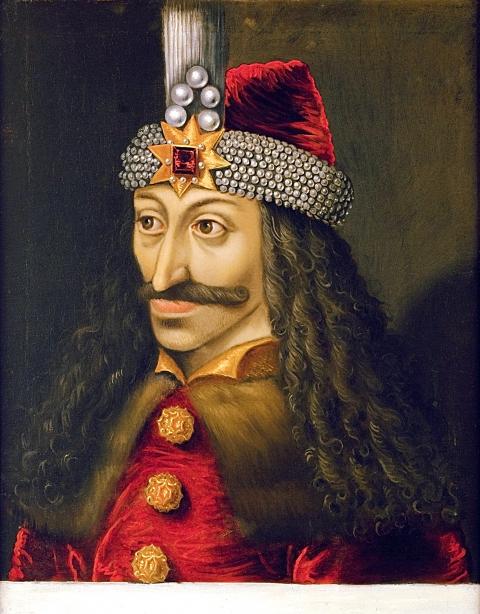 Anonymous German, Vlad Dracula, (circa 1550-1600).
Photo courtesy of Kunsthistorisches Museum, Vienna
Peel back the curtain on vampire lore at Dracula: History and Art of Vampires (德古拉傳奇:吸血鬼歷史與藝術特展), a show of Oscar-winning costumes, the original manuscript of Bram Stoker's Dracula (1897) and art on loan from European collections. Also on offer are themed activities, starting with an adventure game for couples on Chinese Valentine's Day (Aug. 2) and a lecture that afternoon on Moxina (魔神仔), the legendary Taiwanese monster. Workshops for kids include a day-long craft camp on August 6, a parent-child puppet-making tutorial on August 17 and DIY Dracula sculpting on August 20. Guided exhibition tours start daily at 11am and 3pm up to Oct. 3.
■ National Museum of History (國立歷史博物館), 49 Nanhai Rd, Taipei City (台北市南海路49號), tel: (02) 2361-0270. Open Tuesdays to Sundays from 10am to 6pm. Admission: NT$280
■ Until Oct. 5
Living and Art Deco Exhibition (當代藝術+生活美學 法國 波蘭 加拿大藝術家居展) is a show of boutique home accessories by designers from France, Canada and Poland. There's Puff-Buff from Warsaw with funky chandeliers, and Molo Design from Vancouver with "cloud lighting" — white fabric-wrapped lamps that radiate a gentle low-glare light. From France, Herve Gambs shows a line of luxury fragrances for homes and Acrila brings pop-furnishings constructed of glossy acrylic.
■ Art Stock 20 (20號倉庫), 6-1, Aly 37, Fuxing Rd Sec 4, Greater Taichung (台中市復興路四段37巷6-1號), tel: (04) 2220-9972. Open Tuesdays to Fridays and Sundays from 10am to 6pm, Saturday from 10am to 8pm
■ Until August 20
Comments will be moderated. Keep comments relevant to the article. Remarks containing abusive and obscene language, personal attacks of any kind or promotion will be removed and the user banned. Final decision will be at the discretion of the Taipei Times.