Fighting poverty, one canvas bag at a time
Evelyn Chen looked for self-worth in marriage but found it through helping the poor
In 2012, Evelyn Chen (陳怡家) fell into a deep depression when, for the second time, her marriage prospects crumbled weeks before she was to say her vows. Chen had a successful career in the corporate world, marketing consumer electronic accessories. Yet like many Taiwanese women, she defined her self-worth in romantic love, marital status and motherhood.
"As I entered my thirties, my friends began getting married and starting families. I believed I must also move in this direction," she said.
At a low point, she half-heartedly signed on to a "service-learning" trip to India with Rock Leadership, an organization whose mission is to instill civic responsibility in the youth of Taiwan.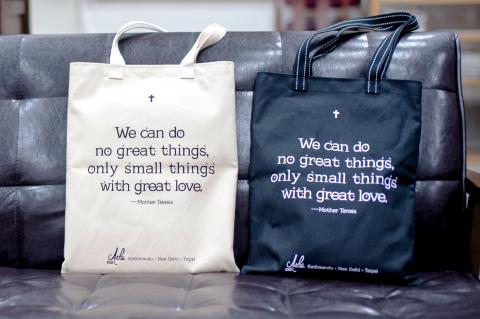 Left: The proceeds of Asha quote bags go toward fighting poverty in India.
Photo courtesy of Asha
Chen said she was profoundly changed by the trip.
"As I was singing and dancing with the children in the slums, I was grieved by the vast wealth disparity in society. These children from the bottom of the caste system seemed to be hopelessly stuck in a perpetual cycle of poverty. I wanted them to know they are valuable. They deserve an education and basic rights," Chen said.
She returned to Taipei with a fierce determination to change the course of her life — and the lives of families living in destitute poverty from the slums of India to the hills of Nepal.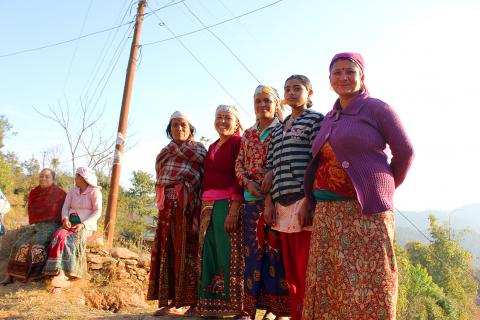 Asha will be partnering with women in rural Nepal to develop product lines so as to provide them with a steady income.
Photo courtesy of Asha
At the start of last year, Chen founded Asha (which means "hope" in Hindi), a social enterprise that establishes brand name products. She then channels funding from sales proceeds into sustainable development for the poor, finding solutions for impoverished women and children in developing nations.
Asha soon attracted the attention of some college students and young adults and, with Chen at the helm, they launched the first Asha brand product line: canvas quote bags.
EMPOWERING GIRLS AND WOMEN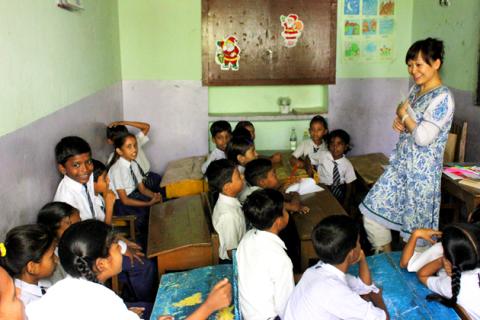 Evelyn Chen volunteers in a classroom in the slums of India.
Photo courtesy of Asha
Although India is meeting the UN's Millennium Development Goals by reaching universal primary education, there is still a disparity between official enrollment reports and the reality on the ground.
Culturally less-valued girls are among the marginalized groups who drop out of school. Chen tapped into her own entrepreneurial spirit and past experiences in marketing in order to try and make a difference.
Within months of launching, they had sold more than a thousand Asha quote bags.
"I wanted to weave the power of words and stories into the products we sell," Chen said.
Chen thinks of herself as a fiscally conservative entrepreneur. She makes careful cost and profit analyses before placing orders for products, ensuring that Asha is not operating beyond its means.
"The quotes from our bags have personally inspired us in a real way — I believe this is why they sell. We don't want to drive a marketing campaign with large financial backing, but with truthful storytelling of our authentic experiences and compassion for the poor," Chen said.
With Asha's promising success with the canvas bags, Chen and her first salaried employee will soon travel to Southeast Asia to pioneer more products. She will be meeting a group of 20 women who live in rural Nepal to discuss plans to build a sustainable craft trade. Chen said that she also has plans to develop an Asha brand of fair trade coffee beans.
Today, Chen pours all of her energy into the mission of Asha. Although it keeps her busy, she finds an invigorating purpose with the work.
"The value of a woman comes not from her age, whether she marries or has children. She can live a remarkable story simply because she has beauty within," she said.
Comments will be moderated. Keep comments relevant to the article. Remarks containing abusive and obscene language, personal attacks of any kind or promotion will be removed and the user banned. Final decision will be at the discretion of the Taipei Times.