Art exhibition listings
Dr. Sleep (睡眠博士) is a solo show inspired by leaky faucets, loud electrical appliances and other things that keep artist Hsu Yinling (許尹齡) up at night. In Little Snowman (小雪人), a noisy radiator is the object of love for a beast made of ice, who sits with it in admiration while slowly losing life and limb. In Cat and Fountain (貓咪與噴泉), the leaky faucet becomes a grand fountain and a cat won't leave her home even after it's flooded with water. In 15 oil paintings, Hsu tries to confront the sights and sounds that the insomniac cannot turn off and to write them into fantastical bedtime stories.
■ Project Fulfill Art Space (就在藝術空間), 2, Alley 45, Ln 147, Xinyi Rd Sec 3, Taipei City (台北市信義路三段147巷45弄2號), tel: (02) 2707-6942. Open Tuesdays to Sundays from 1pm to 6pm
■ Until July 13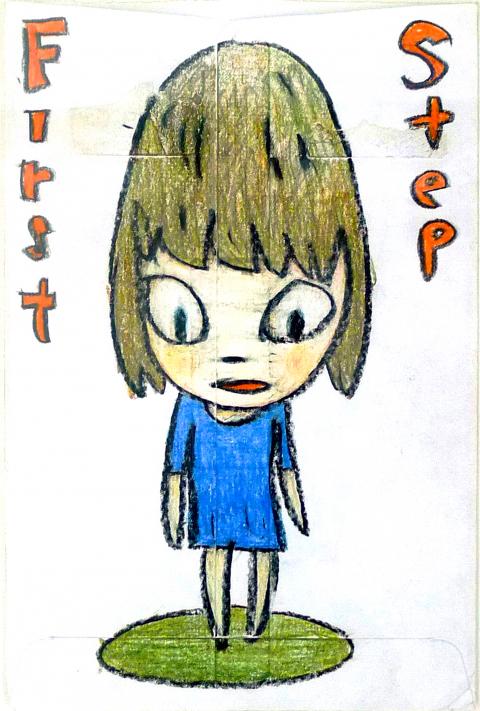 Yoshitomo Nara, Untitled (2009).
Photo courtesy of Metaphysical Art Gallery
The Door is Always Open (歡迎來我家) is Asia's first comprehensive solo exhibition starring Gary Baseman, creator of the three-time Emmy Award-winning TV series Teacher's Pet and designer of the best-selling game Cranium. The exhibition features 500 pieces, including designer toys and video works, as well as Baseman's sculptural installations, paintings inspired by trips across Asia, fashion collaborations, pop surrealist art and illustrations published in The New Yorker and Rolling Stone. Works are presented within an experiential house, featuring themed rooms furnished with pieces from the artist's own childhood home.
■ Museum of Contemporary Art, Taipei (MOCA, Taipei), 39 Changan W Rd, Taipei City (台北市長安西路39號), tel: (02) 2552-3720. Open Tuesdays to Sundays from 10am to 6pm. General admission: NT$50
■ Opens tomorrow. Until August 24
Day Jia-ming, Motion Print (2014).
Photo courtesy of DAC
At Animated in Blank (活化的空白), Jia Ming Day (戴嘉明) is showing six animations achieved with 3D printing or other alternative media. There's Motion Print (印像), a merry-go-round populated with 3D printed figurines of "Qkid," who strikes minutely different poses. As the platform twirls, the Qkids pass by a camera shooting at 24 frames per second, and the images are stitched into an unbroken animation. Who is Talking (看誰在說話) is an interactive talking head, featuring facial expressions generated by the optical toy Praxinoscope. When a viewer walks up and talks, the head talks back, via an intelligent light program that turns speech input into displays of light and shadow.
■ Digital Art Center (台北數位藝術中心), 180 Fuhua Rd, Taipei City (台北市福華路180號), tel: (02) 7736-0708. Open Tuesdays to Sundays from 10am to 6pm. Free admission
■ Until July 27
Is It Paper? brings together 11 artists who work on assorted sheets of paper: copy paper, handmade paper, rice paper, cardboard or hanji, a Korean paper made from the hardy decomposition-resistant bark of the mulberry tree. Each material comes with its own possibilities. Kuo Po-chuan (郭柏川) spreads oil paint on delicate leaves of rice paper, creating a western-style nude whose pink-red body seems too loud for the space it inhabits. With crayon on white copy paper, Yoshitomo Nara mimics fridge-top-style sketches, but his drawings of a wide-eyed little girl are often more adult than they seem.
■ Metaphysical Art Gallery (形而上畫廊), 7F, 219, Dunhua S Rd Sec 1, Taipei City (台北市敦化南路一段219號7樓), tel: (02) 2771-3236. Open Tuesdays to Sundays from 11am to 6:30pm
■ Until July 30
In solo show Room of One's Own (自己的空間), Turkish artist Ilke Yilmaz presents collages, installations and sculpture that challenge the way humans are created and controlled by cultural narratives. Yilmaz brings her signature paper and aluminium dolls — women dressed to fit different constructed forms such as the "student," the "grandmother," the "frump" and the "witch/artist." Lined up in a row, they are an army of full-figured women with identical tiny appendages, arms raised in an exuberant and defiant sameness.
■ Yesart Air Gallery, 2F, 48, Zhongshan N Rd Sec 7, Taipei City (台北市中山北路七段48號2F), tel: (02) 2876-3858. Open Tuesdays to Sundays from 2pm to 8pm
■ Until July 20
Comments will be moderated. Keep comments relevant to the article. Remarks containing abusive and obscene language, personal attacks of any kind or promotion will be removed and the user banned. Final decision will be at the discretion of the Taipei Times.