Soothsayers redux
Fortunetelling is back due to popular demand at the Taipei Story House
Since 2003, Taipei Story House has curated some intriguing stories, like the Story of Carrier Bags, the Story of Sweets and the Story of Greeting Cards. But visitors to the museum have mainly been domestic — until now, with the Story of Fortunetelling.
"We originally planned to close up the story on June 29, but there's been a great response with domestic visitors and overseas tourists, particularly from Hong Kong," said Chen Chi-yun (陳祺蕓) from Taipei Story House's marketing department.
The Story of Fortunetelling, which opened in January, is an interactive retrospective about Taiwan's fortunetelling culture that's now extended to Aug. 31.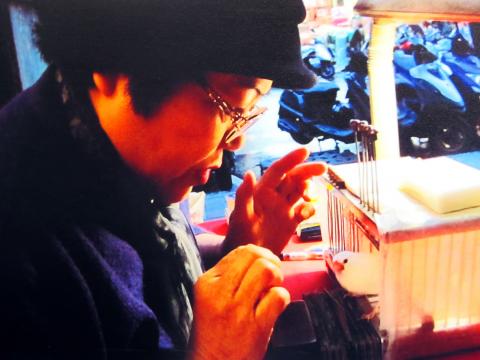 Peng Mei-wen, Small Bird Divination (2013).
Photo: Enru Lin, Taipei Times
"A lot of people come up and talk to us about this experience. For Hong Kong tourists, it is probably special because, as far as I know, Hong Kong has only one street for fortunetelling and that street offers the only choices," she said.
Taipei alone has three major fortunetelling streets. In 2009, the market for fortunetelling services across Taiwan was about NT$5 billion, according to the Taipei Story House.
"Fortunetelling has quite some traction in Taiwan. Over the years we have developed colorful styles," she said.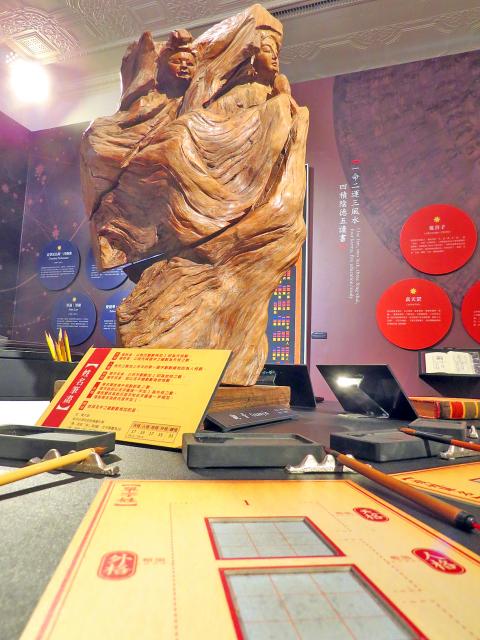 DIY divination.
Photo: Enru Lin, Taipei Times
The Story of Fortunetelling occupies the upstairs and downstairs of Taipei Story House, a historic Tudor-style building with Grecian columns.
The upstairs has photographs, cards and other fortunetelling apparatus that illustrate Taiwan's fortunetelling culture.
Along a wall, there are photographs of soothsayers at work. Another wall is images of Taiwan's most bustling fortunetelling streets: Songjiang Road (松江路) near Xingtian Temple and Longshan Temple Underground Mall (龍山寺地下街), which offer old-school divination, and a newer street in East District with tarot and crystal ball readings.
There is a showcase of vintage Tarot cards, along with ephemera and notes about older, fading forms of Taiwanese divination.
In rice divination, you pluck rice from a bowl with precisely 1,080 whole rice grains, and a fortuneteller develops a reading after counting the grains. Bird divination, still used on some streets, requires a trained bird who hops out from a cage and selects your fortune from a deck of cards.
DIY DIVINATION
Down the flight of stairs, visitors enter an atrium stocked with tools for telling their own fortunes.
Calligraphy brushes are laid out on a circular platform for use in character divination (姓名筆畫), fortunetelling based on the number of strokes in a name.
There's a table for calculating Astrological moon signs, and a set of rotating discs for determining "weight" based on the Eight Characters of Birth Time (生辰八字). It's slightly arcane and tour guides wander, ready to help in Mandarin Chinese, English or Japanese.
"I explain this one to overseas visitors and many people think it is laughable. Heavy, I say — your life is heavy. Your life is light. You are born with a set life weight, just as you are born with a set physical weight," said Robert Hong (洪啟恭), an accredited English-language tour guide.
Each Sunday, live soothsayers set up in the garden outside Taipei Story House from 2am to 5pm. Most are tarot card readers, but on July 6, a teacher divines with tea leaves, and on Aug. 3, another uses angel cards. Western-style numerology (生命靈數) is on July 13 and Aug. 17.
Numerology is adding the dates of a birth date and achieving readings about the owner's personality and future. It's a quick method that also allows deeper readings upon further study, said Taipei Story House numerologist Ho Kuan-ying (何冠瑩).
"Most people don't understand fortunetelling," she said. "There's no clear answer. It's more like counseling."
Fortunetelling is staking out a point in the future, and doing so allows the person to make adjustments and create a better future, she said.
"I will say, if you choose another way, this future could change. I prefer to use words to lead people in a positive direction."
Publication Notes
Exhibition notes
What: The Story of Fortune Telling (算命的故事) When: Until August 31. Open Tuesdays to Sundays from 10am to 5:30pm Where: Taipei Story House (台北故事館), 181-1, Zhongshan N Rd Sec 3, Taipei City (台北市中山北路三段181-1號) Admission: NT$50 On the Net: www.storyhouse.com.tw
Comments will be moderated. Keep comments relevant to the article. Remarks containing abusive and obscene language, personal attacks of any kind or promotion will be removed and the user banned. Final decision will be at the discretion of the Taipei Times.