Live Wire: One for the road
A band born of pain and tragedy is not such a rare thing. A well-worn piece of lore about The Doors has it that the lyrics and dark outlook of Jim Morrison were in part formed by a brush with death as a child when his family drove by the scene of an accident on a highway somewhere deep in the New Mexico desert. Looking out the window of the car, a five-year-old Morrison supposedly saw several Native Americans bleeding to death by the side of the road. His parents told him he was just having a bad dream.
For Antti Kokkomaki and Tammikuun Lapset, the circumstances surrounding the band's formation and their subsequent mix of melancholia and joy also arose from an experience with the other side. This is a band risen from death and bittersweet serendipity.
"My uncle, he died in 2010, and we found poems and lyrics in his apartment. And one of the lyrics was 'Tammikuun lapset,'" says singer, guitarist and songwriter Antti Kokkomaki, adding that the words mean "children of January" in Finnish, his native tongue. "I made a song from that poem, and decided I should gather a group."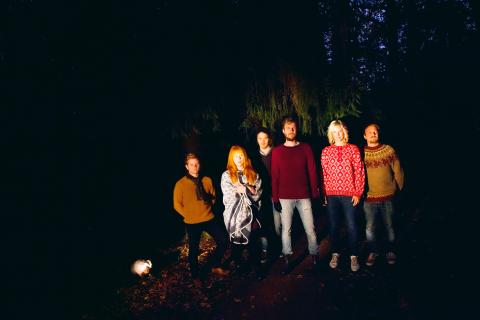 Though Kokkomaki will soon return home to Finland, he already expresses a strong desire to come back to Taiwan with his band.
Photo Courtesy of Mondo Wang
That uncle, a multi-instrumentalist who taught the singer/songwriter how to play bass and guitar when he was a child, was both a mentor and idol to Kokkomaki, You'll get no such tales of the spirit of his uncle speaking to him from the afterlife or inhabiting his body, as Morrison was fond of espousing regarding one of the departing souls of the natives he passed by on that lonely stretch of road. However, Kokkomaki's uncle's teachings still resonate with the native of Kotka, Finland, and in the music of his Turku-based band, which plays a mixture of pop, rock and Finnish folk music.
Kokkomaki's songs come across as an extension of the beauty, power and darkness of the Finnish winter landscape. His debut album, Alaska, takes listeners on a journey into his mind where tempests of manic wonder, foreboding, and a dark sense of humor swirl past one another and mingle winds to express something difficult to pin down.
"I think for me personally it somehow describes the landscape I see when I sing the songs," says Kokkomaki of the title. "It's a place I've never been to, but always wanted to go to. There's something mystical about it for me."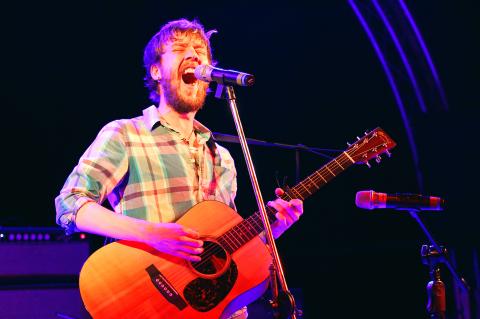 Finnish folk-pop artist Antti Kokkomaki has spent the past half year falling in love with Taiwan and its music scene.
Photo Courtesy of Johanna Naukkarinen
Coming to Taiwan on his own as an exchange student in January, Kokkomaki embarked on a musical journey that took him to some unexpected places, including a performance inside the grounds of the Legislative Yuan at the height of the Sunflower movement protests against the cross-strait service trade agreement.
"Sometimes I felt like I was Forrest Gump," he says, laughing when recalling the unique experience in which he performed a song for the protesters and gave a short speech. What did he have to say to the mass of young people looking to change Taiwan's future?
"I think there are many similarities between Taiwan and Finland," he recalls of the words he spoke on the same day Chang An-le (張安樂), a.k.a. The White Wolf, noted gangster and would-be politician, was just "passing by" the protests.
"Taiwan used to be under the rule of Japan and China like Finland was under the rule of Sweden and Russia. And Finnish people have the same kind of feeling about Russia as Taiwanese have about China: they're a big country and we don't want [to get] too close with them. We want to be good neighbors, but don't come too close," he says.
Kokkomaki left his bandmates behind in Finland at first, but his stories of the new country that he has come to love were so compelling that at least one of them could not resist coming to check it out for herself. Backup singer and keyboardist Milja Makela joined him in April, and got to do one show before heading back home. Both express a strong desire to return to Taiwan someday soon. Though Makela has already departed and Kokkomaki will return to Finland at the conclusion of his studies in late June, they are already plotting to find a way to relocate the entire band to Taiwan. After performances at the 2014 edition of Spring Scream and a handful of others in Taipei, both have become somewhat enamored with the music scene in Taiwan.
"I feel that bands and performers are very cooperative [in Taiwan]," says Kokkomaki, with Makela adding that "There's a good common spirit."
Before any ambitions of return can be fulfilled, though, there is some unfinished business to attend to. Kokkomaki has a master's thesis to finish up, and plans to take Tammikuun Lapset on the second leg of a Finnish tour in support of Alaska before getting down to work on album number two. Once that album is ready to go, the possibilities are virtually limitless. Coming to Taiwan has opened up Kokkomaki to the realization that whether people understand the words he is singing entirely in Finnish or not, the emotions he is conveying still translate.
"Now I feel like I could perform anywhere because it works here," he says.
■ Antti Kokkomaki and Tammikuun Lapset play on Sunday at Future Broken Scene Music Festival (我的未來就是夢 音樂節), a two-day event taking place on Sunday and Monday at National Chengchi University (國立政治大學), 64, Zhinan Rd Sec 2, Taipei City (台北市指南路二段64號). Bands start at 1pm and continue until 10pm. Tickets are free, and can be printed out at www.futurebrokenscene.blogspot.tw/2014/03/ticket.html.
Comments will be moderated. Keep comments relevant to the article. Remarks containing abusive and obscene language, personal attacks of any kind or promotion will be removed and the user banned. Final decision will be at the discretion of the Taipei Times.