A kind of homecoming
Dirty Beaches will hold two performances in Taiwan next week
Dirty Beaches will perform one-off concerts in Taipei and Greater Kaohsiung next week. For the band's frontman Alex Zhang (張洪泰), however, playing Taiwan is more than just the usual gig.
"I'm really excited to be back and play my first concert in the city and country I was born in," the Taiwanese-born Canadian tells the Taipei Times.
Though Zhang hasn't played in Taiwan before, he refuses to compare it with other international music scenes.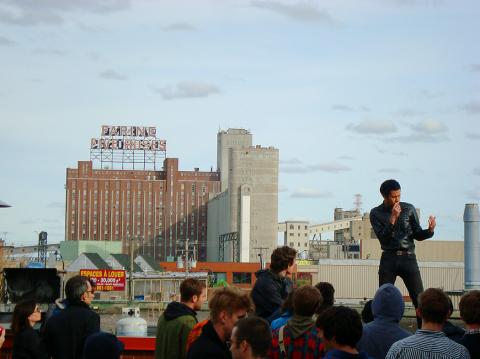 Dirty Beaches' Alex Zhang performs in Montreal in this file photograph.
Photo courtesy of Dirty Beaches
"I'm expecting Taipei to be Taipei. And it should evolve naturally and be its own scene," Zhang says.
Dirty Beaches has relocated several times, moving from Canada to Europe and touring extensively, all while garnering an impressive following of fans and critics, including online music publication Pitchfork, which included it in their Best of 2013 list.
In an interview with the Taipei Times ahead of his arrival, Zhang talks about travel and its influence on his music, performing and film.
Taipei Times: You have been doing a lot of touring and moving about: What drives you to travel and how have these travels influenced your music?
Alex Zhang: To be honest I always wanted to avoid asking myself the motives and the drive behind all the journeys I embarked on because it can lead to some dark uncharted territory. But because of the way I grew up (born in Taipei, immigrated to Canada, raised in Hawaii, worked in Shanghai, restarted my life in Montreal, then Berlin) I am built for this kind of lifestyle. I embody all the different traits of the places that raised me. Home is a collage of landscapes for me at this point, and as a result I can never be from somewhere completely, and can even feel a bit like a tourist in the country I was born in. Such is the fate of the modern child of the diaspora.
TT: You've mentioned in interviews before that your father was a source of inspiration. What has been his response to your music?
AZ: [My father] was [the inspiration] for the album Badlands, as it was created as an homage to his youth in Taiwan. It's also ironic that the album that gave me the breakthrough I needed was the one written for him and also designed (image wise) for me to resemble him … It was a lot of unspoken love, ideas, concepts and contexts injected into one album.
TT: You have spoken about cinematic references in your music and how you view the process of making music similar to directing a film. How do you view that difference between writing a song and performing it?
AZ: [P]erforming music or any kind of live performance is a completely different category for me [than writing or recording music]. It is like an exorcism or some other ritualistic feeling. In my opinion, films are like albums because once they are set in stone those images and sound are locked up and preserved forever. But a live performance is not about replicating and re-presenting a piece of work you already did, but how you can present ideas that weren't so obvious in certain mediums.
To me, Dirty Beaches' music and identity are more than just a band, it can be an imaginary country, it can be the vessel of tradition and also watch it contradict itself midway, spawning new formations and identities that are layered. For me, it's an expedition trekking through those dark uncharted waters/territories in your own mind. That deep dark ass shit in yourself that no one wants to confront, I exorcize those spirits at every show, whenever I can.
TT: Are there any venues or bands that you are excited to see [in Taipei]?
AZ: It's actually quite emotional. I feel like some kid who has been sent out to sea for 30 years and have finally came home.
Comments will be moderated. Keep comments relevant to the article. Remarks containing abusive and obscene language, personal attacks of any kind or promotion will be removed and the user banned. Final decision will be at the discretion of the Taipei Times.