Restaurant review: Herban Kitchen & Bar
Artisan, chic and retro are the first words that come to mind when describing Herban, the latest vegetarian concept to open up, and with it comes a little green oasis amid the concrete covered core of urban Taipei.
The design elements and craftsmanship that have gone into Herban, which is a play on the words herb and urban, are impeccable and made me want to hire their designer to redo my own home. It blends a contemporary industrial style, thanks to its concrete floors and tables, with little bits of the past and an environmentally conscious greener future.
Much of the seating and accenting is 70s-era vintage. The doors have been fashioned out of reclaimed wood and use parts from antique items like a cast iron Singer sewing machine. The ceiling is constructed from recycled wine crates, and even the bathroom sink is made from a used Harley Davidson engine.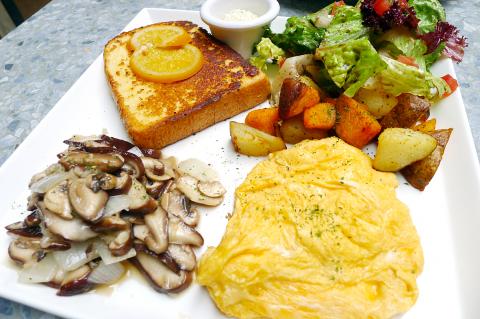 The French toast is a great choice because it's well balanced between sweet and savory.
Photo: Olivia Wycech
My only complaint is that for evening, the interior lighting was a touch too bright. Outside, a small patio sits three large tables quietly tucked away in a nook off an alley. Sprawled across one wall are the words "eat with love," and that's what you do at Herban. Don't let the word vegetarian fool you into thinking diet food. Big brunches, pasta, hearty sandwiches and decadent desserts are the bulk of the menu, along with craft beers and organic wines.
Herban is an ideal brunch spot despite offering few options. If you like stronger flavors go for the Spanish egg frittata (NT$310) as it was more heavily seasoned and loaded with vegetables, tomatoes being the most obvious, and almost soupy with melted cheese. The most popular dish among friends was the eggs benedict (NT$320). Piled high with avocados and cheese, the hollandaise was a bit too subtle. Most brunches come with a mixed green salad and sweet potato home fries.
I was treated to a few bites of the cinnamon orange French toast (NT$330). It comes with a slice of orange on top, when I was hoping for more of an orange infused flavor. What I liked was that it's only one piece so it's not an overwhelming sweet plate and instead became savory when added with scrambled eggs, a heap of sauteed mushrooms and sweet potato home fries. The brunch portions are exceptionally generous, and also come with a coffee, tea, orange juice or milk.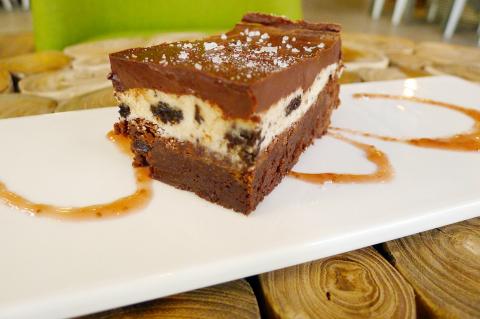 Hands down Herban's best dessert, comes salted.
Photo: Olivia Wycech
If you are looking for something healthy, Herban offers a raw pad Thai (NT$240), which you can call a salad. The noodles are made up of julienned cucumbers and carrots and are lightly suffused with a peanut tamarind dressing. The defining herb is cilantro and with just the right amount of chili, this salad is exploding with piquant flavors.
For dinner, the spinach and ricotta fried wontons (NT$200) trump the spicy garlic mushrooms (NT$180) for an appetizer because of the exciting fusion with a mild mint chili dipping sauce, while the mushrooms had nothing special about them and were a bit dry. I didn't try any of the grilled cheese sandwiches (NT$240 to NT$280) but they come served with a chunky tomato soup and fries.
There are a number of pastas to choose from. I had the spicy arrabiata (NT$290), choosing the homemade spinach noodles, and went with the suggested wine pairing (NT$180). Wine pairings are recommended for most dishes.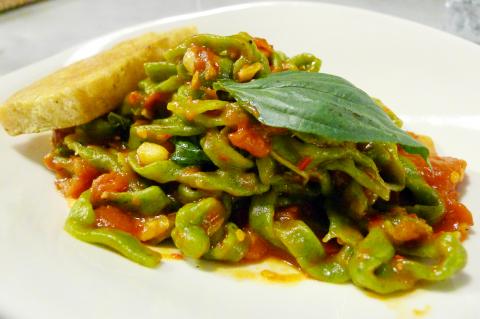 If you like spicy, the arrabiata is perfect for you.
Photo: Olivia Wycech
One of two mains is moussaka (NT$310) that, while good, might make a hardcore carnivore miss meat. The bechamel top is nicely crusted after baking and since it was predominately vegetables, it was rather light for being such a large dish. But the best bites I had came from my dining companion's homemade gluten-free sweet potato gnocchi (NT$320), which can be made with a pasta sauce of your liking. Those few bites made me have major food envy because the gnocchi was sweet, light and a bit fluffy — not at all dense and doughy.
Besides the cupcakes, all the desserts are made in house and are rotated. If you're lucky enough to go on a day when they have the salted ganache (NT$130), don't think twice. Herban also has an eclectic coffee and drink menu that includes beverages like a grass-fed butter latte (NT$150) and sweet potato, coconut, honey and cinnamon shakes (NT$180).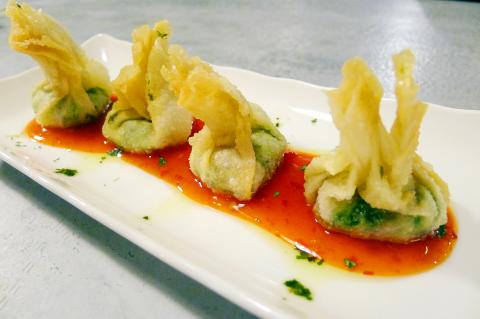 Spinach and ricotta fill this fusion dish of wontons.
Photo: Olivia Wycech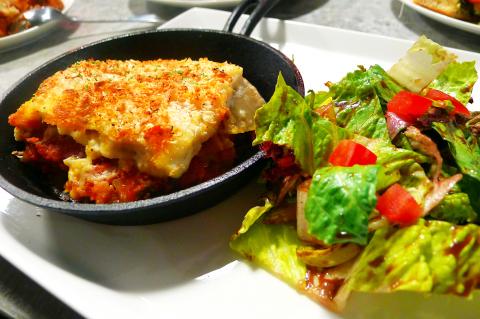 A crispy layer tops the bachamel sauce on this vegetarian take on Greek moussaka.
Photo: Olivia Wycech
Publication Notes
Herban Kitchen & Bar
Address: 27, Lane 101, Zhongxiao E Rd, Sec 4, Taipei City
(台北市忠孝東路四段101巷27號)
Telephone: (02) 8773-7033
Open: Mondays to Friday from noon to 11pm, Saturday and Saturday from 11am to 11pm
Average meal: NT$500
Details: Chinese and English menu, credit cards accepted
On the net: www.facebook.com/herban.taipei
Comments will be moderated. Keep comments relevant to the article. Remarks containing abusive and obscene language, personal attacks of any kind or promotion will be removed and the user banned. Final decision will be at the discretion of the Taipei Times.