Art exhibition listings
Magical Limbo (喚.魅) is a solo exhibition by Wu Tien-chang (吳天章), known as Taiwan's first artist to promote the abolishment of martial law and for developing photography inspired by taike (台客) aesthetics. Since 2010, Wu has worked with video, experimenting with long takes, skip framing and other techniques to create "fake-y visuals" — images of reality that are so risky or absurd that viewers prefer to believe it is false. His surreal film Unforgettable (難忘的愛人), set against a Teresa Teng (鄧麗君) folk song of the same name, is an exploration of what makes a lover unforgettable, a complicated blend that includes not just romance but also pain and the taboo.
■ MOCA Studio Underground (地下實驗), Zhongshan Metro Mall B30/32/34, near Exit R9 (捷運中山地下街,近R9出口), tel: (02) 2552-3721. Free admission
■ Opens tomorrow. Until May 4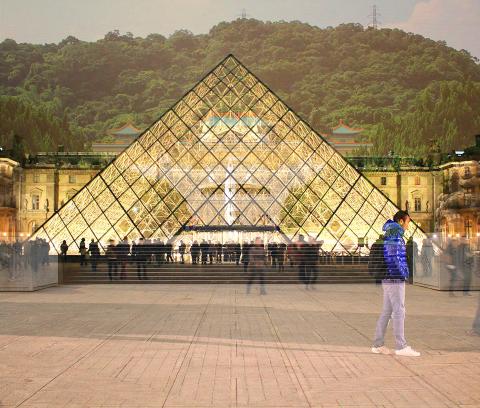 Chen Jun-ju, Time in Between (2014).
Photo courtesy of NTMOFA
At solo show Short Fiction (短篇小說), Liu Chih-Hung (劉致宏) presents the concluding instalment to a series of rapidly-produced paintings depicting his experiences as an army conscript. Liu's Short Fiction series include a grand, lonely view of a bathroom on Christmas Day, as well as other lows, highs, quotidian and dramatic moments in the life of a young freelance artist in Taipei.
■ Taipei Fine Arts Museum (TFAM, 台北市立美術館), 181, Zhongshan N Rd Sec 3, Taipei City (台北市中山北路三段181號), tel: (02) 2595-7656. Open Tuesdays to Sundays from 9:30am to 5:30pm and until 8:30pm on Saturdays. Admission: NT$30
■ Opens tomorrow. Until May 18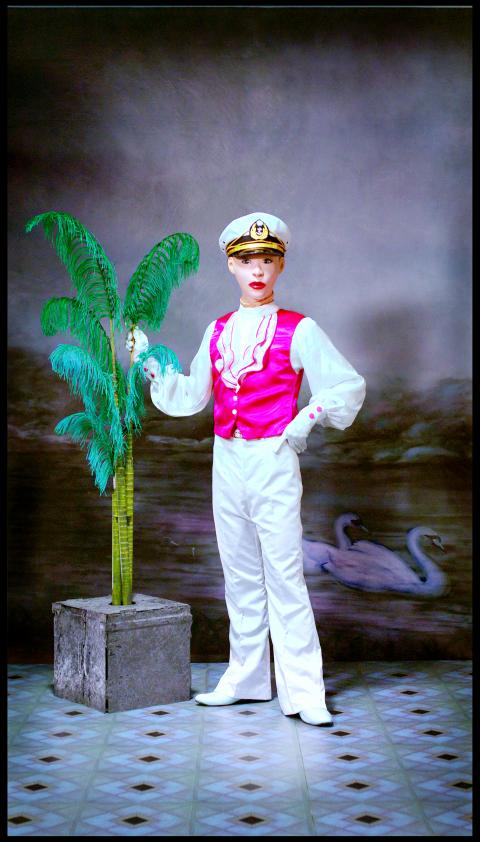 Wu Tien-chang, Unforgettable (2013).
Photo courtesy of MOCA, Taipei
The cobbled streets of Paris and Taipei's scooter-lined roads come together in solo exhibition Time in Between (時光間). Chen Yun-ju's (陳韻如) filmed 24 Taiwanese walking in Paris and fused the footage to scenes of Taipei. These composite animations have been installed in a 360-degree theater, to immerse the viewer in the peculiar environment and to encourage continual questioning: "In this moment, am I in a pure and present moment in Paris, or is this accompanied by a complex accumulation of past experiences?"
■ Gallery 108, National Taiwan Museum of Fine Arts (NTMOFA, 國立臺灣美術館), 2, Wuquan W Rd Sec 1, Greater Taichung (台中市西區五權西路一段2號) tel: (04) 2372-3552, open Tuesdays to Fridays from 9am to 5pm, Saturdays and Sundays from 9am to 6pm
■ Until May 25
Master of Teapot (製壺達人阿萬師) is a solo exhibition of hand-made teapots by Tseng Tsai-one (曾財萬), an acclaimed potter in Taiwan's ceramics capital of Yingge (鶯歌). Born in 1932, Tsai began working at the Yingge's kilns when he was 13 and today runs the ceramics club of Wan-chia (萬佳陶藝社), which specializes in hand-molded and intricately carved clay pots.
■ Yingge Ceramics Museum (鶯歌陶瓷博物館), 200 Wenhua Rd, New Taipei City (新北市文化路200號), tel: (02) 8677-2727, open Mondays to Fridays from 9:30am to 5pm, Saturdays and Sundays from 9:30am to 6pm, closed first Monday of the month
■ Until April 20
The Animal Awakens (獸醒) features Tsai Yi-ju's (蔡宜儒) oil paintings about the relationship between beast and man. Some are fancifully theatrical, like the dinosaur who crumbles an airplane, while others depict bloody scenes of mutual hatred and the subjugation of one by the other. Tsai is an emerging artist from Taipei best known for work on potted trees and other plants — elegant and sensitive paintings with a preservationist's message. These animal portraits are a distinct departure, in which Tsai embraces bold colors, a crude finish and outlines of figures that are difficult to distinguish.
■ MOT/Arts, 3F, 22, Fuxing S Rd Sec 1, Taipei City (台北市復興南路一段22號3樓), tel: (02) 2778-2908. Open daily from 11am to 8pm
■ Until May 18
Comments will be moderated. Keep comments relevant to the article. Remarks containing abusive and obscene language, personal attacks of any kind or promotion will be removed and the user banned. Final decision will be at the discretion of the Taipei Times.