Restaurant review:Chuan Hsien Lou Cantonese Dim Sum Restaurant (傳鮮樓港式飲茶)
Chuan Hsien Lou Cantonese Dim Sum Restaurant (傳鮮樓港式飲茶) is billed as a dim sum restaurant but privately aspires to be a normal Cantonese eatery. There are no dim-sum carts traveling from table to table. The menu, a big black tome, has a vast selection of Hong Kong-style snack foods but also wider options including roast duck, slow-cooked soups, fresh seafood and Cantonese casseroles.
Chuan Hsien Lou is located on the fourth floor of Q Square (台北京站) at Taipei Main Station, and like other eateries at the location, is filled to capacity on weekends. Walk in and it's an impressive expanse of tables and chairs that are draped in elegant pink fabrics. Part of the ceiling is tiled with mirrors that offer a luxurious bird's-eye view of the dining area. You could be dining in a swanky lounge bar. But in reality, there are so many young couples and families crammed in with their dumplings and tea that the restaurant has more of a jolly canteen vibe.
In contrast with many dim sum houses, ordering here is done once on a slip of paper at the start of the meal. The menu offers hundreds of items at prices that run slightly high, in portions that are slightly small. The bill quickly adds up, but a lot of the food is first-rate.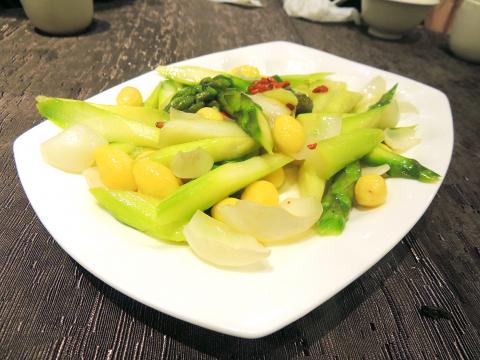 Chuan Hsien Lou's expansive, though pricey, menu offers dishes made with flowers like lily and amaranth.
Photo: Enru Lin, Taipei Times
There is an emporium of typical and atypical flavors of cake, soup bun, ball and dumpling. The steamed taro cake (NT$80) is fresh with a good firm resistance to it. The server's recommendation was the shrimp loofah bun (NT$220), which came piping hot, eight to an order in a wooden steam basket. It's an unusual bun without a lot of soup inside, and the filling is tender, light and clear instead of slick and greasy. The skin is folded, somewhat coarsely, into thin but chewy pleats, and each dumpling opens to reveal a glistening morsel of soft loofah and whole shrimp.
The restaurant seemed concerned with freshness even with dishes that are traditionally made with leftovers, such as fried rice or noodles. Singapore-style fried noodles (NT$260) came in a fluffy heap of leeks, sesame seeds, shrimp, pork, parsley and onions. The noodles were flavored with curry and tasted springy and very fresh, though not obviously Singaporean.
Chuan Hsien Lou also offers 16 flavors of Cantonese casserole (煲仔菜), a winter dish that's made by braising ingredients in a clay pot until they are very hot and soft. Three-cup frog casserole(NT$400) arrived in a shallow little pot loaded with ginger slices, bits of basil and chilli pepper and frog legs. It was an uncommon meat but not too forbidding. The legs had taken on a velvety, tasty caramel coating during the clay pot preparation and were great with white rice.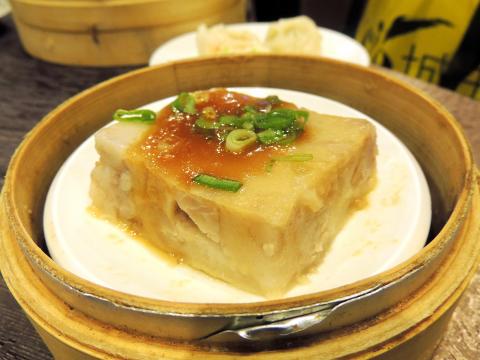 Square cake of freshly ground taro root, above, and steamed dumplings, right.
Photo: Enru Lin, Taipei Times
The menu offers lower-grades of a few popular hot teas like high-mountain oolong and pu'er (NT$40/ person), as well as a selection of NT$120 drinks including kiwi, watermelon and papaya juices, honeyed lemonade, iced coffee and Hong Kong milk tea. Wines and spirits are available, but at high markups.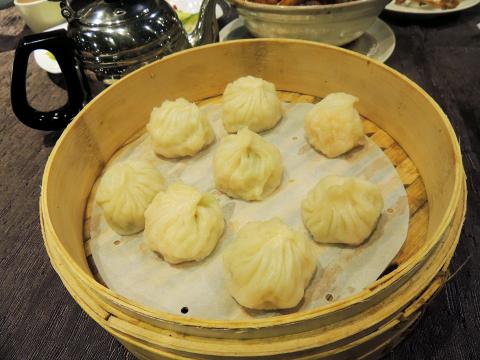 Fresh shrimp buns, made with loofah.
Photo: Enru Lin, Taipei Times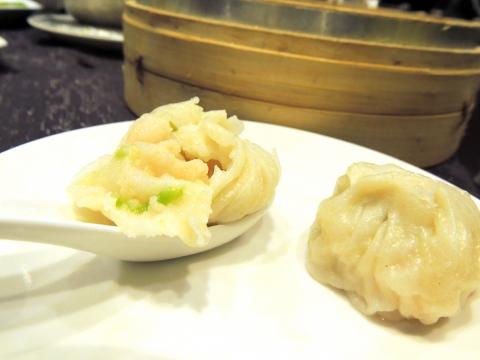 Fresh shrimp buns, made with loofah.
Photo: Enru Lin, Taipei Times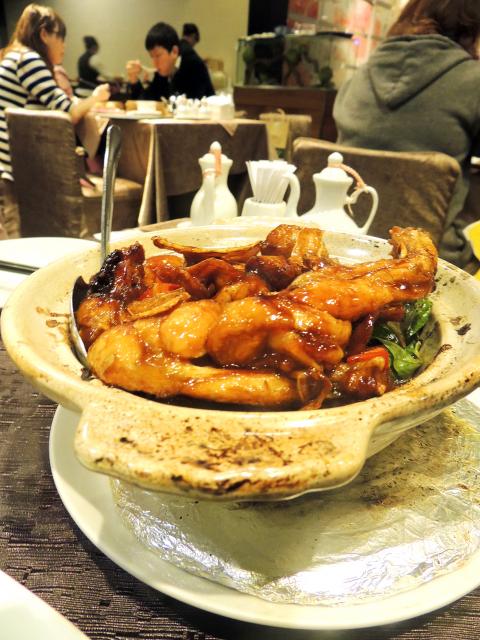 The Cantonese-style three-cup frog casserole is braised in a shallow clay pot.
Photo: Enru Lin, Taipei Times
Publication Notes
Chuan Hsien Lou Cantonese Dim Sum Restaurant (傳鮮樓港式飲茶)
Address: Q Square (台北京站), 4F, Chengde Rd Sec 1, Taipei City (台北市大同區承德路一段1號4F)
Telephone: (02) 2552-7508
Open: Daily from 11am to 10pm
Average meal: NT$400
Details: English and Chinese photo menu,10 percent service charge
Comments will be moderated. Keep comments relevant to the article. Remarks containing abusive and obscene language, personal attacks of any kind or promotion will be removed and the user banned. Final decision will be at the discretion of the Taipei Times.