Art exhibition listings
The 40 murals on display at 3D Dark Art (DARK ART 夜光3D藝術展) appear 3D from a fixed point, so that viewers can walk in and, for example, have tea with Mona Lisa, launch a ball of pure energy at an enemy or insert themselves under a bell jar next to a lady vampire. The vampire's eyes even change color — all pieces feature fluorescent paint or other materials that transform when subjected to black light.
■ Hall 4B at 1914 Huashan Cultural and Creative Park (1914文創園區), Bade Rd Sec 1, Taipei (台北市八德路一段1號), tel: (02) 8732-7976. Open Mondays to Fridays from 10am to 6pm, Saturdays and Sundays from 9am to 6pm. Regular admission: NT$280
■ Until March 16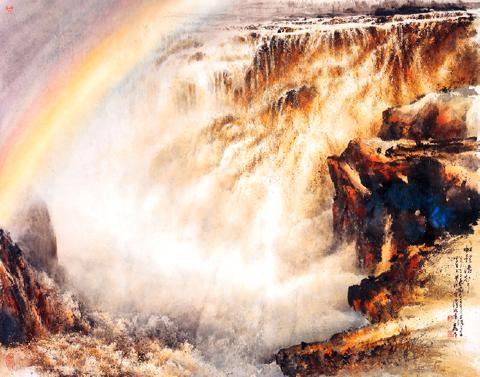 Huang Lei-sheng, Furious Billows (2006).
Photo Courtesy of Taiwan Soca Association
The National Palace Museum is currently showing an exhibition that gives viewers a sense of how Han Chinese settlers viewed Taiwan's Aboriginal peoples during the 18th and 19th centuries. After the Qing (清) court annexed Taiwan in the late 17th century, Han Chinese migrated across the Strait to claim land, encountering the region's autochthonous people along the way and recording the experience in books, illustrations and other artifacts on display at In Their Footsteps. The exhibition includes rare documents of Aboriginal culture by western visitors such as Scotsman John Thomson, who in 1871 sailed into what is today Greater Kaohsiung and photographed his trip from Liouguei (六龜) to Tainan.
■ National Palace Museum (國立故宮博物院圖書文獻大樓), 221 Zhishan Rd Sec 2, Taipei (台北市至善路二段221號), tel: (02) 2881-2021. Open daily from 9am to 5pm. General admission: NT$160
■ Until May 19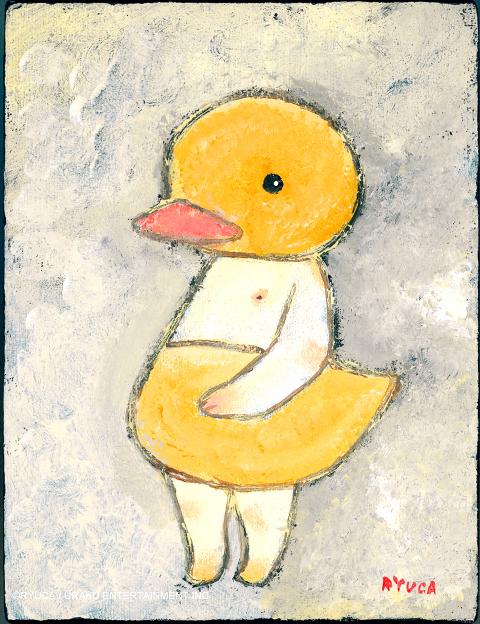 Ryuca, The Yellow Duck's Wish (2013).
Photo Courtesy of Uraku Entertainment Inc.
At Japanese artist Ryuca's solo show, If You Laugh (如果你笑的話), every oil painting is as cute as a bug, featuring a baby animal or an expressionless doe-eyed child wearing an animal costume. These are loveable ambassadors of kawaii, as well as a sweet release into helplessness against anguish-inducing modern realities. "Children have no defenses against the unreasonableness of society," writes the artist in gallery notes.
■ Little MOCA (微當代文創), 17, Ln 17, Chengde Rd Sec 1, Taipei City (臺北市承德路一段41巷17號), tel: (02) 2558-1787 Open Tuesdays to Sundays from 11am to 6pm
■ Until May 4
Surging Waves (澄海波瀾) is an art exhibition commemorating Chen Cheng-po (陳澄波), a Chiayi-born artist who was publicly executed by the government during the 228 Incident in 1947. Chen was trained in Tokyo and became a prime mover in Taiwan's modern art scene. His oil painting Qing Liu (清流), which is currently on display in Tainan with other works and never-before-displayed personal items, represented the Republic of China at the 1932 Chicago World's Fair.
■ Xinying Culture Center (新營文化中心), 23 Zhongzheng Rd Xinying District, Tainan City (臺南市新營區中正路23號), tel: (06) 6321047, open Wednesdays to Sundays from 9am to 5pm
■ Until March 30
The Taiwan Soka Association (台灣創價學會) is hosting a retrospective show of works by Huang Lei-sheng (黃磊生, 1928-2011), a Chinese watercolor artist famous for painting from nature. Huang traveled across China to scout out locations with exotic flowers, birds and grand mountain peaks. He was a member of the Lingnan School of Painting (嶺南畫派的繪畫藝術), a 20th-century movement that challenged traditional Chinese art by adopting foreign brushwork and aesthetics like Western romanticism and realism.
■ Hsiu-shui Art Center (秀水藝文中心), 61, 2F, Pingan Fifth St, Anxi Village, Xiushui Township, Changhua County (彰化縣秀水鄉安溪村平安五街61號2樓), tel: (04) 763-3643, open Tuesdays to Sundays from 9:30am to 5pm
■ Until March 15
Comments will be moderated. Keep comments relevant to the article. Remarks containing abusive and obscene language, personal attacks of any kind or promotion will be removed and the user banned. Final decision will be at the discretion of the Taipei Times.