Raising the roof
A preacher turns to one of Taiwan's nascent crowd funding platforms for a church restoration project
Even before preacher Lin Ching-tai (林慶台) took over the ministry of Fushan Church (福山教會) in New Taipei City's Wulai District (烏來), he knew that he faced an uphill struggle — a decreasing number of villagers and a church with huge holes in its roof.
"The state of the church shocked me," Lin told the Taipei Times while standing in front of the two-story structure and pointing to a large piece of tarpaulin that covers the roof's most serious leak.
"It's too small and was leaking everywhere," Lin, who had a role in the movie Seediq Bale (賽德克.巴萊), added.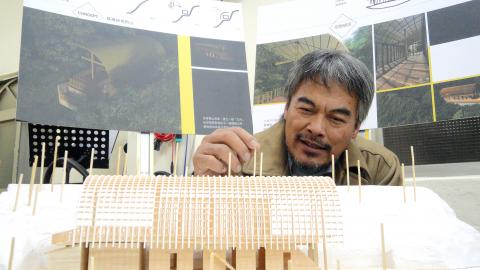 Lin Ching-tai looks at a model of his new church.
Photo: Tang Hsiang-yi, Taipei Times
The idea to repair the church then emerged. But Lin wanted to do more than just fix the roof. The preacher said that by restoring and expanding the church, he hopes to create a positive educational space for Atayal children, who have to study elsewhere after elementary school because there isn't a junior high school in the village.
"They only come back for summer and winter breaks, until they finish high school or college … After six to ten years of separation, they've lost touch with their Atayal roots," Lin said.
Lin said it is a problem that is compounded by the fact that many returning teenagers have dropped out of school and have developed bad habits such as smoking, drinking and drugs. A new lease on the church's life, he hopes, would translate into a more positive environment for children who seemingly have little hope.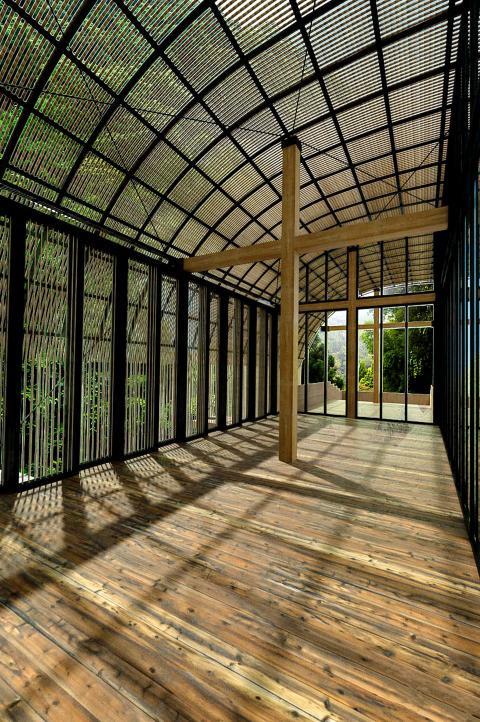 A computer simulation of the church's second floor after renovation.
Photo courtesy of Wooyo
But Lin's plan requires money, manpower and architectural expertise, none of which he had ready access to. So he turned to the Taiwan Fund for Children and Families' (家扶基金會), which connected him to FlyingV, a company that specializes in crowd funding.
CROWD FUNDING
A relatively new way to raise money in Taiwan, crowd funding gathers donations from individuals who support endeavors initiated by other people, usually via the Internet. Recent start ups include Opusgogo, Zeczec (嘖嘖) and Limitestyle.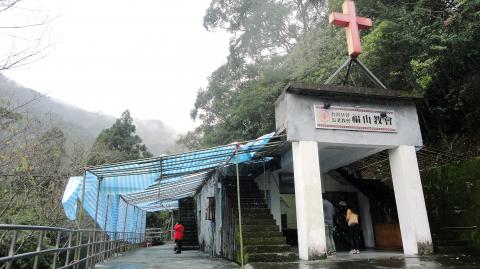 A front view of the church in its current state.
Photo: Tang Hsiang-yi, Taipei Times
FlyingV began operations in March of 2012 and has since become Taiwan's most successful crowd funding platform by dollars raised, project numbers and membership. It brought in NT$8.6 million for 27 projects in its first year, and more than NT$41 million for 110 projects last year.
Lin Ta-han (林大涵), FlyingV's product director, cites Attack on Flour (太白粉的進擊) as a successful example. A parody of the Color Run, in which runners are showered with colored powder, Attack on Flour showered runners with corn starch.
"If the power of crowd funding could make this event happen, perhaps it can also build a church, and perhaps a hospital or a school," Lin Ta-han said.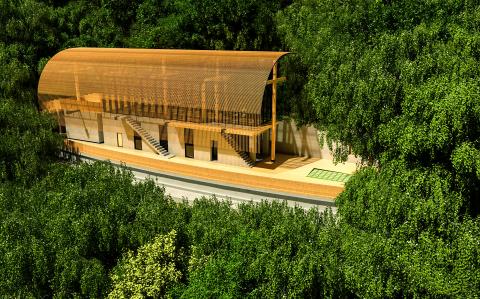 This computer simulation shows the renovated Fushan Church, which resembles an ark.
Photo courtesy of Wooyo
According to its Web site, FlyingV charges an 8 percent administrative fee. If the project doesn't reach its monetary target, no fees will be charged, and all donations are returned to supporters. All projects have a set period of time, and supporters can donate until the time is up, even after the project has reached its fiscal goal.
"As long as the project has a clear goal, a target audience and some attractive qualities, it is a good fit for crowd funding," Lin Ta-han said.
THE ARK PROJECT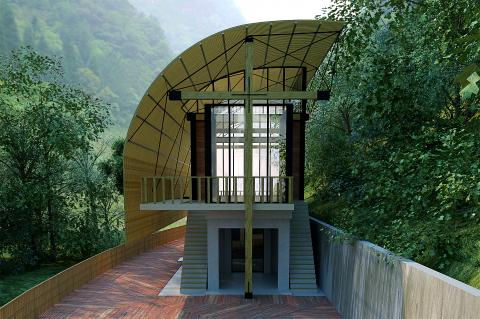 Wooyo architects plans to restore Fushan Church with an arch-shaped roof supported by wooden crosses.
Photo courtesy of Wooyo
Launched online last October with a goal of raising NT$7.7 million by April 30, the project has already received NT$700,000 in donations as of Saturday.
Hom Liou (劉冠宏), founder of Wooyo (無有), an architecture firm, leads the restoration effort. He says he plans to double the church's current space with an arch-shaped roof supported by wooden crosses, which will bring in natural ventilation and light to minimize electricity bills.
Liou said the idea for the arched roof is taken from an Atayal myth, which tells of a "rainbow bridge" that leads to the spirits of their ancestors.
Computer simulations of the church show a structure resembling an ark, hence the project's name: The Ark Project (方舟計畫), an obvious reference to the Biblical story of Noah's Ark.
"In the Bible, Noah built an ark to save lives. My church seeks to do the same," Lin Ching-tai said.
For more information, visit the Ark Project's main page at www.flyingv.cc/project/1612.
Comments will be moderated. Keep comments relevant to the article. Remarks containing abusive and obscene language, personal attacks of any kind or promotion will be removed and the user banned. Final decision will be at the discretion of the Taipei Times.