The Vinyl Word
How quickly another year has come and gone. It's already time to make resolutions again. But you still have time to eat cheeseburgers and get all your other shameful habits out of your system — do it on New Year's Eve. This year, there is certainly no shortage of events: The list is longer than Santa's, though it does not include Frog in the Sock's annual brouhaha. Unfortunately, they are sitting this year out, which means it's probably time to tackle Xinyi and see Taipei 101 explode with color up close. Also, the newly opened MRT line should help alleviate some of the hassle that comes with getting tens of thousands of people in and out of the district. Here is your full guide to clubbing in the area on New Year's Eve 2014.
You can always count on Luxy to give the hip-hop crowd somewhere to go on New Year's Eve. Ain't all that easy anymore with most clubs riding the EDM wave so hard. Grammy award-winning rapper T-Pain will perform shortly after the fireworks, which contrary to popular belief, can be viewed from atop Luxy. The line of sight from the rooftop has zero obstruction. To sweeten the deal even more for those who are on the fence, Luxy is offering an open bar from 9pm to midnight.
■ T-Pain performs Tuesday from 9pm to 4am at Luxy, 5F, 201, Zhongxiao E Rd Sec 4, Taipei (台北市忠孝東路四段201號5樓). Tickets in advance are NT$1,400 until Dec. 30, which includes two drinks. Admission at the door is NT$1,200 before 11pm, and NT$1,600 after. Both fares include two drinks.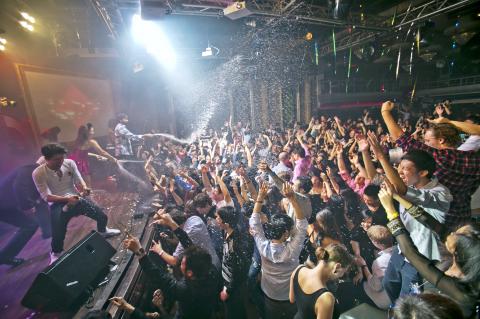 Celebrity talents fill Luxy every year on New Year's Eve.
Photo Courtesy of The Loop
Liquid Lifestyle is bidding adieu to 2013 with a hats off party at the Hyatt. The dress code encourages partygoers to actually wear a hat or some kind of wild or crazy headwear so people can literally take their hats off to 2013. Besides ringing in the New Year at a luxurious hotel, the Hyatt also has a private viewing area almost smack dab under 101. With the party being held in the ballroom, the vibe should be warm and intimate. Music accompaniment is courtesy of DJs Hooker, Poppa BaeR, SL (a.k.a. Xuan) and Enrique.
■ Hats Off to 2013 NYE Party is Tuesday from 9pm to 3am at the Grand Hyatt Taipei, 2 Songshou Road, Taipei (松壽路2號). Tickets in advance are NT$900 until Dec. 30, which includes two drinks. Admission at the door is NT$1,200, which also includes two drinks.
Newcomer to the scene by name, but certainly not by face, Vega is brand-new promotional company kicking off a brand new year in a bright way. The Neon All Night Party is happening at ATT Show Box and advance tickets come with a party kit that includes a limited edition t-shirt, LED eyewear and a glowing thunder stick. The music will be just as loud with DJs Cookie, Junior, Crystal, and Jamie Q banging out beats to first pump too. From 9pm until midnight, the bar is all you can drink and fireworks can be seen from outside the venue.
■ The Neon All Night Party happens Tuesday from 9pm until 4am at ATT Show Box, 7F, 12 Songshou Rd, Taipei (台北市松壽路12號7樓). Tickets in advance are NT$1,400 and include an all-night party kit. Admission at the door is NT$1,800, which includes the open bar and all night access. Otherwise, admission is NT$1,200 before 12am including the open bar, and NT$900 after 12am with two drinks.
Myst has handpicked a cute Dutch DJ duo from DJ Mag's Top 100 DJ List and invited Blasterjaxx to ring in the New Year Asia style before they head to the Ultra Music Festival in Miami. They sound a lot like Hardwell and spend a lot of time remixing artists like Tiesto, so if EDM is your jam, Myst is where you should be spending your New Year's Eve. Perfectly situated in the ATT 4 Fun building, Myst offers one of the best views of 101, especially for those lucky enough to get a spot on the balcony.
■ Blasterjaxx perform Tuesday night at Myst from 10pm to 4am at Myst, 9F, 12 Songshou Rd, Taipei (台北市松壽路12號9F). Admission both in advance and at the door is NT$2,000 before 12am with three drinks and NT$1,500 with two drinks after midnight.
If the weather is forgiving, Room18 and Barcode's annual rooftop party is always your best bet — if you can get in. That being said, an open whiskey bar is worth the trouble, and will also keep you warm. Your ticket also gains you entry into Barcode or Room18 after the fireworks, and ticketholders will also receive a free one-month pass to Room18. DJs Andrew Ford and Mira will set the mood and play alongside the fireworks. The view from the rooftop is unarguably one of the best in the city.
■ The 8th Annual New Year's Eve Rooftop Party is Tuesday night from 9pm to midnight at Room18, B1, 88 Songren Rd, Taipei (台北市松仁路88號B1). Tickets for the rooftop are NT$2,000 and are only available until Dec. 30 at Room 18. There will be no door tickets. Tickets will also guarantee entry to Room18 or Barcode after 12am, and includes two drinks at one of the venues. Regular admission to Room18 is NT$1,500, which includes two drinks but no access to the rooftop.
If crowds and clubbing is something you'd like to avoid, but so is staying home, the newly opened and much-raved-about Beer & Cheese Social House is throwing a Black Ties & Brews event, which caters to a more sophisticated style of craft beer lovers. The North American style event will have around 100 different kinds of bottles and draft beer, as well as some cheesy comfort food. But the beers will not only be paired with cheese on this night, but also with chocolate and some electronic music. The Cook, The Thief and Wanghart will transform this social spot into a sophisticated soiree of dancing and disco.
■ Black Ties & Brews is Tuesday night from 6pm to 3am at the Beer & Cheese Social House, 169, Jianguo S Rd Sec 2, Taipei (台北市大安區建國南路2段169號). Admission is free.
Comments will be moderated. Keep comments relevant to the article. Remarks containing abusive and obscene language, personal attacks of any kind or promotion will be removed and the user banned. Final decision will be at the discretion of the Taipei Times.