Art exhibition listings
Life is like a box of piglets: You never know what's happening unless you listen. That's according to artist Wu Chang-jung (吳長蓉), who learned during a stint as a swine farmer that the only foolproof method of diagnosing the health of a pig is by checking its breathing and the sound of its digestion. At solo show Sounds Uncovered (聲聲幔), Wu presents new works that depend on sound to tell the truth. In the titular project Sounds Uncovered (聲聲幔), Wu uses a soundtrack to precisely clue in viewers to events occurring under miniature plastic tents. Wu's Excuse Me (不好意思) is an audiovisual record of things people in Taipei City say to one another — "excuse me" is common — that describe the peculiar, polite yet brutish relationship that urban dwellers share.
■ Project Fulfill Art Space (就在藝術空間), 2, Alley 45, Ln 147, Xinyi Rd Sec 3, Taipei (台北市信義路三段147巷45弄2號), tel: (02) 2707-6942. Open Tuesdays to Sundays from 1pm to 7pm
■ Opens tomorrow. Until Jan. 26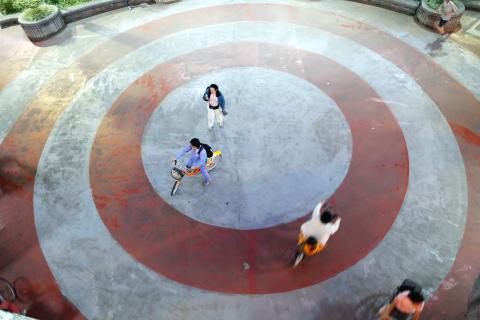 Wu Chang-jung, Excuse Me (2013).
Photo Courtesy of Project Fulfill Art Space
One Piece Room is Chen Po-i's (陳伯義) salute to a fishing village razed in 2008. Photographs document the changing face of Greater Kaohsiung's Hongmaogang (紅毛港) from 1970 to after 2000. The most recent shots are stark and unpeopled; frames are filled instead by abandoned houses and belongings, which form a mute symbol of sociopolitical values that have been shed on the march to modernity.
■ Kuandu Museum of Fine Arts (關渡美術館), 1 Xueyuan Rd, Taipei (台北市學園路1號), tel:(02) 2896-1000. Open Tuesdays to Sundays from 10am to 5pm
■ Until Feb. 16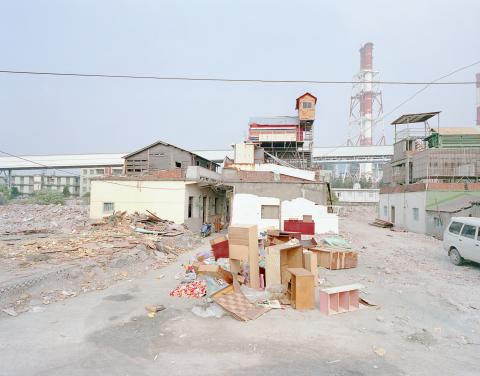 Chen Po-i, Hongmaogang Village Haishan 1st Rd. (2013).
Photo Courtesy of Kuandu Museum of Fine Arts
In Taipei, Chinese artist Yang Jing (楊靜) presents A Doll's House (玩偶之家), a solo show named after Henrik Ibsen's play. Ibsen's work follows Nora Helmer, a coddled housewife who discovers her state of subservience to husband Torvald and decides to leave him. In over 20 paintings, Yang casts different porcelain dolls as Ibsen's proto-feminist. Though surrounded by birds, flowers and other classic icons of femininity, each doll subverts her circumstances in covert ways. Sometimes, she toys with a little puppet of her own. On one white canvass, she is supine and apparently dead due to suicide; from her arm extends a rivulet of black ink, on which a tiny ship is sailing away.
■ Art Issue Taipei (藝術計畫), 1F, Ln 407, 32, Tiding Blvd Sec 2, Taipei (台北市堤頂大道二段407巷32號1樓), tel: 2659-7737, open Tuesdays to Sundays from 11am to 7:30pm, closed on Mondays
■ Until Feb. 23
The National Aboriginal Children's Painting Contest (原住民兒童繪畫創作比賽) is a drawing contest for Aboriginal children from preschool to the ninth grade. Winning works, on view now at the National Chiang Kai-shek Memorial Hall, include The Dancing Girl (跳舞的女孩) — a preschooler's crayon sketch of a skipping Aboriginal child — and Let's Get Ready for the Malahodaigian Festival (我們一起準備射耳祭), a junior-high school student's depiction of the "deer-ear shooting ritual" of the Bunun people. Also at the gallery are the 86 winners of the Makapah Fine Arts Awards (Makapah 美術獎), a national competition for photographers and painters that work with themes of Aboriginal cultures.
■ Mei Ling Art Gallery (美齡藝廊), National Chiang Kai-shek Memorial Hall (國立中正紀念堂), tel: (02) 2343-1100, open Tuesdays to Sundays from 9am to 6pm
■ Until Jan. 17
Three Masters of Art (閩臺三傑) is a show of calligraphy and ink paintings by Cheng Shan-hsi (鄭善禧) and the late Yu Chen-yao (余承堯) and Shen Yao-chu (沈耀初), three Fujian-born artists who met in Taiwan. Yu, who came to Taiwan in 1950, learned to paint through trial and error and developed a trademark technique of using broken lines to reproduce the visual texture of rocks on mountains. Shen, who arrived in 1948, was a sketch artist who became a feted calligrapher. Cheng is an outdoor sketch artist who works in temples, markets and railway stations — he uses vivid hues and feather-light brushstrokes to depict humorous moments in everyday life.
■ National Museum of History, 49 Nanhai Rd, Taipei (台北市南海路49號), tel: (02) 2361-0270. Open Tuesdays to Sundays from 10am to 6pm. General admission: NT$30
■ Until Feb. 23
Comments will be moderated. Keep comments relevant to the article. Remarks containing abusive and obscene language, personal attacks of any kind or promotion will be removed and the user banned. Final decision will be at the discretion of the Taipei Times.