Finding a home for Taiwan's unwanted children
Two agencies are urging deeply sensitive changes that go to the heart of Taiwanese culture and how we build our families
Bev and Ted Skiles say they have raised close to 400 children — seven of their own. The rest have lived at their orphanage and adoption agency, the Home of God's Love (神愛之家), in Dongshan Township (冬山), Yilan County over the past 40 years.
Paul Pan (潘健) is one of them. The 33 year old was raised from the age of four months because his parents could not support their six children. Eventually going to university, he has the social skills, resilience and positive attitude that make Bev Stiles proud.
Now married with two young children, Pan says: "My family is a loving home. It is a happy and healthy home."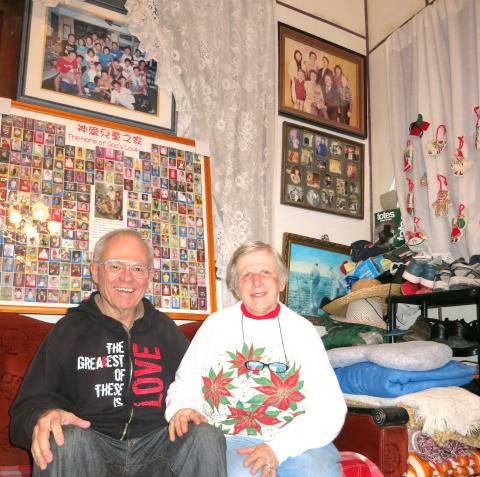 Ted and Bev Skiles in the living room of the Home of God's Love, Dongshan, Yilan County, last Wednesday.
Photo: Yin Khvat, Taipei Times
The adoption side of the organization begins when the children's guardian rights have been signed over to the Skiles. About 400 of these children have been permanently placed with Christian families — mostly in the US — with no financial transactions. But recent changes in the law favoring domestic over international adoption might impede the Skiles' ability to find a home for unwanted — particularly special needs — children.
SERVINGTHE UNWANTED
These special needs children include those with blindness, deafness, cleft palates, Down syndrome or cerebral palsy.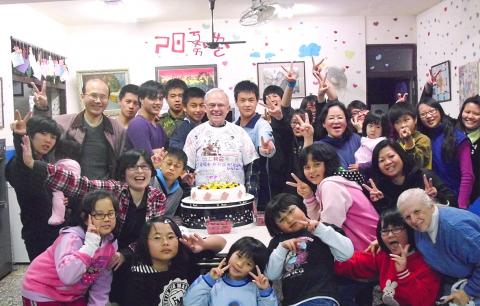 Staff and children living at the Home of God's Love celebrate the 70th birthday of Ted Skiles, back row center, in March. Bev Skiles is pictured at bottom right.
Photo courtesy of the Home of God's Love
These children do not generally arrive at the door of the Child Welfare League Foundation (CWLF), a secular adoption NGO that places children with Taiwanese families, also at no cost.
Li Fang-ling (李芳玲), an adoption specialist and CWLF senior supervisor, says accepting children with special needs would "slow the process down" because Taiwanese are unwilling to adopt them.
Other children considered undesirable include children with mental or physical disabilities or those who come from families with parents who do, children whose parents have a serious criminal background and children born from incest or rape.
Li says that the CWLF prefers to deal with domestic rather than international adoption — citing identity issues as the child grows. However, 46 special needs children did make their way to CWLF in the five years that it has been operating. All were placed with permanent families in Sweden, the Netherlands, the US and Australia because they could not be placed in Taiwan.
CHANGES IN THE LAW
Meanwhile, in June of last year, changes made to the Protection of Children and Youths Welfare and Rights Act (兒童及少年福利與權益保障法) pushed a preference for domestic adoption over international placement and 30 hours of induction "training" for adoptive parents, among other changes. The government cites international baby trafficking and high termination rates as reasons for the policy change.
Both the Home of God's Love and the CWLF support the changes because they want to improve the plight of orphans — but they believe a systemic social change must occur for adoption in Taiwan to cease being considered taboo.
Hard-wired into the Taiwanese cultural DNA are the twin concepts of "bloodline" and "filial duty." This produces an inextricable article of faith: Blood beholds you to your parents; they to theirs, your children to you.
"If we describe it in terms of an 'investment," Li, says, "many Taiwanese think of bringing up children as looking after their old age."
"In the West, the link is more alienated: When children grow up, they are independent. Whereas in Taiwan, you are expected to be part of the family and do things for each other," she says.
For those families who overcome the "blood" issue — perhaps because they cannot have children yet still desire a future bloodline — Bev Skiles says many seek out only those orphans who they perceive to be the most beautiful, the most intelligent and the healthiest. For Skiles, however, every child is a "gift" from God.
"More people in the West want to adopt because they want to love the child," rather than as an investment in the parents' future, Li says.
She adds that there has to be a change in the way parents perceive children. "If they can see the unique part of each child, then they can see through impairments and accept the child," she says.
"We want Taiwanese to adopt — we need to take in our unwanted children," Li says.
GOVERNMENT ROLE
Embracing adoption is not just about culture, Li says. The government has a role to play as well.
"The welfare systems in [certain Western] countries enable families to cope with the challenges that come with raising children," Li says.
"In Taiwan we need the government to do more to support the families and children," she says.
Li adds that Taiwanese tend to work long hours and lack temporary care givers, "never mind those providing care for people with special needs."
This is where the Skiles come in. Though not everyone is supportive of their missionary work and question the right of missionaries to convert Taiwanese to Christianity, there is no doubt they are providing a valuable service for unwanted children.
On the wall of the orphanage is a large photo collage of the hundreds of children that have been adopted.
"I'd like to say that every child lived a good and law abiding life, but I cannot," says Bev Skiles, referring to the children she's raised at home or placed with other families.
Pan, who has now been a teacher in Yunlin County for 10 years, says were it not for the home he might have led the same life as some of his brothers.
"They are drivers of heavy goods vehicles. They travel up and down the highway many times a day. Long working hours, no fixed salary, no two-day weekends, no time with family and kids, using alcohol to dampen their worries," he says.
"Now that I am an adult, I understand the helplessness of my parents and their decision to send me away," Pan says.
"The Skiles taught me not to blame my parents. They told me to be brave and to find my direction and work to my goals. And to love my family even more."
Comments will be moderated. Keep comments relevant to the article. Remarks containing abusive and obscene language, personal attacks of any kind or promotion will be removed and the user banned. Final decision will be at the discretion of the Taipei Times.