A critic abroad
International Association of Art Critics president Marek Bartelik discusses his future goals for the UNESCO-affiliated body and Taiwan's role in it
Marek Bartelik, president of the International Association of Art Critics (AICA), a UNESCO-affiliated non-profit of close to 5,000 critics writing about contemporary art, says art critics shouldn't pander to the art market.
"Art critics [should be] independent, and not part of the market like artists and galleries are. They should be critical rather than confirming," says Bartelik, who is a regular contributor to ArtForum International.
He adds that the AICA creates a platform where critics and artists can express their views free from political interference.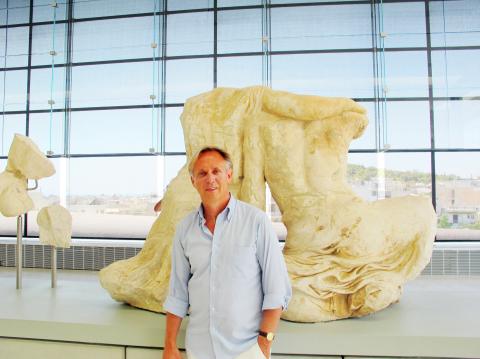 Marek Bartelik.
Photo courtesy of Vassiliki Lazarou
"Art should function independently of politics and artists must express their views no matter how controversial they might be," he says.
AICA was founded in 1950 to revive art criticism which suffered under Fascisim during World War II. Its stated objectives include protecting the "ethical and professional interests of its members and co-operate in defending their rights" and defending "impartially freedom of expression and thought and oppose arbitrary censorship."
Bartelik, who holds a PhD in art history and teaches modern and contemporary art at the Cooper Union for the Advancement of Science and Art in New York and lectures internationally, was elected to the position two years ago. He was recently invited to Taiwan by Taiwan AICA, which has 15 active members.
I sat down with Bartelik last month to discuss concerns about the state of contemporary art criticism, AICA's emphasis on Asia and how China's possible entry into the organization could marginalize Taiwan.
Taipei Times: What are your goals in coming to Taiwan?
Marek Bartelik: I didn't come here with a particular agenda. My agenda as president of AICA International is to help places that need this kind of presence in order to foster a stimulating discussion on the current state of art criticism and art. Asia has a rapidly growing contemporary art scene. We should have more representation here. Taiwan has a very visible section, I'm very happy that my colleagues here do a lot of work in terms of assisting the development of a vital art scene. We had a conference here in 2004, which was very successful, as my colleagues who attended it told me. Today AICA wants to reach out to as many places as possible and create a broad outreach in Asia.
CHINA'S ENTRY
TT: China isn't currently a member of AICA, yet it has a growing number of art critics and its importance on the international art stage has also increased dramatically over the past decade. Have they expressed interested in joining the organization?
MB: Yes, but we haven't got any specific proposals. It's being discussed, several of my colleagues have visited China in the last few years, but we have not received any formal request from there to join our association.
TT: And some are concerned that this will affect Taiwan's status. The concern isn't so much that Taiwan will be kicked out of AICA as much as that it will be forced to change its name to Chinese Taipei if China joins, as it does, for example, with sports events.
MB: As I said, we don't have a Chinese section so I don't want to speculate. All I can say is that from my point of view, Taiwan has a section and it's as important as the other sections. There is no such thing as first group or second group or third group in our association, in terms of how we make our decisions. Everyone has an equal status within AICA.
China is a big country, its art scene grows very quickly, and because of the complexity of the situation we are not rushing anything. We are just going to see how things will be done and evaluate it. One thing that I keep saying and I repeat it: When I was elected president of AICA in 2008 I said that there [were to be] no changes in terms of who belongs to AICA and who doesn't belong to AICA.
I must add, we are not a political organization. We are an organization of art critics, we are about culture, we are about intellectuals, we are about art. We do not discriminate on the basis of political affiliations; we just want to make sure that our members follow professional standards and create freely.
FREEDOM OF EXPRESSION
TT: Your organization remains concerned about freedom of expression. For example, the letter AICA sent to China in 2011 after the detention and jailing of Ai Weiwei (艾未未).
MB: But what I am saying is that interfering with national politics is not our role. We are a professional association, representing nearly 5,000 art critics in 63 sections worldwide. As far as freedom of expression is concerned, we are concerned with defending it as much in China as in Sweden, Venezuela or France. When I went to Cuba last year I spoke to critics, museum directors, artists, curators and government officials — the only way we can establish a section in any country is based on freedom of expression which comes from the government or anyone who can prevent someone from joining. So that's the kind of assurance I got from the Cubans, that anyone who qualifies as a practicing critic to become part of AICA should be able to join AICA. And that's the only criteria that we use. We are interested in whether they qualify, whether they have credentials that allow them to join the organization and also whether the chapter that is being established is existing with enough freedom to function.
When we send letters to intervene in the cases of censorship of art, we do it very carefully. Ai Weiwei was one example, but we've done things in Sweden and South Africa. It had nothing to do with politics per se, it had to do with the way things work in terms of what contemporary art stands for. We are currently opposing censorship in Russia because there are a lot of questionable things going on there in respect of allowing artists to express their artistic views.
It's more on the level of saying that we, as an art critics association, should function independently of politics and artists must express their views no matter how controversial they might be. In my opinion, it is up to the viewer to decide whether that kind of art merits our attention or not. There is good art with a social or political message and there is bad [art]. We discuss this during our annual congresses and symposia we organize around the world.
PRACTICE OF ART CRITICISM
TT: How is art criticism in Asia practiced differently than in Europe and North America?
MB: In terms of art criticism and how it fits into the global scene: it's something that we need to discover because honestly I'm not familiar enough [with Asia] to speak about the local art scenes. I know some critics from different countries in this region but it doesn't mean I can describe what constitutes Asian art criticism. All I know, is that Asia is becoming a very important place for contemporary art, and art criticism as well.
TT: Is this an issue of language?
MB: That's one of the things we are working on, how to give voice to critics who write in different languages. For example, our congress next year will be in South Korea and one of the items when we organize the congress — since two years ago, when we decided to publish a collection of essays by the Paraguayan critic Ticio Escobar as a part of Distinguished Contribution to Art Criticism Award — is that the country that gives the congress in association with AICA publishes an anthology of critical writings by one of the distinguished critics from that country. And it is bilingual, in the case of South Korea most likely English-Korean. This gives a great opportunity to introduce critics that are well known in their country but not necessarily outside.
STATE OF ART CRITICISM
TT: What is the current state of art criticism in Europe and North America?
MB: On a practical level, today it is more and more difficult to find places for critics to publish because newspapers — most newspapers — have eliminated cultural news. As an association of critics we are trying to reignite interest in criticism and contemporary art so that our members have a place to write. And not just a few hundred words but maybe something longer. Your interview is a perfect example that it can be done, and I appreciate it a lot.
That's really the issue that I'm most interested in and that's the focus of our debates: what constitutes our profession and how we have to adjust to the times we live in. Obviously what happens now is much different than what happened 20 years ago, not to mention 50 years ago. So there is the political reality, and also the very practical reality, which is we have fewer and fewer daily newspapers publishing anything about art. If they do, it is profiles of artists, it profits our culture.
TT: But it also seems that finding that fine line between academic rigor and appealing to a broad audience and with critical theory, for example, it just seems to exclude average readers, rather than include them.
MB: That's maybe where we are not being at our best. [Art criticism] has become such an isolated practice, with its own language and interests, that it's easy to lose the average person, who otherwise could become interested in contemporary art. I think it's our responsibility to reconnect with the broader audience, talk to them; if we fail to do so we risk to be just a small group of people talking to each other and nobody else. And that goes back to the issue of language. There is more and more translated into English but there might be brilliant critics writing in Chinese that are not translated and so are not part of the international network and therefore nobody knows about them. AICA wants to represent them, and in doing so contribute to the conversation about the meaning and the importance of contemporary art.
For me those are the crucial issues that we are facing: the place of art criticism in the current world, the issues of language, including critics' responsibility to express themselves in a comprehensive way, to write well. It's bigger than anything else. If we don't adjust to the new conditions, we are not going to survive for a long time. So as an association, I'm not just worried about how local politics are played, but more our well-being and our "philosophy of writing."
TT: How can Taiwan, whose critics write mostly in Chinese, broaden their audience and move out into the international stage?
MB: The possibilities seem to be endless, for instance organize international symposia, invite art critics to see your exhibitions and visit artists' studios. I want to propose to our colleagues to start to publish an annual guide as to what happens in a given place in terms of exhibitions, art events and so on. So we would have 63 guides by critics from all countries and we could put it together as an aid to the understanding of the local art scenes. A yearly guide of what happens artistically in a given country. I think that would be a way to make it international and make it feasible because those articles wouldn't have to be long, but, at the same time, written by the experts so-to-speak on the ground, who know the local scenes the best.
AICA has developed a new Web site which will be launched later this month. It will be much more interactive. We want to have forums where we will invite critics from different countries and we will say to them: you have a month to moderate any conversation you want on the subject related to contemporary art and art criticism. Obviously if it is a critic who writes in Chinese it can be in English and Chinese, with modern technologies we should be able to deal with the translations. There are ways to maintain that kind of conversation and that's how I'm trying to bring people closer to AICA because otherwise we don't offer enough activities to our members and the audience at large.
TT: Yes it sounds as though you are more proactive than your predecessors and are also cementing this community of members that you already have and get them speaking to each other.
MB: I see myself as extending the legacy of my predecessors. I also want AICA to become a truly global association. To do so, we do not always need to speak from, or through, New York, London or Berlin. We can speak to each other directly from one "periphery" to another "periphery." A lot of exciting activities take place in those so-called peripheries. A lot of brilliant ideas develop outside of the "centers"— my present visit to Taiwan reinforced me in thinking this way.
— This interview has been condensed and edited
Comments will be moderated. Keep comments relevant to the article. Remarks containing abusive and obscene language, personal attacks of any kind or promotion will be removed and the user banned. Final decision will be at the discretion of the Taipei Times.