In the cyber zone
The eighth edition of the Taipei Digital Art Festival features creations by millennials and portable art for your mobile phone
The Taipei Digital Art Festival (台北數位藝術節), now in its eighth year, brings together exhibitions, film screenings, performances and forums that cast a spotlight on the technologically-advanced art form that requires the vision of an artist as much as that of a software engineer.
This year's theme is data-neurons. The festival examines how new media artists utilize data and computing to explore aesthetic and technological possibilities.
Chiu Chih-yung (邱誌勇), one of the festival's curators, says that as digital technology has become a vital part of today's society, we have come to rely heavily on computers to gain and process information, as well as tackle everything from daily chores to job tasks and schoolwork. He added that in recent years, the term "big data" has become ubiquitous, referring not to the concept of database we traditionally know, but the infinite interconnection among databases enabled by cloud computing.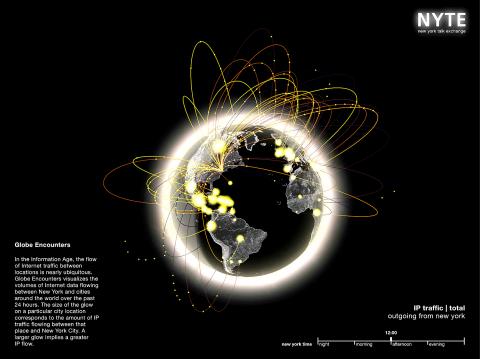 MIT's Senseable City Lab, New York Talk Exchange.
Photo courtesy of the Taipei Digital Art Center
"The idea of big data is not just about the effective control of data. It stresses the connection among databases through cloud computing … One question it raises is how we put massive, everyday information into application," says Chiu, who is also a professor at Providence University's Department of Mass Communication.
Possible answers lie in several works on display at the international Digital Art Exhibition. New York Talk Exchange, for example, is a project by Senseable City Lab at the Massachusetts Institute of Technology (MIT) that illustrates the daily life of New Yorkers by analyzing large volumes of long-distance telephone and IP data flowing between New York City and other metropolises around the world using data visualization.
"We have recently seen lots of works like [MIT's]. They all involve utilizing the massive quantity of data through data visualization in order to show the traces of our everyday life," Chiu points out.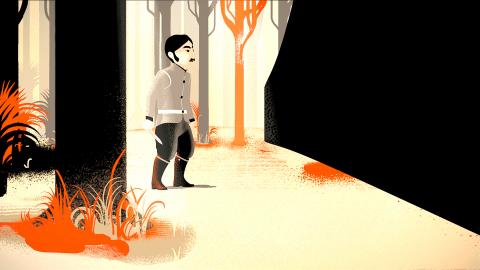 Le Laboratoire d'images, On the Other Side.
Photo courtesy of theTaipei Digital Art Center
Voices of Aliveness by Japanese artist Masaki Fujihata invites participants to shout while riding a bicycle equipped with a recorder and video to vent their frustration. Their shouts and their bicycle trajectory are then converted to the shape of rings on a computer screen, forming a tower-like structure in cyberspace.
Crossing disciplines
Chiu says that while the global trend for digital art tends toward complex projects that can't exist without the participation of technical wizards and engineers, it has also increasingly turned hybrid and inter-disciplinary. One example is Reactor for Awareness in Motion, a research project initiated by Japan's Yamaguchi Center for Arts and Media in 2011 that aims to explore the possibility of interaction between dancers and technology.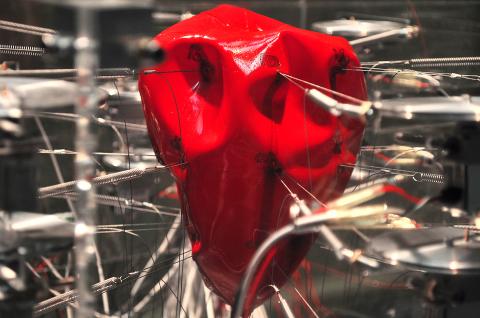 Markus Kison, Pulse.
Photo courtesy of the Taipei Digital Art Center
Another crossover attempt is Threads, a performance art piece that is a collaboration between Grame — Centre National De Creation Musicale in Lyon, France and the Taipei Digital Art Center (台北數位藝術中心). The work combines different theatrical elements including dance, imagery and sounds created by French composer Roque Rivas, Berlin-based choreographer Sun Shang-chi (孫尚綺) and digital artist Yeh Ting-hao (葉廷皓).
The annual Taipei Digital Art Awards (台北數位藝術獎), meanwhile, recognizes and honors those working in Taiwan's evolving digital field. This year, 12 works were nominated for the national competition. They were created by young artists who were "born and grew up in the digital era and to whom digital products are a part of life," Chiu says. Most of the nominated works also utilize computing technologies to visualize data, showing that local digital creators are in tune with international trends.
"However, as the environment for digital art in Taiwan is less mature and healthy, young Taiwanese artists don't have the resources and support to create works that are on the same scale as artists from other countries. Showing international and local works at the same venue will help to fill in that gap," the professor says.
YCAM InterLab and Yoko Ando, Reactor for Awareness in Motion.
Photo courtesy of the Taipei Digital Art Center
App art
To demonstrate how digital art can be transformed into everyday use, festival organizers have put together two exhibitions to shed light on the application of computer games and designed products using digital technologies such as 3D printing. A selection of award-winning works from the App Art Award, organized by the Center for Art and Media (ZKM) in Karlsruhe, Germany each year, brings attention to works of art in app format.
OscilloScoop, for example, is an application for iOS that creates hip-hop, dance and techno tracks by sliding and stretching the screen. An app for Android, Electric Sheep is a distributed system made up of 450,000 participant computers and people to render animated artificial life.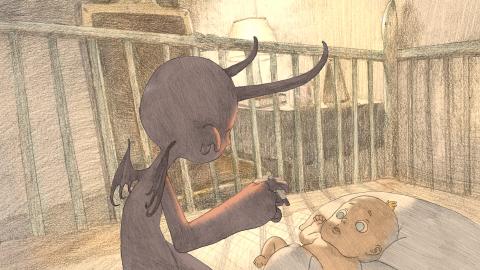 Wu Dong-cheng and Zhuang Zhen-hao, Pure Temptation.
Photo courtesy of the Taipei Digital Art Center
Last but not least, animation enthusiasts won't want to miss the festival's annual animation showcase featuring award-winning films from this year's Annecy International Animation Film Festival and Ottawa International Animation Festival, as well as selected works by animators in Chinese-speaking regions.
For those feeling intimidated by the technologically sophisticated artworks on display, it might be a good idea to join one of the guided tours. Art professors will lead groups through the exhibition on Saturdays and Sundays at the exhibition venue, Tobacco Factory (製菸工廠), which is open from 10am to 6pm on weekdays and 10am to 8pm on weekdays.
For more information, visit www.dac.tw/daf13.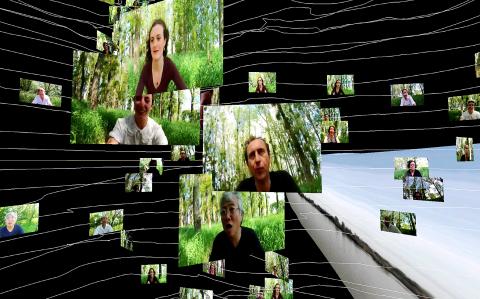 Masaki Fujihata, Voices of Aliveness.
Photo courtesy of the Taipei Digital Art Center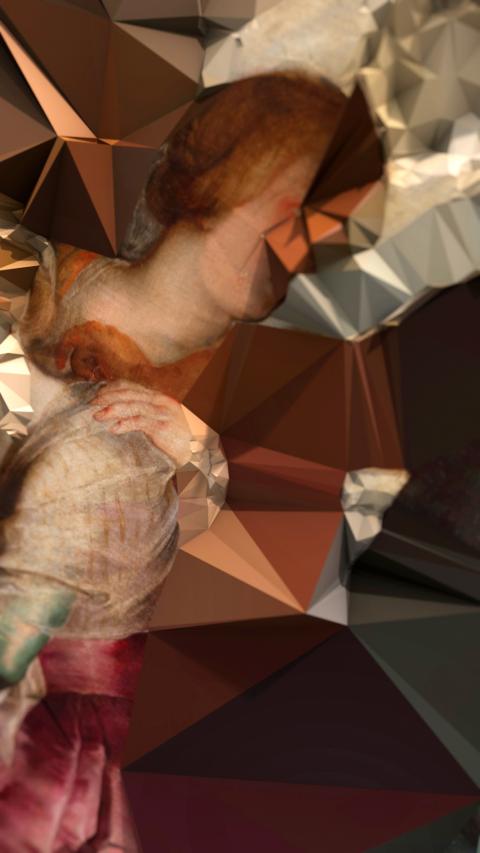 Quayola, Strata #4.
Photo courtesy of the Taipei Digital Art Center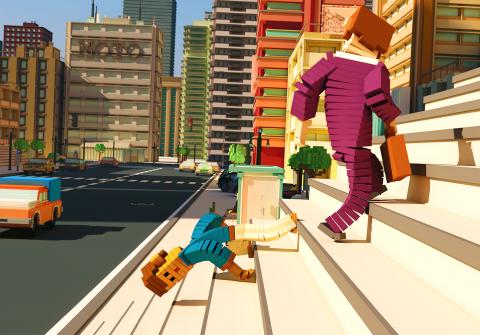 Le Laboratoire d'images, Rubika.
Photo courtesy of the Taipei Digital Art Center
Publication Notes
Festival notes
WHAT: Digital Art Festival Taipei 2013 (第八屆台北數位藝術節) WHEN: Today through Nov. 24 WHERE: Songshan Cultural and Creative Park (松山文創園區), 133 Guangfu S Rd, Taipei City (台北市光復南路133號) TICKETS: NT$600 and NT$800 for the performances; free admission for exhibitions ON THE NET: www.dac.tw/daf13
Comments will be moderated. Keep comments relevant to the article. Remarks containing abusive and obscene language, personal attacks of any kind or promotion will be removed and the user banned. Final decision will be at the discretion of the Taipei Times.