China censors indie cinema
The Chinese government is cracking down on independent filmmaking, dramatically scaling back the Beijing Independent Film Festival and forcing many productions to be screened in clandestine locations
Jane Hsu (徐蓁), a Taiwanese-American curator in New York, knew the odds were pretty good that the Chinese government would disrupt this year's Beijing Independent Film Festival. What she did not know was that she would be holed up in a contemporary artist's basement out in the countryside, clandestinely screening films with other jurors, after authorities ran them out of the festival's film archive in Songzhuang (宋庄).
"We actually got the cushiest jurors' job," joked Hsu, who in 1999 served as a personal assistant to Li Xianting (栗憲庭), the famed avant-garde film critic whose organization, the Li Xian Film Fund, has sponsored the festival for the last 10 years. "There's a secret network of these contemporary artists who offer their homes when the lights go out."
Inspired by her experiences as a first-time juror, Hsu returned to New York in August and held her own four-day film event at the School of Visual Arts as a kick-off to this year's festival. There, she said, participants had a chance not only to view Chinese independent films but also to learn about China's burgeoning independent film scene as well as the Chinese government's increasing distaste for it.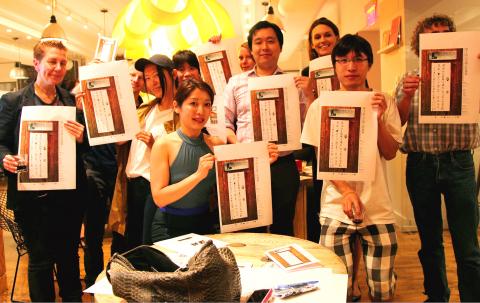 Jane Hsu, center, and those who attended her four-day film event in New York, hold up photos of a notice Li Xianting hand wrote in 2012, explaining why that year's festival had been cancelled, to show solidarity with Beijing Independent Film Festival participants.
Photo courtesy of Wayne Liu
And then, on the last night, the bleak news arrived from China. "We found out that it was not happening," said Hsu, whose event was also attended by film festival participants in China who joined in by Skype.
GOVERNMENT CRACKDOWN
Though not entirely cancelled, this year's Beijing Independent Film Festival was considerably scaled back. Large group screenings were scrapped, and filmmakers were told to burn their films on DVDs distributed by police. They could show them on laptops to no more than three people in a room and discuss them with groups no larger than 25, Hsu said.
"It's not about the films," Hsu added. "It's about the banding together of people, the grouping of people. Film festivals make no money. There's no application fee for the festival, and there is no entrance fee. So I suppose it's probably very confusing for the government why people are doing this."
In western culture, independent film usually refers to movies professionally made outside of the major film industry. For China, it reflects a break from state control and film studios that were all government owned until the 1990s, Chris Berry, a professor of film studies at King's College in London, explained in an e-mail.
With the proliferation of mini-DV cameras, Chinese independent filmmaking took off during the late 1990s, though because such films are not submitted for government censoring, they cannot be shown commercially in movie theaters, Berry said.
While independent films tend to address issues facing those on the margins of society, "filmmakers steer clear of anything that would provoke active pursuit by the authorities," Berry added.
LOST OPPORTUNITIES
For Fan Popo (范坡坡), a filmmaker in Beijing, the Beijing Independent Film Festival is an opportunity not just to submit for screening his own films, which deal with sexual minorities and the rights of the lesbian, gay, bisexual and transgender (LGBT) community, but also to view and discuss other underground films from which he might draw inspiration.
"Making an independent film is an expression of freedom," Fan said. "Moreover, with this kind of independent creativity comes a creative spirit that I personally like."
Last year, Fan submitted his 80-minute film Mama Rainbow (彩虹伴我心), but after police cut power to the festival, it took Fan some asking around to eventually find out where his film was being screened.
"It was difficult to find the location," Fan said, which turned out to be someone's house. "You had to pass a test to gain entry. It made the whole thing feel underground."
Despite this, the Chinese government has still managed to keep a close eye on the film festival.
"So long as such events are below the radar, the government doesn't care," Berry explained. "But once they become established and start to attract wide publicity, any sort of gathering of people outside state oversight makes the government very nervous. The 'independent' word is one that gets them jumpy, too."
By 2011 and 2012, jumpy government officials had already grown wary of the festival screenings and responded by cutting electricity, a move to prevent filmmakers from showing their films, Hsu said.
This year, however, the Chinese government went one step further. "Before the film festival, there is always a workshop for students who want to learn how to make indie Chinese films," Hsu said. "That is where the trouble started."
The police, Hsu said, surrounded the hotel where the workshop was being held and placed everyone under house arrest, informing students and organizers that they were breaking the law ostensibly because they did not have a permit.
BANDING TOGETHER
"So they sent the students home with their parents," Hsu said. "Then the students, through social media, banded together, and they went four hours beyond county lines and had the workshop in the country."
Authorities, meanwhile, had no idea that the student filmmakers had been using their cellphones to videotape the entire episode, which they later turned into a rough-cut documentary that they screened at Hsu's New York event.
"It was amazing," Hsu said. "As we were watching it, we were getting news from Beijing about how they were getting ready for the film festival."
In a gesture of solidarity, Hsu and those in attendance held up the official 2013 film festival poster, featuring a notice Li handwrote the year before explaining to 2012 participants that the festival had been cancelled, and took photos that they sent to this year's festival-goers in China, Hsu said.
"And when I woke up the next day, no screenings had happened," Hsu added.
While the film festival was never officially cancelled, participants were not permitted to gather in groups, as they once were, to discuss the films, Hsu said. "At the end of the day, the directors were not able to screen their works and have a live audience," she said.
"That's the shame of it."
Berry said it is difficult to predict what is in store for independent film and film festivals in China. But unless it becomes easier for independent filmmakers to earn a living, he said, the independent film movement will continue to revolve around short clips posted on the Internet.
"There are huge numbers of these now," Berry said, "and they are used for all kinds of purposes, although they are rarely very cinematic or highly stylistically sophisticated.
Comments will be moderated. Keep comments relevant to the article. Remarks containing abusive and obscene language, personal attacks of any kind or promotion will be removed and the user banned. Final decision will be at the discretion of the Taipei Times.