Book review: David and Goliath: Underdogs, Misfits and the Art of Battling Giants (Illustrated)
Malcolm Gladwell's new book explores the story of David and Goliath to show that giants have weaknesses, and that underdogs can accomplish the unexpected
The world becomes less complicated with a Malcolm Gladwell book in hand. Gladwell raises questions — should David have won his fight with Goliath? — that are reassuringly clear even before they are answered. His answers are just tricky enough to suggest that the reader has learned something, regardless of whether that's true. A recent posting on Goodreads lauds the power of Gladwell's entertaining insights into the not-quite-obvious. "Do you really want to be surprised all the time?" a commenter identified as Dr. A. Taubman asked this week about Gladwell's latest, David and Goliath? "The world is disconcerting enough already."
As Gladwell specifies, David and Goliath sets out to explore two — just two — ideas. The first is that there is greatness and beauty in David-Goliath fights, at least when the underdog wins. The second is that "we consistently get these kinds of conflicts wrong" by failing to realize that giants have weaknesses, and that underdogs can accomplish the unexpected. If David and Goliath were a more serious book, it would have to apply that thought to terrorism. But, as Taubman implies, Gladwell is not in the business of providing disturbing information.
Instead, his emphases are on uplift and novelty. So he analyzes the David-Goliath bout, comparing the effects of slingshots to those of sword and spear. He lauds David's little-guy maneuverability. And he suggests that Goliath, like scientifically studied giants, might have had acromegaly, a growth disorder that would have meant a pituitary tumor, which could have created vision problems, which might explain why Goliath had an attendant to lead him. Maybe that led him to misjudge David's power. Maybe the Israelites watched from a distorting vantage point that made Goliath look excessively big, David excessively puny. Do we see the relevance of these thoughts to our daily lives?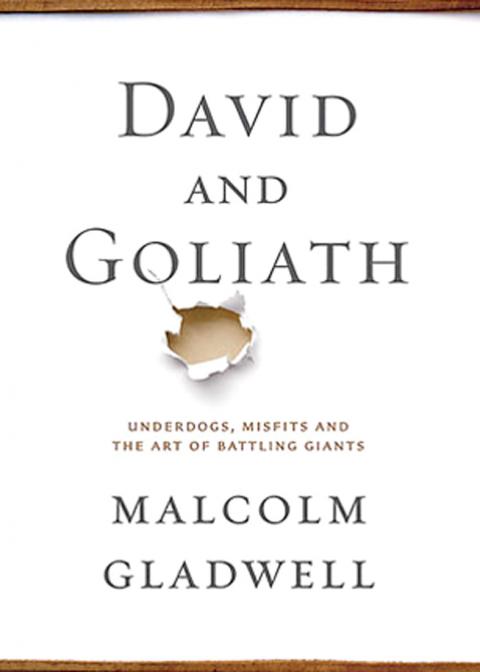 David and Goliath: Underdogs, Misfits and the Art of Battling Giants (Illustrated), by Malcolm Gladwell.
Not yet? Then consider the title of this three-part book's first section: "The Advantages of Disadvantages (and the Disadvantages of Advantages)." During the course of a multipart, one-note argument, Gladwell demonstrates that short teenage girls playing basketball and a schoolteacher with a 29-student classroom could make seemingly adverse circumstances work to their advantages. The girls learned to dominate the courts on which they played. And the teacher liked the variety of that seemingly overcrowded classroom, which may stir up an argument among the polite elite most likely to read Gladwell: the contrast between seemingly elite prep schools and colleges and more downscale ones in which students may be likelier to excel. His advice: Ignore school ratings. Be a big fish in a small pond. Who wants to be a guppy at Harvard?
As usual, Gladwell's science is convenient. He has charts to back up his premise about academic success, but how is success measured? In happiness? Salary? Getting jobs, or keeping them? Read the annotations if you must, but they won't get you far. Gladwell needs a David-Goliath school story, so he creates one. His version happens to have common sense on its side, even if it is in no way definitive or complete.
The book's middle section is its messiest. It scrambles through the stories of the trial lawyer David Boies, the film producer Brian Grazer, the Goldman Sachs president Gary D. Cohn, the pioneering leukemia oncologist Jay Freireich and the civil rights leaders who, according to Gladwell, successfully conned Eugene Connor, the white supremacist public safety commissioner of Birmingham, Alabama, in 1963.
The disproportionate gravity of these examples borders on insult, but it is Gladwell's gift to paste together the incongruous. After all, Boies, Grazer and Cohn created ingenious strategies to cope with their dyslexia. Freireich overcame terrible childhood hardship and would dare, as an adult, to put children through excruciating experimental treatments to save their lives. The black citizens and civil rights workers of Birmingham also had things to overcome.
Early in this section, Gladwell invokes the World War II bombing of London as a valid David and Goliath mismatch: German efforts to intimidate the British created the "remote miss," a survivor's exhilaration, in some who lived through weeks of bombardment. This book's second — that's two — good talking point is that experiencing a remote miss promotes willingness to take risks.
The final part of David and Goliath is the one that hews closest to conventional wisdom. Entities with power, he says, should not invalidate their own legitimacy. As an example of how legitimacy might be lost, he cites an episode in Northern Ireland when the British army tear-gassed a priest. As an example of how it might yield benefits, he cites a police officer in New York who cultivated the worst juvenile offenders on her turf, even to the point of giving Thanksgiving turkeys to their families.
Gladwell has a less Christmassy point to make with the stories of how differently two California families dealt with the murders of daughters. Mike Reynolds, the first victim's father, helped drum up support for California's three-strikes law, although Gladwell points out the law's weaknesses.
The second victim's story is quirkier. Wilma Derksen and her husband, Canadian Mennonites whose daughter was hog tied and murdered, originally voiced a forgiving desire to know the killer. But then the man was apprehended, and Derksen could not bear the details she learned at his trial.
Perhaps Derksen might have exploited her daughter's fate, or otherwise made herself a strong counterpoint to Reynolds. But she showed courage in choosing not to. She had the strength to walk away, and Gladwell takes her story no further, not even to the point of relevance. Derksen was no David. Fate did not give her a Goliath to fight. She doesn't really belong here. David and Goliath lacks the temerity to say so.
Publication Notes
Publication notes
David and Goliath: Underdogs, Misfits and the Art of Battling Giants (Illustrated)
By Malcolm Gladwell
305 Pages
Little, Brown & Co
Paperback: US
Comments will be moderated. Keep comments relevant to the article. Remarks containing abusive and obscene language, personal attacks of any kind or promotion will be removed and the user banned. Final decision will be at the discretion of the Taipei Times.