Comedy: The Manchild in Taipei
Nat Baimel from California is one half of The Manchild, a duo that does standup comedy in Taipei this week. The other Manchild is Ed Hill, a Taiwanese Canadian whose sweet-and-sour experience as an ethnic minority fuels his stand-up act.
"I will be talking about being a Taiwanese Canadian growing up in a North American culture," Hill told the Taipei Times. "Some [cultural] stereotypes will definitely be discussed in my act in a subtle, personal way."
Born in Taiwan, Hill moved to Canada at age 10 under the notion that he was on vacation. He is among a new generation of Asian stand-up comedians who have turned their experiences as a minority and their identity confusion into routines. Asian-American pop icon Margaret Cho does it bawdily and with trenchant wit. Hill is gentler but just as witty, poking fun at his status as an Taiwanese Canadian and including acerbic observations about how his parents have made peace with living in the western world.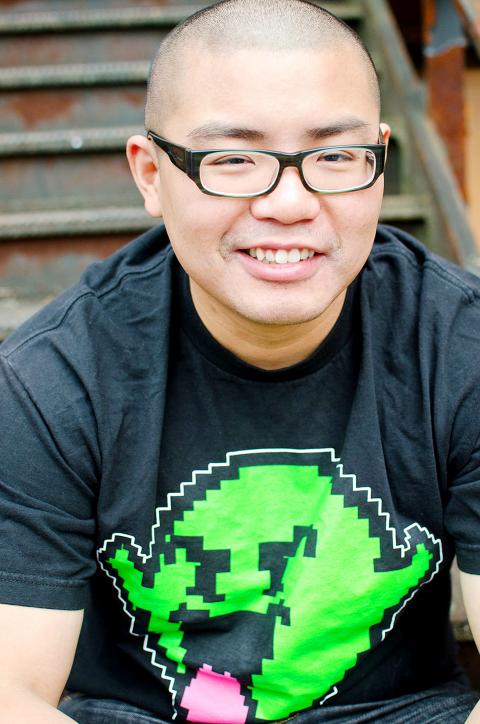 Taiwanese Canadian Ed Hill performs his stand-up routine tonight at Taipei's Comedy Club.
Photo courtesy of Ed Hill
"The show ties in some societal, political and familial views," Hill said. "Everything I talk about eventually hails back to my life story."
Hill, a rising comedian, has performed on BiteTV, Comedy Time as well as various comedy festivals in North America. He and Baimel met in Seattle three years ago, clicked right away and decided to tour together.
At a performance in Singapore last year, Hill noticed the interest in stand-up comedy and decided to embark on an Asia tour that includes Taipei, where Hill and Baimel will take turns onstage during a 90-minute show.
Publication Notes
Performance Notes
WHAT: The Manchild Tour Asia 2013 WHEN: Tonight and tomorrow at 10pm WHERE: Comedy Club, 20, Ln 553, Zhongxiao E Rd Sec 4, Taipei City (台北市忠孝東路四段553巷20號) ADMISSION: NT$350, includes a drink. To reserve seats, contact Comedy Club at social@comedy.com.tw or call (02) 2764-5529 ON THE NET: www.comedy.com.tw, kingedhill.com
Comments will be moderated. Keep comments relevant to the article. Remarks containing abusive and obscene language, personal attacks of any kind or promotion will be removed and the user banned. Final decision will be at the discretion of the Taipei Times.