A swan princess for the 21st century
Chamber Ballet Taipei's updated version of 'Swan Lake' made for a satisfying night out
Taiwanese choreographer Allen Yu (余能盛) had worried that his Chamber Ballet Taipei's (台北室內芭蕾舞團) dancers wouldn't meet the rigors of Swan Lake (天鵝湖), but he needn't have. They performed admirably.
I never thought I would see an all-Taiwanese corps de ballet performing the "white ballet" that is one of the hallmarks of the piece, with the flock of swan maidens moving in unison. They were not as uniform as Yu might have wished, but given the confines of the Metropolitan Hall's stage — it is neither wide nor deep enough for a flock of 26 swans — they gave it their best.
From the very opening, the ballet offered the promise of something different. Yu added an introduction to show how Odette became a swan. As a young princess walking on her own, she sees some pretty flowers growing from a wall and picks them. Like a Venus flytrap, the wall begins to curl inward, turning into the wings of a giant bat-like creature that envelops her. When the wings unfurl, Odette has been transformed into a swan.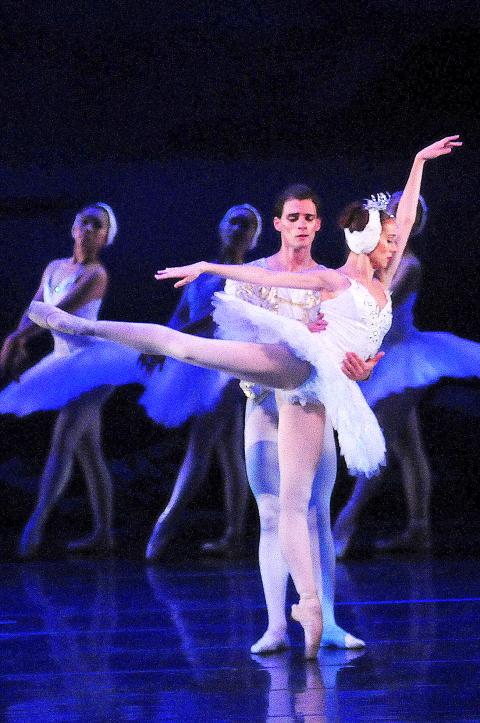 Romanian dancers Cristina Dijmaru, right, and Valentin Stoica starred in the Chamber Ballet Taipei's performance of Swan Lake, choreographed by Allen Yu, at the Metropolitan Hall in Taipei.
Photo Courtesy of Chamber Ballet Taipei
The set for Act I was a bit of a letdown after such a strong opening and not up to designer Huang Jih-chun's (黃日俊) usual standards. It appeared to be a large veranda, with a few white columns and a fairly ugly backdrop of a far-off mountain range (the backdrops in Act II and Act III were much better executed, especially the ballroom in the latter), with a set of white iron garden furnishings. However, given that most of the 46-person cast makes an appearance in this act, the rather bare setting did leave enough room for dancing.
Yu followed the Russian tradition of making the role of Benno, usually a friend of the prince, into the court jester. Romanian Bordan Canila was great in the role, effortlessly tossing off lots of snappy jumps and turns.
As the brooding Siegfried, Valentin Stoica was a classic handsome romantic prince with a chiseled jaw. He did tend to mope a little too much in the later acts, when he is supposed to be madly in love, but Stoica is in his early 20s and has time to develop an acting technique to match his dancing ability later. He was not as flashy as Canila, but he didn't need to be and his partnering is very good.
Yu changed Marius Petipa's classic pas de trois in Act I into a pas de quatre, which served to highlight the talents of Lin Po-ju (林伯儒) and Ciou Jhu-en (邱主恩). Both were students in the dance department of Taipei National University of the Arts, but Lin has danced with the National Moravian-Silesian Theater as a soloist, while Ciou studied at the Kirov Academy of Ballet in Washington. Their additional training showed in their clean lines and finishes, which were much better than most of the other Taiwanese men in the troupe. They partnered Hung Chia-lin (洪嘉鈴) and Chen Yu-tzu (程佑慈), who danced beautifully. Lin, Ciou and Cheng had another chance to shine in Act III's Spanish Dance.
Yu did not make many changes to Act II, although he had the evil sorcerer Von Rothbart lead his flock of spellbound swan maidens onto the stage, an addition that helped add drama to the story. The act's "white ballet" was everything it should be — the Grand Adagio between Cristina Dijmaru as Odette and Stoica was beautifully executed, the four baby swans were in sync and the women of corps de ballet danced, with a few exceptions, in line and as one. They crisscrossed the stage in arabesque penchee in surprising harmony, which is one of the make-it-or-break-it points for any company performing this ballet.
As von Rothbart's scheming daughter Odile in Act III, Dijmaru was sharp and flashy in the black swan pas de duex. She nailed the requisite thirty-two fouettes by turning several of them into doubles — an impressive feat — in her solo. Stoica performed his variation with flair.
Yu's most interesting tweak to the Swan Lake canon came in the Act IV battle between Siegfried and Von Rothbart. As in the Russian tradition, Yu's sorcerer has wings that could be torn off by Siegfried, thereby weakening his power. However, Von Rothbart calls forth the lake waters (long wide ribbons of white and lots of smoke) and tosses Siegfried into them.
The ballet may be set in the Middle Ages, but Yu's Odette is a 21st-century swan princess. She is not going to cower, or kill herself. She tries to intervene between the two men as they fight and, when Siegfried is drowning, she enters the lake and drags him to the shore. Siegfried then tackles Von Rothbart and kills him with a stab to the neck. Von Rothbart's death breaks his spell over the swan maidens, leaving Siegfried and Odette to live happily ever — and the audience thoroughly satisfied with the denouement.
Comments will be moderated. Keep comments relevant to the article. Remarks containing abusive and obscene language, personal attacks of any kind or promotion will be removed and the user banned. Final decision will be at the discretion of the Taipei Times.