A run on the wild side
The OtterBox Taiwan AA X-Trail provides a taste of adventure for distance runners
It's been more than a decade since Action Asia first came to Taiwan with its unique blend of adventure racing. The large ambitions of the early Action Asia Challenges in Taiwan, with their demanding mix of technical skills, have given way to the OtterBox Taiwan AA X-Trail, which is now entering its third year, held in the hills of Taipei's Maokong (貓空) area. Interest in this event, which will take place on Sept. 14, has been growing rapidly, and this year organizers hope to achieve a target of 1,000 participants.
The numbers are very encouraging to organizers, who may have hit on the right format for Taiwan. Michael Maddess, Race Director & Course Designer for the Action Asia Foundation, which hosts a variety of adventure races around Asia, said that Taiwan offered a wide range of terrain and many scenic areas for adventure racing, but the infrastructure for adventure activities was still lacking.
"I believe if the Taiwan government made more of an effort to have a more manageable trail system linked together with names of trails in Chinese/English on easy-to-get trail maps available to the general public, this would encourage more hikers and runners to go into the mountains of Taiwan. [Currently] many just don't know where to go," he said in an e-mail interview with the Taipei Times.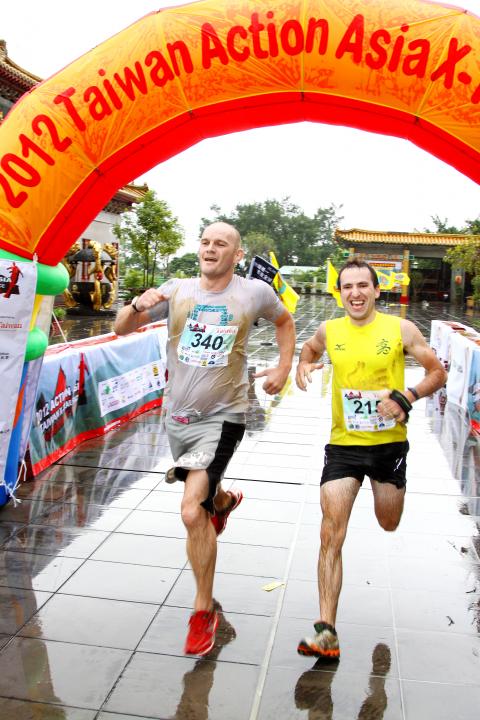 Runners push for the finish line in last year's OtterBox Taiwan AA X-Trail.
Photo courtesy of Action Asia Challenge
The Action Asia Challenge also faced considerable difficulties in organizing multi-discipline adventure events due to the high degree of segmentation of the sporting community between runners, cyclists and trekkers. The original Action Asia Challenge, which came to Taiwan in 2001 and held its final race here in 2005, required a mix of running, cycling, swimming, climbing and rope skills that very few managed to combine. Speaking to the Taipei Times in the run up to the 2003 race, rock-climbing specialist Robin Dai (戴昌盛) said: "We all want to be an expert. If I am the best in my field, I don't want to compete in another discipline where someone else is the expert. So I stick to my patch and protect it from encroachment."
According to Polly Tsui (徐寶鈞) of the Action Asia Foundation, organizers had discontinued the Action Asia Challenge in Taiwan due to a lack of local participation.
With the Taiwan OtterBox Taiwan AA X-Trail, Maddess dropped the technical adventure skills and focused on marathon and other long-distance runners, providing them with an avenue to push themselves without being overwhelmed with unfamiliar demands.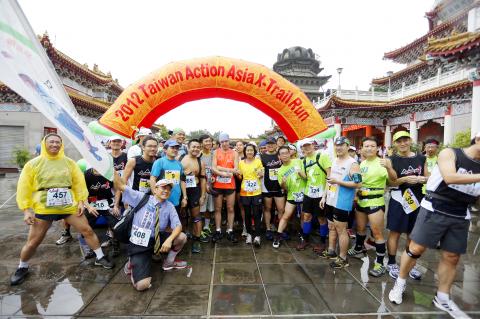 Last year's course took runners deep into the wilderness.
Photo courtesy of Action Asia Challenge
Chien Shuo-hui (簡碩慧), aged 37, a long time distance runner who has participated in the last two OtterBox Taiwan AA X-Trail events, said that this was the most challenging wilderness race she had ever participated in.
"I think new participants will be really shocked by the 'wildness' of the terrain," she said in a telephone interview with the Taipei Times. "A lot more preparation is required," she added, but despite the difficulties she has already encountered, she said that this year she had upped the stakes, registering for the 17km event. X-Trail offers two event categories, a 9km and a 17km race.
Second-time participant Huang Song-hsun (黃松勳), 33, agreed that the "wildness" of the X-Trail race was what made it stand out among marathons and other wilderness races.
"It is the kind of race that requires quite a lot of endurance," he said in a telephone interview. He added that he was working hard on developing core and thigh strength in preparation for the race.
"Last year, it was raining really heavily, and some of the running sections were more like river tracing," he said. "It is really quite different from most races in Taiwan."
X-Trail takes runners into some pretty difficult terrain, and Maddess said that this necessarily involves greater organizational challenges.
"All the twists and turns on the trail running course makes marking and following the course more challenging. We need to remind participants to constantly be looking out for course ribbons and signs for junction turns on the trails. This is very different [from] following the person in front of you on a road running marathon course in Taipei," Maddess said.
Huang said that sometimes during the race he wasn't sure if he was going the right way and had to look around for direction. "When you feel lost, it is a lot of pressure," he said, adding that this was all part and parcel of the adventure spirit that the race provided. "It makes the race more challenging."
Chien enjoyed the technical challenges posed by the wilder terrain that X-Trail offered. "I have talked to lots of friends about ways of handling descents and water crossings," she told the Taipei Times.
A regular hash runner, she said X-Trail had been the first time she had handled such difficult terrain in a race. This response is exactly what Maddess has been looking for. "It is an event for a type of runner looking for a good mountain challenge to inspire them and to show off to their friends that they accomplished something many would find impossible to do," he said.
X-Trail not only affords an introduction to some wilder off-road running routes, but also emphasizes the beauty of nature. "For the long course participants, stopping at the top of Er Ge Shan (二格山, 678m) to enjoy the beautiful view of 101 and Taipei is a stunning view many in Taipei and Taiwan have never climbed up to see," Maddess said. Details of the course can be found at connect.garmin.com/course/3608392.
Registration for the Sept. 14 event are open until the end of the month. More information can be found at www.actionasiaevents.com.
Comments will be moderated. Keep comments relevant to the article. Remarks containing abusive and obscene language, personal attacks of any kind or promotion will be removed and the user banned. Final decision will be at the discretion of the Taipei Times.