Live Wire: Formoz finds its voice
Formoz, welcome back! We've missed you! It was a bit of a relief to see Taiwan's aspirational international rock festival do more than just aspire, drawing 25,000 people over three days and managing a comeback after a four-year hiatus. Headliners Suede, Mercury Rev and The XX were very good if not all amazing, but they made thousands of fans happy and certainly plant Formoz squarely back on the summer calendar of Asian music festivals.
There were also standout shows by The Big Pink, A Place to Bury Strangers and the young Japanese band Okamoto's. Taiwanese superstar Chang Hui-mei (張惠妹), also known as A-mei, made a secret appearance to watch the Japanese duo, Puffy. And Japan's current queen of kawaii, Kyary Pamyu Pamyu, was clown-tastically good, though, in the 36 degrees Celsius heat on Sunday afternoon, one of her dancers had to come off due to heat exhaustion and was wrapped in cold towels and ice backstage.
Ahhh, the stories of a good rock festival. Though the weather was hot, scorching sun was better than torrential rain. The crowds were enthusiastic and well-lubed. Airplanes flew just over the top of two of the main stages, landing just 2km or 3km away at the Taipei Songshan Airport and, all too often timing their flyovers with a crescendo or a finale, seeming like some awesome stage effect.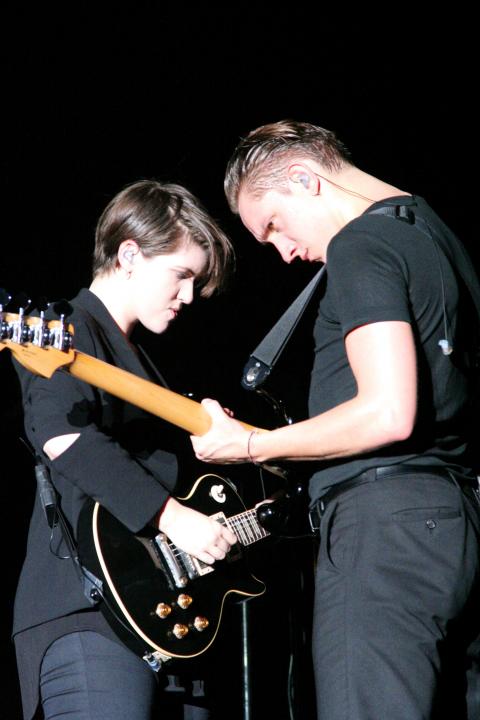 Sunday night headliners Romy Madley Croft and Oliver Sim of The XX.
Photo: David Frazier
And the really good news is that the event may be financially viable.
"We may have lost a little bit of money, but we are very close to breaking even. We are still doing the accounting, so I cannot say for sure," said The Wall CEO Orbis Fu (傅鉛文) on Tuesday.
The event's budget was NT$71 million, or around US$2.4 million.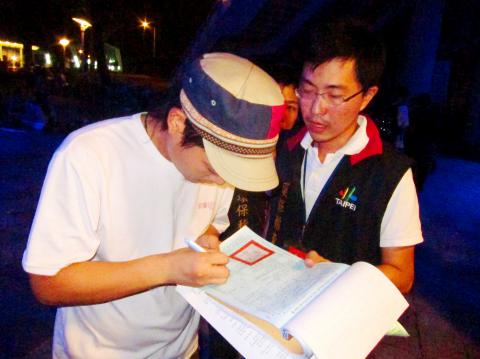 Taipei Environmental Protection Bureau on Saturday night issued a fine for NT$3000 to concert organizers for noise violations. Though outdoor stages ended at 10pm, one indoor electronic stage went to 3am.
Photo: David Frazier
Generally speaking, Fu added, sounding completely worn out, "We are very satisfied. Everyone is really happy."
The Big Pink, a UK three-piece, was one of the bands that saw past the simple statistical arithmetic of the festival's success — they were having a blast, and they played like it. Their set for around three or four thousand, one of the festival's best, was just before sunset on Saturday and went from psychedelically good indie rock at the beginning to electro-ravey ecstatic at the end. It featured two brand-new "remixes," both by relatively new band members — The Palace by DJ MPRSSS and Too Young to Love by Vicky Jean Smith.
Later, while stage-hopping and posing for photos with fans, singer Robbie Furze explained, "We've played the first two albums so many times, and the third album will come out later this year. So we just wanted to mix it up a bit." He was with both Smith and MPRSSS and generally having a time of it.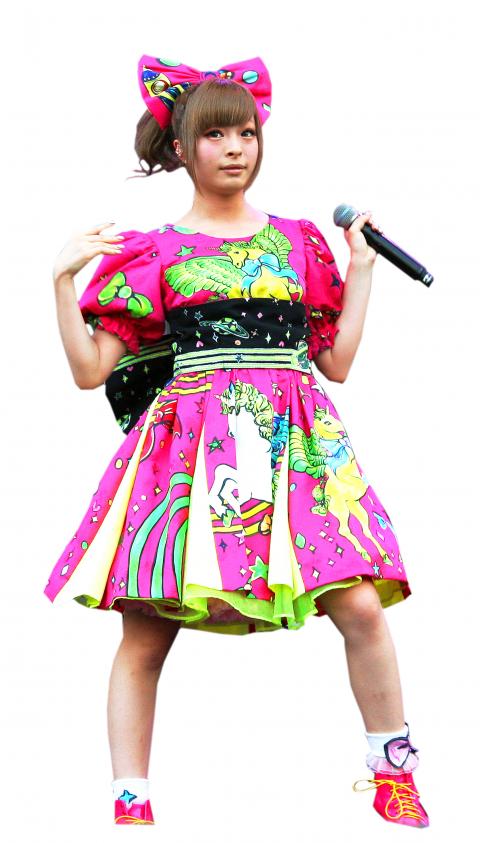 Twenty-year-old Kyary Pamyu Pamyu is one of Japan's biggest pop idols.
Photo: David Frazier
Another major highlight was The XX, a darkly down-tempo trio from London. Playing the festival's closing set, their moodiness turned electric, with the two vocalists, Romy Croft and Oliver Sim, playing face-to-face in a weird, minimalist tango, coming together but never touching, as if an invisible barrier kept them apart. Lasers shot out white arcs, though only parallel to the ground. They could not point into the sky for fear of affecting the navigation of the incoming airplanes. Beyond the performance, there was an even greater poignancy to this moment. Here was a foreign band in its prime playing for around 10,000 Taiwanese fans, who had not had an international rock festival to call their own for the last five years. It could well go down as a generational moment.
Taiwanese media coverage of Formoz has been largely positive with the usual focus on money and fame — celebrity sightings, ticket sales and so on. The TV network CTS (華視) however, found one negative story, a neighbor to complain about the noise. City inspectors from the Department of Environmental Protection did give the festival a ticket on Saturday at 2am, though for the lowest possible amount, NT$3,000. Fines for noise violations can go to a maximum of NT$30,000. Of Formoz's seven stages, six were outdoors and shut down at 10pm, with one indoor electronic music stage going till 3am on Friday and Saturday nights. Worth noting here, Taipei Mayor Hau Lung-bin (郝龍斌) has promoted the Yuanshan area as a potential home for indie music, saying there are relatively few neighbors to bother.
■ Elsewhere in Taipei, local rapper MC Hot Dog filled Taipei Arena last Saturday, performing for around 11,000 people. It was the first time a Mandarin rapper has ever filled a stadium in Taiwan. He had a lot of star power backing him up, but for the horn section, he recruited several musicians that normally play underground clubs and expat bars, including MacGreggor Wooley of Kid Millionaire and Andy Francis of La Cumbia Balkanska and other bands. I first saw Hot Dog more than a dozen years ago, when, completely unheralded, he stepped up onto a stage at Spring Scream and killed it. It's good to see that, in some ways at least, he is still keeping it real.
■This weekend, two Taiwanese bands will go to Japan to play the Summer Sonic music festival on a stage for upcoming Asian indie bands. Punk band Random (隨性樂隊), winner of the 2012 Taiwan Indie Music Awards, will join Go Chic, which makes its second appearance at the festival. Go Chic has recently signed a management contract with Arrival Music (有凰音樂), which also manages reggae band Matzka.
■ A slew of big concerts are coming down the pipe: Cindy Lauper (Aug. 13, Taipei International Convention Center), Linkin Park (Aug. 17, Taipei Arena), Suuns (Aug. 24, The Wall), Aerosmith (Aug. 24, Kaohsiung National Stadium), The Killers (Sept. 28, Nangang Exhibition Hall), The Flaming Lips with Explosions in the Sky (Oct. 26 at a fall festival from Formoz organizers, The Wall Music, details TBD), Franz Ferdinand (Nov. 26, Legacy) and Neutral Milk Hotel (Nov. 28, TBD).
■ Up this weekend is Bjork, the Icelandic singer, who has a voice like no other. Two weekends ago at Fuji Rock in Japan, her hair was blue and her dress was a cartoonish DNA helix made of colored balls. She had a small troupe of elfin dancers hopping up and down behind her with lots of video images of geological upheaval. It was a bizarre spectacle that was occasionally beautiful, but mostly just odd. Her music can be breathtaking, but for that show it was erratic, with few melodic lines to latch on to and little connection between the almost seismically deep bass parts and the singing. Someone asked me to describe the performance in a word, and I said, "Boring." Had I been feeling nicer, I might have said "arty." Bjork fans will probably still like it though.
Bjork performs tomorrow at the Taipei World Trade Center Nangang Exhibition Hall (台北世界貿易中心南港展覽館), 1, Jingmao 2nd Rd, Taipei (台北市南港區經貿二路1號). Tickets are NT$2,500 to $4,000 through www.walkieticket.com.
Comments will be moderated. Keep comments relevant to the article. Remarks containing abusive and obscene language, personal attacks of any kind or promotion will be removed and the user banned. Final decision will be at the discretion of the Taipei Times.