Art exhibition listings
Little Mona Lisa is an art show for children, featuring hands-on activities and locally produced fashion and illustrations based on Leonardo Da Vinci's painting. A guide walks children through the gallery, telling stories about the mysterious original work along the way. The exhibition is part of a summer-long "We're All Mona Lisa" program at the Kaohsiung Museum of Fine Arts, which includes more Mona Lisa adaptations by Taiwanese artists (showing now at Mona Lisa Made in Taiwan) and by European modernists like Fernand Leger, Philippe Halsman and Marcel Duchamp (showing at Leonardo: Mona Lisa — The Myths exhibition starting July 20).
■ Children's Museum of Art Gallery 101, Kaohsiung Museum of Fine Arts, 80 Meishuguan Rd, Greater Kaohsiung (高雄市美術館路80號), tel: (07) 555-0331. Open Tuesdays to Sundays from 9am to 5pm
■ Until Aug. 31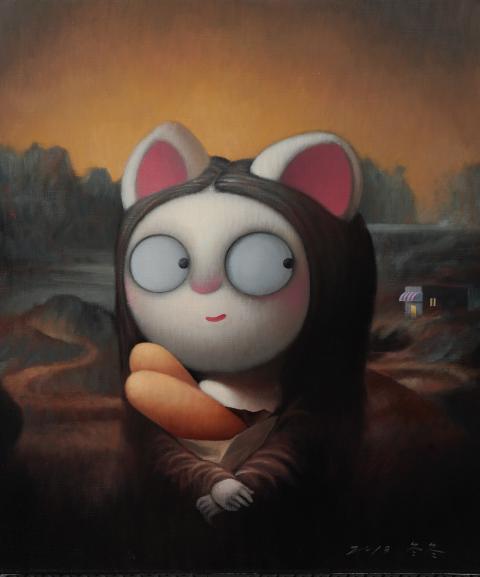 Tang Tang, Dong Dong Lisa (2013).
Photo Courtesy of KMFA
Will Things Ever Get Better? (這個世界會好嗎?) is a solo show of fiberglass sculptures by Xiang Jing (向京), the first female Chinese artist to be featured at the Museum of Contemporary Art, Taipei. The Beijing-based artist is bringing her Naked Beyond Skin (全裸) and Ordinary People (凡人) series — sculptures of lonely humans on the margins of society — and Otherworld (異境), a collection of animal figurines with pure, prescient expressions. Xiang graduated from the Central Academy of Fine Arts in 1995 and went on to found the X+Q Sculpture Studio. She is a winner of last year's Martell Extraordinary Artist Award, a French corporate recognition for Beijing artists.
■ Museum of Contemporary Art, Taipei (MOCA, Taipei), 39 Changan W Rd, Taipei City (台北市長安西路39號), tel: (02) 2552-3720. Open Tuesdays to Sundays from 10am to 6pm. General admission: NT$50
■ Opens tomorrow. Until Sept. 1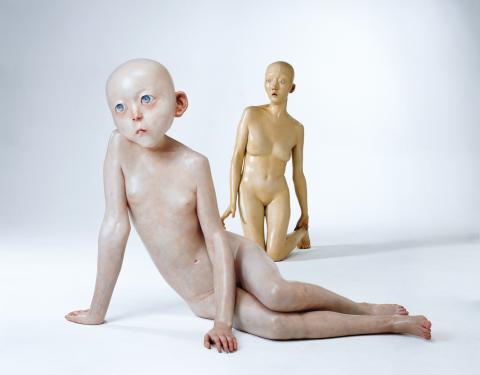 Xiang Jing, Naked Beyond Skin — Peacocks (2008).
Photo Courtesy of MOCA, Taipe
Sakiyama x Guandu Taiwan-Japan Sculpture Exhibition (崎山X關渡 台日雕塑交流展) is a group show of 31 sculptors from Sakiyama, Japan and Guandu (關渡) in Beitou(北投). Both are university towns on the far outskirts of a city, but their visual languages are worlds apart. The Guandu artists cleave close to classic aesthetics while trying new methods like weaving and materials like acrylic paint, while works from Sakiyama are cerebral and wild, seemingly abandoning theory.
■ Aki Gallery (也趣藝廊), 141 Minzu W Rd, Taipei City (台北市民族西路141號), tel: (02) 2599-1171. Open Tuesdays to Sundays from noon to 6:30pm
■ Opening reception tomorrow at 3pm. Until July 28
At their independent art show, two photographers look back at one natural disaster and look ahead to a possible manmade one. Han Sheng-zhi (韓聖芝) shows, step by step, how residents rebuilt their village in Taiwu (泰武村), Pingtung County, after Typhoon Morakot. Meanwhile, Chivalry Lo (羅荻凱) brings a series taken at motley street demonstrations against the Fourth Nuclear Power Plant in New Taipei City. All profits from sales at Say Goodbye to (88) Flood, Say No to Nuclear (走出八八水災。期待非核家園) go to rural elementary schools damaged by flooding after Typhoon Morakot.
■ Bian Bian Cafe Shop (邊邊Cafe Shop), 55-3 Linyi St, Zhongshan Dist, Taipei City (台北市中正區臨沂街55-3號), tel: 0937817612. Open Thursdays to Tuesdays from noon to 11pm, closed on Wednesdays
■ Until August 15
Educator and calligrapher Chuang Yao-lang (莊耀郎) is showing 20 Chinese calligraphy pieces at his solo exhibition Classic Romance (古典的浪漫). A few works use ancient poetry by Tao Yuanming (陶淵明) and Su Shi (蘇軾), but most feature Chuang's original commentary on current events and his daily encounters. Chuang is a professor in Shih Hsin University's Department of Chinese, where he specializes in Chinese philosophy and poetry.
■ Wenshui Arts and Cultural Center (文水藝文中心), 7F, 11, Nanjing E Rd Sec 2, Taipei City (北市中山區南京東路二段11號7F), tel: (02) 2563-4568 . Open Tuesdays to Fridays from 11am to 6pm
■ Until July 30
Comments will be moderated. Keep comments relevant to the article. Remarks containing abusive and obscene language, personal attacks of any kind or promotion will be removed and the user banned. Final decision will be at the discretion of the Taipei Times.