From boardroom to Billboard
A corporate woman from Taipei makes a track that reached No. 1 on the ReverbNation dubstep charts
In a latex dress and some six-inch pumps, it's hard to tell that Maki Hsieh (謝明錦) was the president of a US cable company just last year. Before that, she was with Thomson Reuters, and before that at Walt Disney, where she held an executive position.
You won't find a trace of the corporate in her debut single Kyoto, a Skrillex dubstep track arranged with electric violin and soprano vocals. The music video, shot with high-contrast lighting and fog for an underground look, has Hsieh dancing to dubstep, singing and playing the violin. Not all at the same time, but close.
Despite the risky concept, Kyoto showed strong last month on ReverbNation, reaching number 1 on the Los Angeles, US and global billboards for dubstep within 18 days of its April release. The single has also turned a few heads in Hollywood. Hsieh received offers from two promoters to tour and nine music producers to collaborate, and she's preparing her first studio album to launch by year's end.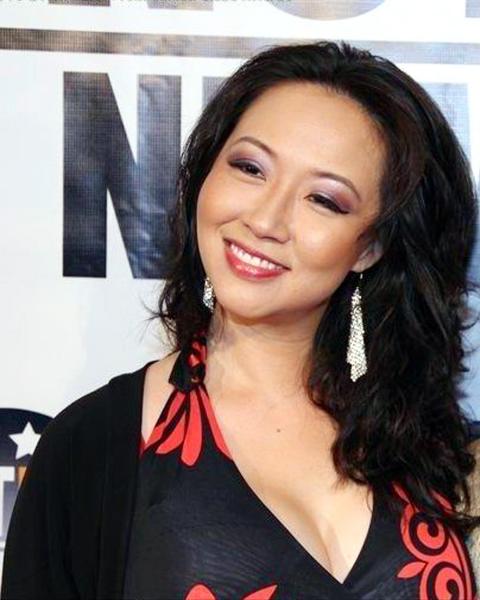 Maki Hsieh, walked out of the boardroom to create her own brand of music that blends dubstep, singing and violin.
Photo Courtesy of Maki Hsieh
For this Taipei native, having a professional music career is a thrill. "Home Depot, a do-it-yourself construction store, boasted how they were the largest hirers of Olympians because they offered benefits and flexible hours. I [had] thought, if Olympians can't get their dream job after they win medals, how could I?" she said in an e-mail exchange with The Taipei Times.
Hsieh was born in Taiwan, to a Japanese-American mother and Taiwanese father who had his own hopes in show business. As a young man, the elder Hsieh flew to Japan to become a star — in tap dancing — but eventually gave up the pursuit as impractical. As a parent, he paid for voice and violin lessons for a musically precocious daughter, but urged her to find a safer career.
When the younger Hsieh got to Johns Hopkins University, she continued her music training, but majored in the pre-med track. She joined a local gospel choir, performed regularly and signed up for classes with famed violinist Berl Senofsky at Peabody, an affiliated music conservatory. When Hsieh later declined a full scholarship to a Peabody graduate program, Senofsky shouted at her.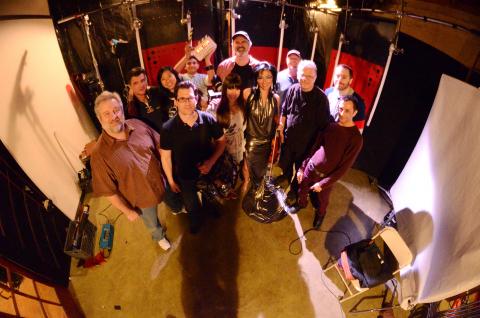 Hsieh's production crew.
Photo Courtesy of Maki Hsieh
"[He] said as I left, 'You are wasting your talent. You are wasting your life.'" But Hsieh was unmoved. "I didn't see other Asians succeeding in mainstream American culture."
These days, the tide is turning. After moving to Los Angeles for her job at Walt Disney, Hsieh noticed that the 2008 financial crisis had triggered rapid changes in the entertainment industry, which was struggling to create revenue.
"LA was the best place to research the latest trends. I went to several events weekly with a binder, scribbling what worked and what didn't."
Hsieh noticed industry heavyweights turning against the old mainstays and promoting Justin Bieber and the Jonas Brothers instead, to court a youth demographic increasingly attracted to "values" pop. Hollywood was also warming up fast to international artists.
"Executives realized that they had to reach broad audiences and include stories from other cultures," she said, citing breakout successes like Ang Lee, Skrillex and PSY.
Hsieh spent a year working on her concept, a propulsive blend of her two loves: violin and opera. She wants her sound to be, in a word, electric.
"Most electronic violinists produce a smooth lyrical sound but my technique results in a fierce sharp tone, [which] I learned from my teacher Kim Chang in Taiwan and Berl Senofsky," she said.
Last December, Hsieh resigned from her CEO position and entered the music industry full-time. She's cautious but hopeful, and the reception has been positive. Not because her tracks could knock you out with any flashy technique, she's quick to stress. Nor because she is extraordinarily talented, beautiful or brilliant, she said.
But Hsieh does have one thing going for her. Her performances are yearning and wrenching, almost desperate to serve the song. Maybe because she wants it so much, Hsieh's stage presence is adept at eliciting pleasure and sense. After performances, audience members come up and say so.
"They never say, oh that was lovely," she said.
"Instead they would say, 'Your performance was powerful. You reminded me of something in my past I had forgotten. You made me feel different.'"
Comments will be moderated. Keep comments relevant to the article. Remarks containing abusive and obscene language, personal attacks of any kind or promotion will be removed and the user banned. Final decision will be at the discretion of the Taipei Times.