The right to rest
One expat hopes to film migrant workers as they journey from the Philippines to Taiwan, to raise awareness of harsh labor conditions that force many to drop off the grid
The number of migrant workers in Taiwan has grown over the last ten years, but the composition of this workforce has changed significantly, with predominance shifting from men to women and from manual labor to household service, according to Migrant Workers in Taiwan. Once segregated on building sites and factories, more migrant workers now serve as home help and come into direct contact with mainstream Taiwanese society. The hiring of foreign home help has led to a host of issues related to worker welfare, from inhumane work hours to virtual imprisonment by employers who want to get the most out of the product they have "purchased." Alex Wolfgram, a former graduate student in Sociology at National Chengchi University, believes that at least some problems arise from the distorted facts supplied by private labor brokers, and has recently embarked on a project to make a documentary about this situation.
"We are trying to take a middle stance on this, looking at it from neither the Taiwanese nor the migrant labor perspective. We want to hear both sides," Wolfgram said. "We are not the first to look at this issue, but I feel that capturing these workers' stories and their feeling [about their circumstances], as well as the Taiwanese perspective, in a film, is a way that people can relate to. It makes the situation more comprehensible." Wolfgram is currently trying to raise funds to continue the project, which he hopes will eventually grow into a full-length documentary.
The project grew out of Wolfgram's work at National Chengchi University, but has since taken on a life of its own as he discovered how different life could be for other foreign residents, specifically for the Filipino workers he saw around his apartment near Wan Fang Hospital.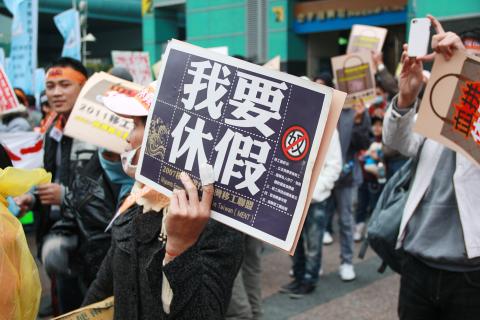 Migrant workers protest harsh treatment at the hands of Taiwanese employers.
Photo Courtesy of Alex Wolfgram
"I saw the migrant workers pushing old people around in wheelchairs. I was teaching English at the time and was facing some hassles; there was a whole lot of really weird bureaucracy going on in terms of allowing foreigners to stay here and what was possible and all the loopholes Taiwanese would go through to let foreigners teach kindergarten etc. Basically, a lot of variables came together and I wanted to explore issues related to foreigners working in Taiwan."
Speaking with a large number of migrant workers, Wolfgram was shocked to discover that many were undocumented. "I had just assumed that everybody was here like we were. But then I started interviewing and I couldn't believe some of the stories I was hearing. They were on call 24-7, pretty much having to do a multitude of tasks, from taking care of their employers' family to taking care of the extended family in another place and working in restaurants... I found out that they are pretty much obliged to do what they are told. They don't want to face the consequences of getting fired because there are penalties and fees that have to be paid. I realized that there were a lot of issues going on here with this privatized labor trade, and that there was not enough in the Taiwan Labor Standards [Act] that could ensure the rights of migrant workers. Time off and benefits are now pretty much dictated by the employer," said Wolfgram, who believes it is these conditions that have led to the creation of a large floating population of migrant workers.
"I know in Taipei many people see migrant workers out and about, and assume that there is no problem. We are not so much concerned about these as the ones in other parts of Taiwan, especially in rural areas. There is a huge floating population that does not meet the eye. Most start off as domestic workers, but then they drift [illegally] into the restaurant business, or even massage parlors or other kinds of work... What it comes down to is the employer's ability to dictate their lives. If anyone [were] in that position [he] would feel very helpless. We want to explore ways of creating a more healthy relationship between the migrant worker and the employer so that there is no need for this floating population, which is also not a good thing for Taiwan," Wolfgram said.
Migrant workers protest harsh treatment at the hands of Taiwanese employers.
Photo Courtesy of Alex Wolfgram
Although the Taiwan government has made some effort to remedy the situation with the creation of avenues such as the Direct Hiring Service Center in 2011, Wolfgram's own experience suggests that these services are not easily accessible to the most vulnerable among the migrant worker community, as many cannot use computers or do not have access to cell phones. Labor brokers remain the predominant channel through which workers find employment, and the very nature of this business, in Wolfgram's view, perpetuates some of the worst abuses.
"Taiwanese employers want to get the best deal they can. For the brokers, this is a business, and they want to sell you their service, so they will tell you what the 'product' has to offer. 'They are living at your home, it's yours on demand.' And that is a huge selling point for Taiwanese. This is the cause of the problem, because they are given this sense that the migrant workers really can do all these tasks and they may not have the judgment to say, 'Actually this is wrong.' They just view it as, 'This is what I bought,'" Wolfgram said.
Wolfgram wants to make additional trips to the Philippines and understand where the workers come from, what Taiwan brings to their society, the application process at different agencies and following them up at a later stage with their experience in Taiwan, so as to give a more comprehensive picture of the whole process.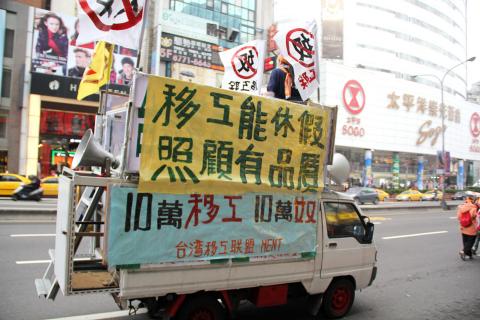 Migrant workers protest harsh treatment at the hands of Taiwanese employers.
Photo Courtesy of Alex Wolfgram
Wolfgram is currently raising the NT$150,000 via the Web site Kickstarter (project name: "I Have it Maid"). He is also working with a number of NGOs and churches. Additional information about the project, including how to make a donation, can be found at www.kickstarter.com/projects/762756604/i-have-it-maid/posts.
Comments will be moderated. Keep comments relevant to the article. Remarks containing abusive and obscene language, personal attacks of any kind or promotion will be removed and the user banned. Final decision will be at the discretion of the Taipei Times.