Springing to life
Cloud Gate 2, the junior version of the venerable dance troupe, will show off its mettle this weekend with Uncertain Waiting
Cloud Gate 2 (雲門 2) opens its now almost annual Spring Riot program at Taipei's Metropolitan Hall tonight with an action-packed program featuring four works by three young(ish) Taiwanese choreographers who have become closely identified with the company.
The title of this year's spring tour is Uncertain Waiting, but there is nothing uncertain about what has long been considered Cloud Gate Dance Theatre's (雲門舞集) "junior" troupe. Its dancers are not waiting in the wings anymore. The company has been buoyed by what turned out to be an extraordinary year last year for both the troupe and individually for the three choreographers whose works are featured this weekend.
Lin Hwai-min (林懷民) founded the troupe in 1999 to serve as a training ground for young dancers and choreographers and as a touring group that would travel to schools and communities around Taiwan. Through the years it has done just that. Overseas tours were the preserve of the "main" company.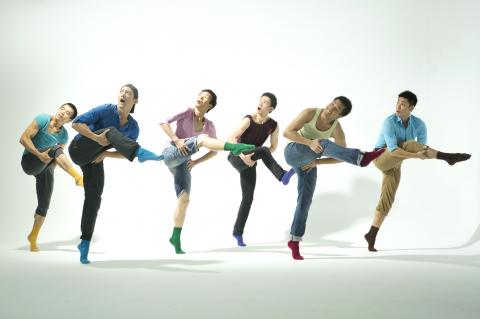 Choreographer Bulareyaung Pagarlava's Uncertain/Waiting will be performed by Cloud Gate 2 at Taipei's Metropolitan Hall, starting tonight through Sunday.
CG2 Spring Riot Uncertain Waiting Bulareyaung Uncertain Waiting_photo by LCH
However, last year was Cloud Gate 2's chance in the overseas spotlight as the troupe made its US, Western Europe and China premieres over the course of three separate tours. The response was everything and more Lin, the dancers and the choreographers could have hoped for, especially in the key dance mecca that is New York City. A review by Tom Ferraro in Ballet-Dance Magazine said: "this is a company that is making dances that you will enjoy, fall in love with and want to see again."'
Bulareyaung Pagarlava — who became the first in Cloud Gate 2's series of resident choreographers in 2004 — said the company is stronger as a result of those tours and the exposure.
"All dancers hope to see the world some day, to perform in New York, Western Europe. Like Mr. Lin said, after 13 years 'We are ready,' the dancers and the choreographers both," Bulareyaung said. "The audiences are so crazy in love with this company … the dancers were surprised: 'Oh, they love us.'"
However, at home last year, the spotlight was on the choreographers. First, Cheng Tseng-lung (鄭宗龍) won last year's Taishin Arts Award in May for his On the Road. Then Huang Yi (黃翊) won the Digital Art Performance Award (and NT$1 million) for his work with an industrial robot, KUKA. And in October, Bulareyaung was named one of the 10 Outstanding Young People of the Republic of China by the Junior Chamber of Commerce.
It is going to make 2012 hard to beat for everyone, but this year's Spring Riot is one that dance lovers will not want to miss. The program features an older work by Bulareyaung (though new to the company), Uncertain/Waiting (帕格勒法); two new pieces by Huang Yi, Light (光) and Lost For Words (無聲雨); and a new work by Cheng, Blue Hour (一個藍色的地方).
I last saw the half-hour-long Uncertain/Waiting when it was performed for the ArtsCross — DansCross conference at the Taipei National University of the Arts' (TNUA, 國立臺北藝術大學) in August 2011, when it was the hit of the night. The comic piece unfolds as an audition with the choreographer present as a voice in the back of the theater calling out directions to the dancers as he has them introduce themselves and then work through a series of solos, duets and combos, tinkering with them until he has stripped them bare — and more than metaphorically.
Bulareyaung said he has changed the piece a bit — it will have two more dancers for a total of eight men and one woman — but since much of it involves improvisation, it is always going to be different with each performance, each new cast.
He said the idea for a piece that allows each dancer to show his or her personality came when he was first working with the company, and it is a device he has gone on to use in other works. However, Bulareyaung admits that it is not something that most dancers feel comfortable doing.
"I hope that dancers can be seen, not just the choreographer, the choreography, that they can show their personalities. When working [with Cloud Gate 2's dancers] in the beginning, I had to keep telling them don't be afraid," he said.
Following the Taipei run, the company will take the show on the road, first to Greater Taichung on April 20 and 21, and then to Greater Kaohsiung at the beginning of May as part of the Kaohsiung Spring Arts Festival.
Publication Notes
Performance notes
What: Uncertain Waiting
When: Tonight through Sunday, evenings at 7:30pm, Saturday and Sunday matinees at 2:30pm
Where: Metropolitan Hall (城市舞台), 25, Bade Rd Sec 3, Taipei City (台北市八德路三段25號)
Admission: NT$300 to NT$1,500; available through NTCH box office, online at www.artsticket.com.tw or 7-Eleven ibon kiosks
Additional Performances: April 20 at 7:30pm and April 21 at 2:30pm at Taichung Chungshan Hall (台中市中山堂), 98 Syueshih Rd, Greater Taichung (台中市學士路98號).
May 3 and May 4 at 7:30pm at Da-Dong Cultural Center (大東文化藝術中心), 161 Guangyuan Rd, Greater Kaohsiung (高雄市光遠路161號).
Ticket prices same as in Taipei, available online at www.artsticket.com.tw or 7-Eleven ibon kiosks
Comments will be moderated. Keep comments relevant to the article. Remarks containing abusive and obscene language, personal attacks of any kind or promotion will be removed and the user banned. Final decision will be at the discretion of the Taipei Times.