The Vinyl Word
With all due apologies to Taichung, Kaohsiung is definitely giving Taipei a run for the money as the most happening city in Taiwan. Last weekend's outdoor festival in the south, Mega Port, attracted an estimated 10,000 people per day even though it drizzled most of the time. Pier II was an exemplary venue for the concert, its worn down warehouses turned into art spaces the size of five Huashan 1914 Creative Parks (華山1914), and on the water to boot.
At Urban Nomad's Candy Bird-decorated DJ area, people of all ages were given markers and spray cans and encouraged to write whatever they wanted on the inner cardboard walls. This led to some questionable graffiti as well as some very cute Taiwanese youngsters tagging the alphabet. The light rain on Saturday helped push people from the slippery skateboarding area to the DJ stage next to it. Things got pretty rowdy by 3:30pm as skate punk teens were moshing and dousing each other with beers while DJ Death Rowe was dropping electro bombs on the crowd. The question is, when will Taipei get its own Mega Port?
Tonight, Pipe hosts a cerebral rave with Party in Brain IX, which includes the strong line-up of Nina, Pip, Kaoru, X+Y, and Kolette. The Vinyl Word caught up with the half-French Kolette Hsu (徐一玉) in an e-mail interview to chat about her love of music, her influences, and tonight's party.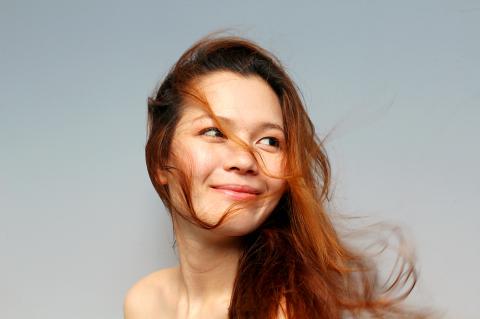 Kolette wants to get into your head tonight at Pipe.
Photo Courtesy of Kolette Hsu
At a very young age, Kolette found that she had an ear for music. "I think I began to fall in love with electronic music when I was 10," she said. "Around that time, I would always go to a record shop after school and check out the CDs they put out for listening. The first electronic album I ever bought was BT's ESCM (Electric Sky Church Music)."
When Kolette's mother heard the CD, she explained that the music was very new. "My Mother told me those kinds of sounds were produced with a computer," Kolette said. "I loved listening to electronic music with headphones because it felt very personal and I could use my imagination to follow the grooves and synthetic sounds."
Soon, Kolette began playing in a punk band and then started making her own productions on her computer. A few years later, Kolette was signed to Tripper records and started performing with DJ Kay. "Our live sets were Kay deejaying and mixing some of my sounds and I would sing with vocal effects and play the synthesizer over the top of it," Kolette said.
Nowadays, Kolette deejays on her own and she doesn't feel that being one of the only female DJs in Taiwan has helped or hindered her. "I have not been a man, so I do not know the real difference," she said. "I think maybe women are more likely to be noticed and relatively easy to judge. This can be both good and bad. But I really don't think there is much difference between male and female DJs."
Kolette, while keeping an air of mystery, described her sound as "about freedom, but it is sometimes a bit neurotic." If you want to know what that means, head to Pipe tonight and hear it for yourself.
■ Party in Brain IX tonight from 11pm to 4am at Pipe, 1 Siyuan St, Taipei City (台北市思源街1號), tel: (02) 2364-8198. Admission at the door is NT$400, which includes a drink.
Comments will be moderated. Keep comments relevant to the article. Remarks containing abusive and obscene language, personal attacks of any kind or promotion will be removed and the user banned. Final decision will be at the discretion of the Taipei Times.