Students, activism and social networks
The ongoing anti-media monopolization campaign reveals a new kind of protest movement that relies on social media and moves beyond the traditional blue and green political divide
Eighteen months ago, Liu Tzu-feng (劉子鳳) had her first taste of activism. She had received a message on Facebook about the Occupy Taipei demonstration and later joined hundreds of protesters chanting anti-capitalist slogans outside Taipei 101. In July of last year, Liu began to take part in the ongoing, nation-wide campaign staged by college students against media monopolization after reading an article by Chen Wei-ting (陳為廷), one of the campaign's leading figures, which was posted on Facebook by a friend.
"At first, I was like 'who is he?' Then I read about their plan to organize the July 31 protest and decided to join," says Liu, a graduate student at National Yang Ming University. "I added Internet service to my cellphone so as to take pictures during the protests and upload the images onto Facebook immediately. The point was to let people know what was happening here and now."
To many young protesters like Liu, social networking plays a crucial role in the new wave of student movements, which were ignited by the Want Want China Times Group's (旺旺中時集團) controversial acquisition of cable TV services owned by China Network Systems (CNS, 中嘉網路). Student protests have also been fueled by the planned takeover of Next Media Group's four Taiwanese outlets by a consortium including Want Want chairman Tsai Eng-meng (蔡衍明) and Formosa Plastics Group (台塑集團) chairman William Wong (王文淵). Student activists and critics have raised concerns about a media monopoly and, in light of Tsai's and Wong's substantial investments and business ties across the Taiwan Strait, China's influence over Taiwan's media.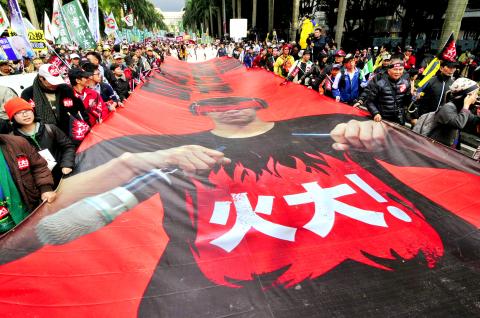 Students set out from Sun Yat-sen Memorial Hall last month carrying a large banner that reads "fury" in Chinese.
Photo: Taipei Times
Social media activism
Having closely observed the student-led movement against media monopolization since last July, Ketty Chen (陳婉宜), a visiting scholar at the Institute for Advanced Studies in Humanities and Social Sciences at National Taiwan University (NTU), says that participants rely on social media and social networking sites, primarily Facebook, to communicate, spread the word and mobilize.
She cites as an example the protest on Nov. 26, when around 100 university students from the Youth Alliance Against Media Monsters (反媒體巨獸青年聯盟) staged an overnight, sit-in protest in front of the Executive Yuan.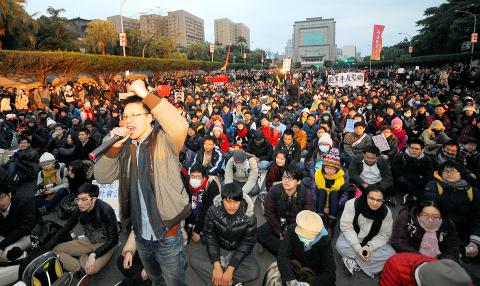 Members of the Youth Alliance Against Media Monsters protest in front of the Presidential Office on New Year's Eve.
Photo: Taipei Times
"When I was there, there were about 20 to 50 students ... They all had their computers and were on their cellphones. As time progressed, more and more people started showing up," Ketty Chen recalls.
Another action taken by the young activists took place during a protest outside the Fair Trade Commission and Legislative Yuan on Nov. 29, which was joined by about 500 students from more than 30 universities and colleges from around the country. At one point, the organizers asked all participants to take pictures of themselves, post them on Facebook and write to others about why they were there.
"As a person studying democratization in Taiwan, I had never seen things like this. There is none of our traditional taking the pictures, coming home, writing on something and updating anymore. It is live," she says. "You follow the events of student protest in this particular case, and you see social media plays an important, intricate role, cultivating not only participation but a sense of camaraderie. It gives students a forum in cyber space."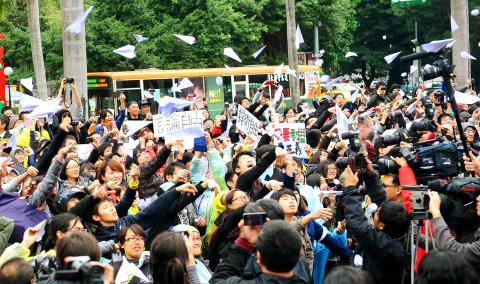 Students demonstrate in front of the Fair Trade Commission.
Photo: Taipei Times
Ho Ming-sho (何明修), a professor at NTU's Department of Sociology, agrees, explaining that compared to the bulletin board system PTT which encourages anonymity, Facebook meets the minimal requirement for a rational discussion in that its users are held accountable for what they say.
"On Facebook, everything you say leaves a record. So people will at least talk in a rational manner," Ho says.
The academics' observations are supported by Liu's experience as a Facebook user who frequently comments on current events, reads other people's opinions and exchanges ideas as though engaging in "virtual discussion sessions." However, when it comes to physically bringing people out, Liu believes that student clubs aiming to address social issues and promote interest in social causes on campus can help to provide motivation.
"These clubs are important because they call on people to act. Those who agree with them will follow the call. But if there is no such organization on campus, people will probably just keep their ideas and feelings inside," she says.
Rebuilding network
Liu's perspective finds articulation in the experience of Lin Fei-fan (林飛帆), co-convener of the Youth Alliance Against Media Monsters and one of the leaders in the recent wave of student protests. In 2008, Lin, then a second-year student at National Cheng Kung University (NCKU), joined the Wild Strawberry Movement (野草莓運動), which was initiated by college students and professors to protest excessive police force against demonstrators who opposed the visit of Chen Yunlin (陳雲林), chairman of China's Association for Relations Across the Taiwan Strait.
During the two-month long protest, students in six cities including Hsinchu, Taichung, Tainan and Kaohsiung, held sit-ins on university campuses to show support. The organizers used the Internet to connect and recruit, mainly through the bulletin board system (BBS), according to Lin.
"The problem with the Wild Strawberry [movement] is that it had a distinct break from the previous student movements [in the 1980s and 1990s] since nearly all activist clubs on campus had disappeared by then. So it had to rely on the Internet to get the word out," says Lin, who is currently a graduate student in NTU's Department of Political Science.
Lacking existing networks and organizational experience, the Wild Strawberry Movement soon suffered from dissension and disputes because participating students "didn't know each other and often suspected others of maintaining the interests of a particular political party or opposition group," Lin says.
Lin adds that the inability to communicate and reach out further created a gap between student protesters and the majority of students on campus who weren't interested in learning about the protest, let alone participating.
"The failure left some scarred and feeling defeated, while some chose to stay and re-organize," he says.
Wild Strawberries across the country started to set up student clubs and groups at their own colleges and universities, including the Black Forest Studio (黑森林工作室) at National Chung Hsing University, whose name comes from a political student club that was active during the 1980s.
Lin and several other comrades established the 02 Group (零貳社) at NCKU.
Chen Wei-ting, another Wild Strawberry and a then-student at the Taipei Municipal Jianguo High School, soon became a member of Radical (基進筆記), a student group that publishes campus news on a monthly basis and aims to raise awareness of social and political issues at National Tsing Hua University.
It didn't take long for the student organizations to hold national conferences for activist clubs and advocacy groups, and organize leadership training seminars and workshops. As Lin points out, student clubs provide a solid base for inter-campus discussion, which in turn provides opportunities for students to collaborate and make it easier for them to join forces and take part in protests. These include actions against the demolition of resident housing under the Wenlin Yuan (文林苑) urban renewal project in Taipei's Shilin District (士林), the government's planned science park expansion on farmland in Dapu Borough (大埔), Miaoli County and "land grabbing" by Kuokuang Petrochemical Technology Co (KPTC, 國光石化) in Changhua County.
"The 2008 Wild Strawberry [movement] provided a starting point for students," Lin says. "The 2012 movement employed new techniques offered by social media and the old operation of the 1980s involving inter-campus connections. Also the level of trust is completely different. Now people know each other better because they've worked together."
Activism in diverse forms
Hung Chung-yen (洪崇晏), a NTU philosophy major and a core member of the Youth Alliance Against Media Monsters, says that the various protests over the past few years have raised awareness about social and political issues.
"More and more people have come to realize that democracy doesn't just happen at the moment you cast your vote. There are important things happening anywhere and at anytime that requires our attention and action. To fight for our rights and maintain our democracy," says Hung, who has participated in several social movements including the ongoing fight to preserve Losheng (Happy Life) Sanatorium (樂生療養院) and the worker protests against Huanlong Textile Co (華隆紡織) in Miaoli County over a fraudulent bankruptcy and unpaid wages.
Youth activism takes many different forms. Groups like Taiwan Rural Front (TRF, 台灣農村陣線) travel to remote villages, live with local residents and conduct surveys and studies. Former members of the Losheng Youth League work in unions and local, grass-roots establishments. Some form independent online media platforms, while others become protest singers.
"Politically, I was enlightened by the Losheng movement. The most important thing I have learned from the Losheng Youth League is that a social movement has to be rooted in life to continue and make real changes," says Hung, who also works as a representative for NTU's Student Congress.
Cans and Can'ts of Facebook
Meanwhile, Lin and other members of the youth alliance have been wondering why the number of the alliance's Facebook fans has stagnated. They believe that to some degree, social media is a specialized field that requires knowledge and techniques to maintain.
"To attract more people, you need to convey your agenda in a way that is familiar to and easily accepted by the majority. But whether or not a social movement should adhere to the mainstream way of thinking is a whole different topic of debate," Lin says.
NTU professor Ho says that since networking on Facebook is mainly through users' interpersonal relationships, the medium is most effective in connecting a small number of people rather than reaching out to a large audience.
"The messages you see on Facebook are posted by your friends, and friends of friends. So a characteristic of Facebook that makes it a powerful tool is its ability to build a strong network within a group of individuals," Ho says. "Sometimes a social movement doesn't spread the message to persuade 50 percent of the people, but to unite a handful."
Ho also thinks that by holding accessible activities embraced by youth, activists may risk making the movement "superficial" and "trendy," but the influence and outreach they bring are likely to surpass the negative impact.
Leung Man-to (梁文韜), a professor from Hong Kong teaching in the Department of Political Science at NCKU, says large-scale protests against Chinese national education in the former British colony last summer illustrates the need for diverse approaches to mobilization. According to Leung, when Scholarism, an anti-national education secondary school student organization based in Hong Kong, first started the campaign in 2011 through the Internet, not many people paid attention. When a series of news events erupted, people began to notice the seriousness of the issue. Meanwhile, the organizers employed different methods to raise awareness ranging from making phone calls to holding events and lectures on the street to using YouTube to get the word out.
"Social media is good to facilitate communications among core members, but to have a revolution, you need to have the right people in the right place at the right time … What's more important is how to continue the momentum when the movement ends," says Leung, whose experiences with activism date back to 1989 when he supported the Chinese student movement that ended with the Tiananmen Square Massacre.
Members of Taiwan's Youth Alliance Against Media Monsters continues to find ways to break out of their social circles. They have recruited and assisted students who have no experience with activism to set up their own events on campus. So far, there are main contact points in several schools to manage recruitment in different parts of the nation, says Hung.
Some members held a cross-country tour last month, explaining the campaign to locals in parks, by the roadside and at night markets. "This is how humanity works. We have to see it, hear it and touch it ourselves to truly understand it," Hung says.
Generational differences
For former Wild Strawberries, another big change is their attitude toward party politics. In 2008, students were worried about being "painted green" so they rejected collaboration with any opposition party or group. Today, however, organizers do not rule out collaboration so as to put more pressure on the ruling party.
"Some people think problems are bound to happen if we get too close to political parties. To some extent, they are right. But instead of saying no to any possibility, we should think of better ways to collaborate, to demand opposition groups to work harder," Lin says.
Ketty Chen believes that new student movements show a kind of awareness that is beyond party politics. "Politicians like to say 'we are Taiwanese. We need to stand out.' To young people, identity is no longer an issue. They are confident about who they are. What draws them to the street now is social justice issues," she says.
Professor Ho agrees.
"There is the rich and powerful on one side and a group of people who are socially disadvantaged on the other side. And students are there to support and give voice to the deprived," Ho says.
For many young activists, the experiences on the street bring both political awakening and personal growth.
Chou Ya-wei (周雅薇), a graduate student at NTU, says her participation in the protests has enabled her to think outside the struggle between competing political parties, whether the greens of the Democratic Progressive Party (DPP), or the blues of the Chinese Nationalist Party (KMT).
"Democratic values are deemed important by people on both sides. We must find and expand this common ground so that people will stop fighting over trivialities," says Chou, who has taken part in social activities including the Losheng movement and protests against the forced demolition of houses in the Wenlin Yuan urban renewal project.
To 23-year-old Liu, joining the protests has changed her perspective of the world, an experience, she says, that is shared by many student protesters like herself who were born and grew up in a democratic Taiwan, and often blissfully unaware of the country's turbulent past.
"It's like you suddenly come out of a fairy-tale and step into the real world where things are not as wonderful as you thought," Liu says. "I realize that if I don't learn to think independently and try to change the system for the better, I will remain oppressed."
Comments will be moderated. Keep comments relevant to the article. Remarks containing abusive and obscene language, personal attacks of any kind or promotion will be removed and the user banned. Final decision will be at the discretion of the Taipei Times.