This healing earth
A farm recently established in Shoufeng aims to use organic agricultural practices as a way of providing therapy and enjoyment for the intellectually disabled
Amid the rice fields and vegetable orchards that dominate Shoufeng Township (壽豐鄉) in Hualien County is a farm with a difference: a farm where the happiness of the farm workers is more important than the crop. The farm is a new project by the Taiwan Mennonite New Dawn Education Center (黎明教養院) and is a center for the practice of "green care," a practice gaining currency in Europe.
The New Dawn Education Center provides for the needs of a community of people with intellectual disabilities. It has been in operation since 1977 and has many different programs to meet the needs of its residents.
the lay of the land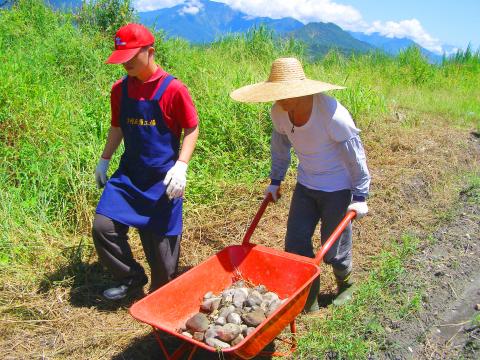 Participants work at New Dawn Care Farm under the supervision of instructors.
Photo courtesy of New Dawn
Late last year, the center bought five hectares of land in Shoufeng to establish the New Dawn Care Farm (黎明喜樂園) where residents in the facility can engage in this new kind of therapy that has the potential, according to Lin Mu-chuan (林木泉), director of New Dawn, of providing people with intellectual disabilities with a more fulfilling life.
"These kids have exactly the same needs as ordinary people, but because they have an intellectual disability, they simply are slower to learn. They also often have problems with communication. We all want to find a place where we can find relief from the stress of daily living. They are no different," Lin said.
With their new property in Shoufeng, Lin hopes to engage the young people in his care in productive agricultural work.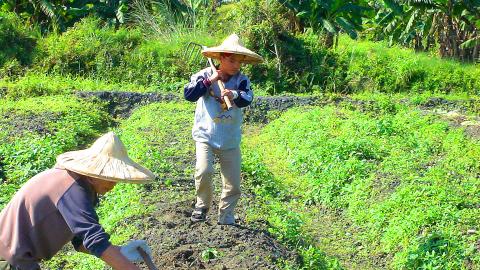 Participants work at New Dawn Care Farm under the supervision of instructors.
Photo courtesy of New Dawn
"Through their engagement with agriculture, these disabled people cannot only learn something, but they are also transformed from being someone who needs to be looked after constantly, to someone who cares for something else," Lin said.
This fundamental shift from being cared for and caring for something else (in this case the care of vegetables), is part of a larger movement gradually taking off in Europe that falls under the umbrella title of green care.
"green care"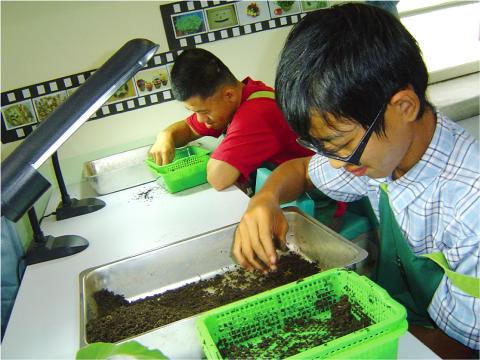 Participants sort through organic fertilizer.
Photo courtesy of New Dawn
Green care is described in the journal Explore: The Journal of Science and Healing as "an umbrella term for a broad spectrum of health-promoting interventions that all use both biotic and abiotic elements of nature in their treatments."
While something as simple as bringing plants into the classroom qualifies, taking people out into nature is infinitely better.
Lin emphasized that the principles of green care go beyond caring. He emphasized that what they are trying to achieve on the farm is also about "health promotion and social rehabilitation."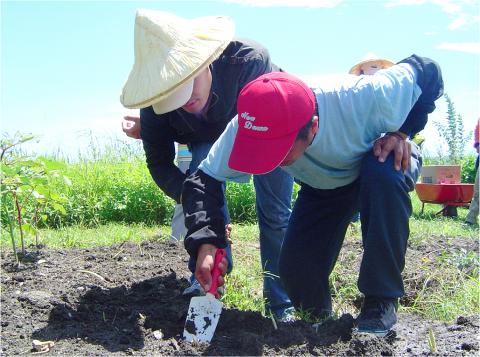 An instructor teaches a participant how to dig holes for planting.
Photo courtesy of New Dawn
New Dawn is based in Hualien City, but Lin said he decided on the land in Shoufeng because of its association with "non-toxic" and organic agriculture. While green care does not necessarily have an environmental component, Lin said that being organic had distinct advantages for what he hoped to achieve.
"People with intellectual disabilities are often not able to correctly assess how dangerous something might be. A fully organic environment, where no dangerous chemicals are stored, is much safer for them than a conventional farm."
The farm is still in the very early days of development, and the ramshackle surroundings and plentiful weeds mean that there is much work to be done, especially as the farm abjures the quick fixes of toxic weed killer and other conveniences. "There's always work to be done. Unlike in the hostel, the instructors on the farm don't have to worry about finding things that will keep the kids occupied," Lin said, half jokingly.
The work comes right down to manufacturing its own fully organic fertilizer. Farm specialist Chen Chi-huang (陳志煌) said: "We make our own organic fertilizer, using earthworms. Cow dung and such organic fertilizer is difficult to obtain, and chicken droppings have issues with residue of antibiotics and other chemicals, so we make our own using earthworms to process various organic matter."
Lin emphasized that while the work is labor and time intensive, it has clear parameters that can be easily grasped. Tasks are assigned based on each individual's abilities, with the less seriously disabled given more complex tasks.
Lin has big plans for the New Dawn Care Farm, and hopes that soon it will be able to grow a wide variety of organic vegetables. Nevertheless, he emphasized that therapy is and will always be the primary goal of the facility.
The environmental aspect of the farm is also of great importance, and Lin said that the facility would practice agriculture according to the principles of permaculture, an agricultural system that seeks to develop sustainable architecture and self-maintained agricultural systems modeled from natural ecosystems.
"We don't want to use chemicals at any stage of the agricultural process," Lin said. "Permaculture has a strong environmental component, and for us, production yield is the least of our concerns. We want to create a safe environment in which our residents can interact with nature, and so we took the ecological concerns of permaculture on board as well."
"The plants have to battle the forces of nature," farm specialist Pan Tien-chi (潘添祺) said holding up a bunch of leaves spotted and withered by insects.
"When you grow without the aid of pesticides, this is what you get," he said, "so we harvest what remains."
Reap what you sow
Fortunately, as produce is not a priority, the New Dawn Care Farm can afford this minimal yield as they gradually put the land into shape and create an environment that is naturally more resistant to pests.
For the patients who visit the farm, all the work they put in reaches a culmination at the New Dawn stall at the weekly farmers market in Hualien, where they also have a chance to sell some of their produce. Lin said that the process of farming and selling the produce, in which they can enjoy the results of their labor, was an experience that gave residents a wider and more useful interaction with their world.
More information about the New Dawn can be found online at www.newdawn.org.tw (some English content).
Comments will be moderated. Keep comments relevant to the article. Remarks containing abusive and obscene language, personal attacks of any kind or promotion will be removed and the user banned. Final decision will be at the discretion of the Taipei Times.