Movie magic
The special effects company that relocated to Taiwan to work on the 'Life of Pi,' Ang Lee's latest outing, should provide a much-needed boost to Taiwan's film industry
Ang Lee's (李安) Life of Pi hit Taiwan theaters Nov. 21. Adapted from Yann Martel's international bestseller of the same name, the movie is an adventure tale of a boy who miraculously survives months at sea in the company of a Bengal tiger.
Lee, whose repertoire of films includes Crouching Tiger, Hidden Dragon (臥虎藏龍), Brokeback Mountain, Lust, Caution (色,戒) and Taking Woodstock, returned to Taiwan on Nov. 9 to commemorate the building of the VFX Center, a new high-end filmmaking studio, in Kaohsiung's Pier 2 district that did much of the film's eye-catching visuals.
Life of Pi gives life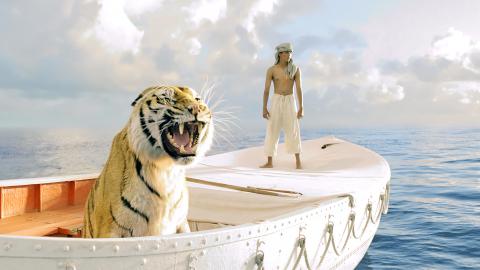 Indian actor Suraj Sharma, right, playing the character Pi, stands near a tiger in Ang Lee's new film Life of Pi.
Photo: Reuters
Prashant Buyyala, managing director of Rhythm & Hues (R&H), the company operating the center which also has facilities in India, Malaysia, Canada and the US, said that Lee's vision and the movie were the primary reasons why they set it up in Taiwan.
"R&H will train new talent and provide opportunities for the next generation of Taiwanese artists to work on major Hollywood films without having to leave home." This translates to future creation of 200 jobs for digital artists in Taiwan, he added.
Life of Pi took four years to produce, with 70 percent of it filmed in Taiwan, and involved construction in a former Taichung airport of a 1.7-million-gallon water tank complete with wave machine to simulate being lost in the middle of the Pacific Ocean.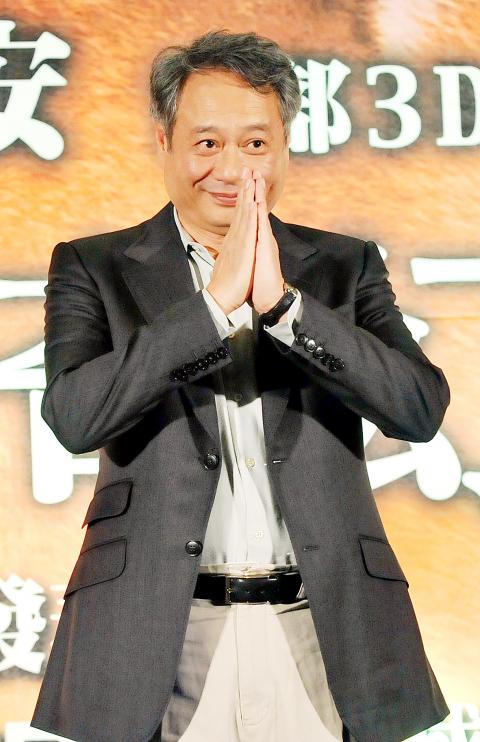 Ang Lee.
Photo: AFP
The film's production employed over 14,000 people in several countries. Locals and expats who vied nationwide to be extras in the film were paid about NT$3,000 per day.
"I wondered why we didn't have such a company in Taiwan. If Malaysia and India can do this, why not Taiwan? So I helped (R&H) set one up," said the Oscar-winning Lee.
In a forum with Kaohsiung Mayor Chen Chu (陳菊), the film's now 18-year-old lead star Suraj Sharma and R&H executives, Ang said he chose the special effects company because of its track record.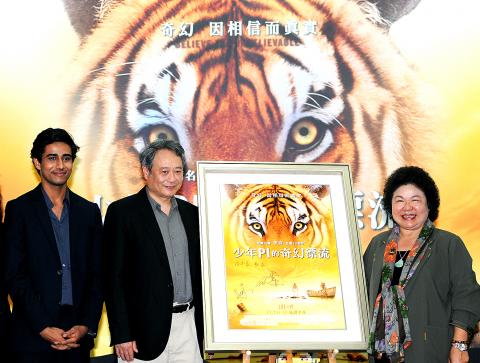 Suraj Sharma, left, Ang Lee, center, and Kaohsiung Mayor Chen Chu.
Photo: Taipei Times
"They're the best at visual effects," he said, adding, "I only work with the best companies."
Setting up the film studio in Taiwan, he said, "is also good stimulus to drive us to be [more] innovative. It's an issue that needs examination and reflection. The filmmaking industry needs a comprehensive supply chain. That is what is lacking in Taiwan. We need to elevate the infrastructure in Taiwan and equip young people with knowledge," Lee said.
Initially, Lee had to convince 20th Century Fox executives to support his vision for the film. Fox eventually sign off on the massive US$120 million production costs — a large portion spent on its special effects, using not only the best in CGI (computer generated imagery) but also 3D technology.
Animal madness
R&H collected over 400 hours of stock footage — including thousands of still photos — of animals in Taiwan, France and at an animal trainer's ranch in Los Angeles. Animators then pored over this material to study every detail regarding "the texture of the animals," so as to achieve the highest degree of realism.
Although a number of shots in the film use real animals, Berger specified that state-of-the-art animation technologies such as the Cameron Pace System helped capture much of the tiger's movement, "down to the 10,000 hairs of the tiger … every splay of a paw."
When asked about the most difficult moment making Life of Pi, Berger said, "Every day is equally different as the day preceding it. It's not like you're a painter, where you decide to paint something and do it. It's like building a skyscraper, involving thousands of people."
Prashant Buyyala, R&H's managing director, said that a Taiwan production center was "economically viable," and "perfect, for now." In the past, R&H considered opening studios in Europe and China.
The Kaohsiung Connection
"We saw Taiwan as a great destination, and we've become big fans of this country," said Buyyala, "not just because of Ang but because of relationships we've built with people here, with students and government officials," he said, noting Kaohsiung's beauty, quality of life and low cost of living as particular advantages for its employees.
"Plus the Taiwan government wanted to get into co-production," and as a global high-tech center Taiwan had both the technology and political will to support development in its creative industries, he said.
Kaohsiung Mayor Chen Chu was thrilled with the new cooperation.
"Kaohsiung used to be a highly polluted city, but now it deserves a chance" to be a player in Taiwan's budding film industry, she said.
Berger said he found Lee "amazingly gracious. He had a strong vision of what he wanted to see and he stuck to it. He's a very passionate director and really listens to the people around him for their opinions."
Erika Burton, R&H's co-president, added that Lee is inclusive and generous with his time and with his commitments.
"He always takes the time to thank the people who work with him," Burton said.
Excited about the studio's construction Lee said, "This is only the beginning. Starting from today, I hope we can see some great work done in Taiwan. I really want to see more cultural collaboration and exchanges."
Life of Pi is currently playing at cinemas throughout the nation.
Comments will be moderated. Keep comments relevant to the article. Remarks containing abusive and obscene language, personal attacks of any kind or promotion will be removed and the user banned. Final decision will be at the discretion of the Taipei Times.