Transition in transition
The band is maintaining an optimistic attitude after being deported from Taiwan for playing illegally at a church function. Now back in the UK, the trio ponder their future while keeping in touch with local fans through social media
As John Lennon once said, life is what happens when you're busy making other plans. Just ask British band Transition.
Founded in 1997 by brothers Josh and Jess Edbrooke and Niall Dunne, the band toured around Britain and Europe and made a splash in Taiwan during Spring Scream in 2005. After that first memorable performance, the band fell in love with the country, its culture and its people, and pledged to return every year. In 2009, they moved to Taipei where they lived for over three years.
But complications arose when the band was found guilty of performing without a proper work permit. Following a lengthy legal investigation last year, they were fined close to NT$90,000 and deported.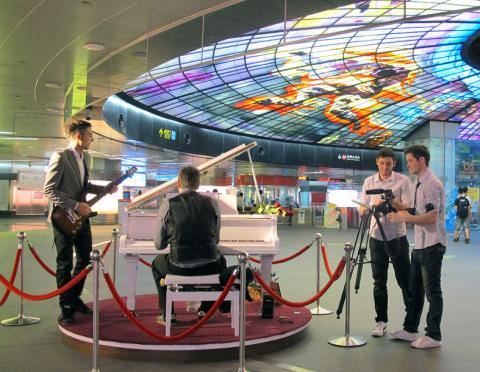 Members of the UK band Transition shoot a music video at the Kaohsiung Mass Rapid Transit system's Formosa Boulevard Station last year.
Photo: Ke Yu-hao, Taipei Times
However, despite being unable to appear in Taiwan for the next three years, the band still plans to maintain contact with their fan base using Facebook and YouTube, said Josh Edbrooke, in a recent e-mail interview with the Taipei Times.
ACCIDENTAL VIOLATION
Edbrooke said that the trio recognizes that they violated some work-related laws in Taiwan and have accepted the legal outcome.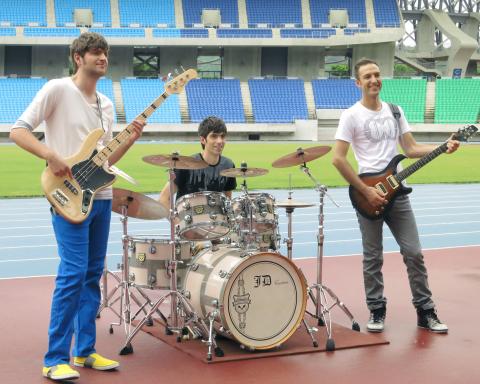 Transition, pictured here in the The Main Stadium for 2009 World Games in Kaohsiung, is gone, but not forgotten.
Photo: Ke Yu-hao, Taipei Times
"Sometimes it's just the way it goes and we'll try to keep a good attitude," Edbrooke said.
When asked about the band's work-related problems, Edbrooke said: "At the time this happened, we were between record companies (and work permits) and gladly accepted a local church gig thinking that it would be fine, as it wasn't commercial. The church people gave us a gift of money after our performance, but wanting to be upright about it, they paid taxes on the money they gave us."
"Months later, after we'd linked up with a new record company, we applied for fresh work permits," Edbrooke continued, "but through the process, this old tax record from the church came up. We thought it was just helping the church and wouldn't be much of an issue, but in the government's eyes it was illegal work."
Edbrooke said the band was upset with the turn of events because "we love Taiwan and generally tried to be as legal as possible when we were there, even turning down lucrative commercial gig offers."
"So now we're back in the UK, kind of wondering what we do with our Chinese-language album that we finished recording just before we had to leave."
BACK IN BRITAIN
Transition recently performed at a Taiwan Food Festival in London and took in a Jolin Tsai (蔡依林) concert there as well.
"It was amazing to see how popular Taiwanese food is here and there were queues of people going all around the block. After the performance we had a chance to chat with quite a few of the fans, many of whom had heard our music online before but didn't know about our current situation," he said.
Taiwanese fans of the band have not forgotten them, and both YouTube and Facebook have proven useful as a way of keeping in touch with the band members.
FAN SUPPORT
In a recent comment on the band's Facebook page, Vicky Wang wrote: "Transition can be rest assured that you will always have all of your Taiwanese fans' support."
It's the kind of message that keeps the band going. "We'll also try to keep the news, the pictures and videos flowing, and we of course always encourage our fans to stay in touch with us, too. We really love reading the messages and comments from fans in Taiwan and generally always try to reply if we can."
Life back in Britain has given Transition some time to think about the future, of which Taiwan will be a part.
"I think we all feel quite strongly that our relationship with Taiwan is a long-term thing, and it won't be cut off by this deportation or by a three-year ban. Actually, we see Taiwan as a second home and fully expect to return there someday in the future," adding, "we definitely don't see the three-year ban as an end to our relationship with Taiwan. We have friends there who will be friends for life, and we all feel that our connection to the people and place go far beyond this current deportation issue."
During the next three years, Transition might try to set up some shows in China or other Asian countries, Edbrooke said, noting: "One of the other positives of living in Taiwan was that we were able to travel to the surrounding nations and build some good connections there, too. So if we turn up in Singapore, Kuala Lumpur, Hong Kong, Beijing or other places, then people shouldn't be too surprised. As for now though, it will be a bit of a quieter period as we plan and strategize how to move forward from our UK base."
Edbrooke remains optimistic about the future and Taiwan's place in it.
"The time we spent in Taiwan was some of the best of our lives, largely because of the great people there and we don't want to let that be spoiled by our mistake about the work permit and the government's decision to deport us. We'll continue to support Taiwan from here in the UK," he said.
Comments will be moderated. Keep comments relevant to the article. Remarks containing abusive and obscene language, personal attacks of any kind or promotion will be removed and the user banned. Final decision will be at the discretion of the Taipei Times.