Has New York Come A-Knockin?
Even with a sluggish global economy, Art Taipei, Asia's oldest art fair, saw record sales
So far in 2012, art fairs in Hong Kong and Singapore have had disappointing sales. Last month, Sotheby's Hong Kong fall auction was down 37 percent from the previous year, with sales of Chinese contemporary art down 51 percent. Yet last weekend, Art Taipei, Asia's longest-running art fair, saw its highest sales total ever. But even beyond that, for the first time — with top galleries from New York and Europe exhibiting, a Picasso valued at NT$238 million for sale, and the presence of one of the world's best and highly valued photographers in Hiroshi Sugimoto — the fair was no longer merely regional, it felt international.
Art Taipei's organizers have reason for excitement, because with lousy economies in the US, Europe and now perhaps China, this year could have potentially been pretty awful. Instead, their results confirm the art market's growing embrace of Asian markets and the buying power of wealthy Taiwanese collectors. Following Art Basel's purchase earlier this year of Hong Kong's art fair, Art Hong Kong, it seems clear that mainstream Western galleries must at the very least diversify into Asia.
"The poor economies in the US and Europe are really the main reason why we've had more galleries from those places this year. Many of them are trying to find new collectors from Asia," says Eva Lin (林怡華), Art Taipei's director.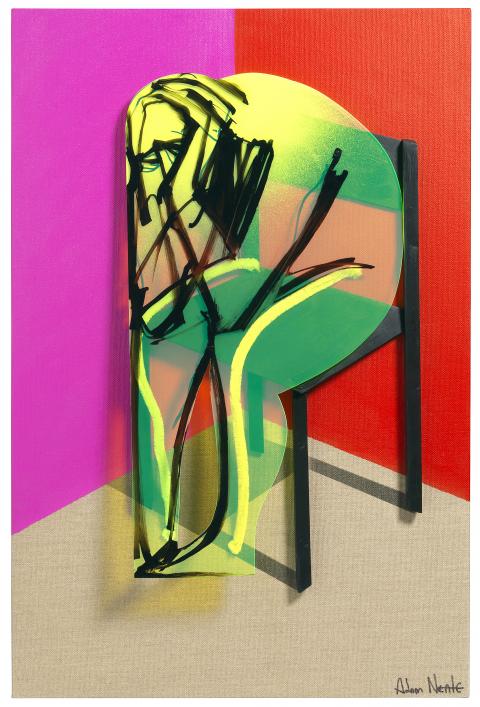 Adam Neate, The Black Chair (2012).
Photo courtesy of Art Taipei
Increasingly, that means connecting with Taiwanese collectors, who, Eslite Gallery director Emily Chao (趙琍) calls "the most active and most discerning in Asia."
Total sales at Art Taipei, held Nov. 9 to Nov. 12 at the Taipei World Trade Center, are estimated at NT$1.1 billion, a figure which includes expected "after-sales," or sales that were generated through the fair, though the actual transactions happen later. This represents about a 10 percent gain over 2011, which saw sales of around NT$1 billion.
Market trends
"The Hong Kong and Singapore fairs didn't really do that well compared to last year, so for us this is a really good result," says Lin.
The 150 galleries exhibiting was the largest total ever, up from 124 galleries last year. Again, more than half the galleries were from outside Taiwan. But the real difference was a growing vanguard of galleries from the US and Europe. New York's Robert Miller Gallery showed photographs by Diane Arbus, large prints by Willem Oorebeek (also currently showing in the Taipei Biennial) and paintings by Lee Krasner (Jackson Pollock's wife) and Patti Smith (the new wave rock star). In all, there were around a dozen galleries from the US and Europe, also including James Cohan (New York), Gallerie Perrotin (Paris and Hong Kong), Elms Lesters Painting Rooms (London), [DAM] Berlin, and others.
"The Shanghai fair is like LA, with so much going on. But this is more like New York. It's elegant, like a fair you would see in Europe," said Corinna Steiner, of Vienna's Gallery Steiner, adding that though it was her first visit, "I will definitely be back next year."
The entry of Western galleries comes in addition to the bevy of top Japanese and Korean galleries, who began making a sizable presence at Art Taipei around five years ago.
Works on view included a slew of contemporary and 20th century masters, including Anish Kapoor, Yoko Ono, Ai Weiwei (艾未未), Wim Delvoye, Vik Muniz, Anri Sala (who will represent France at the next Venice Biennale) and of course the Picasso (whose painting failed to sell).
Despite the 40,000 attendees, who tend to view the fair as just another exhibition, the event's major function is as a marketplace, and the real news generated has to do with the art economy. (At one point, while chatting with a fellow journalist, the phrase "truth and beauty" inadvertently rolled off my lips. We immediately burst out laughing, before he quickly straightened his expression and said, "I've got to get out of here in a few minutes. Where's the Picasso again?")
So on to the market report. Yayoi Kusama was especially hot this year. Pattern paintings by the aging Japanese minimalist were in at least five booths.
So was Walasse Ting (丁雄泉), the Chinese expatriate painter who mingled in pop art circles in the 1960s and died last year. Taipei's Vintage Gallery sold at least five of his paintings, the most expensive of which was one of his dayglow paintings of semi-clothed hostesses, Kiss Me Under the Moonlight, which went for NT$8 million. Other medium-sized canvases sold for NT$4.8 million.
Japanese superflat artist Yoshitomo Nara was one of the premium offerings at Tokyo's Tomiyo Koyama Gallery. They brought two of his trademark cute-yet-vicious little girls painted on cardboard boxes and sold at least one of them, Sprout in Hands for NT$1.9 million.
Star of show
The weekend's star had to be Hiroshi Sugimoto, who has had at least five photographs sell for over US$1 million at auction, and is one of the world's most expensive photographers. His lecture was standing room only, he had a special exhibition section, and was also represented at the booth of New York's Yoshii Gallery. Around 10 photographs were displayed and nearly all of them sold. Those from his "Theater" series went for US$36,000 each, and those from his "Seascapes" for slightly less. (One of these, a photograph of a flat horizon line on Lake Constance, served as the cover for the U2 album No Line on the Horizon.)
Sugimoto's lecture, interesting enough, had little to do with his exacting black-and-white photographs. Instead, he offered a slide show about his collection of strange, historical objects. The collection begins with several million-year-old fossils of sea creatures (he calls them the "first photographs") and fragments of meteors, then winds its way through ancient Egyptian papyrus, a Rembrandt engraving he had mounted on a Japanese hanging scroll, the photographic negatives of 19th century camera inventor Henry Fox-Talbott, left-over food packets from the Apollo moon mission and other eclectic fragments of human history.
Cryptically, he explained to the crowd, "I pay attention to weird objects, and that teaches me many things."
To his fans and aficionados, it was not unenlightening. Sugimoto takes a geological view of human history, namely that the earth was here long before humans, and it will certainly outlast us. This is the sentiment instilled in his people-less photographs, whether they are seascapes, empty movie theaters or the dioramas at New York's Museum of Natural History (which he snapped without permission). For him, these are meditations on natural harmony, and it enables him to give otherwise dire pronouncements a ring of optimism. For example, he was smiling as he explained, "Basically, I am imagining a time when humans no longer exist."
International perspective
It was Sugimoto's first trip to Taiwan. Given that he's Japanese, this sounds strange, though in reality he has been based out of New York for the past 35 years.
Several people I spoke with felt that more of the New York art world will find Taiwan before long.
"Taiwan is an island. Its collectors are traders in all sorts of world markets, so they have a very high acceptance when it comes to all kinds of art," said Eslite Gallery's Chao. "In the late 80s, they were collecting mainly early Taiwanese paintings, then in the 90s they moved on to Chinese contemporary, and in the last seven or eight years to Korean and Japanese artists. Now, some are starting to look to Russia and the Middle East. In most Asian buying trends of the last 20 years, they've been at the fore."
Referring to the sluggish economy, Chao continued, "Of course people are a little more conservative now, but wealthy people still have money. Some of them use this as an opportunity."
Lin says about 70 percent of the collectors at Art Taipei are Taiwanese, with others coming from Hong Kong, China, southeast Asia and Japan.
"I will admit," says Lin, "during a recession people prefer to buy masterpieces and traditional works."
This year, Art Taipei introduced a new "Art Classic" section, mainly for 20th century Chinese painting and sculpture. Hinting that the year's solid sales performance wasn't due only to contemporary art, Lin added, "Those galleries did quite well."
Comments will be moderated. Keep comments relevant to the article. Remarks containing abusive and obscene language, personal attacks of any kind or promotion will be removed and the user banned. Final decision will be at the discretion of the Taipei Times.