Aboriginal village rebounds after going organic
Talampo, an Amis village located in Hualien County, says poor growing and preserving practices and Taiwan's entry into the WTO devastated its daylily industry. But the industry was revitalized after it gained organic certification
Kacaw was intent on leaving Talampo (達蘭埠), his ancestral village and the smallest Amis community in Fuli Township (富里鄉), Hualien County, to find construction work in Taichung. Faced with the collapse of the villages' daylily flower industry and with three mouths to feed, he felt he had no other choice.
"Before the market crashed, we could expect NT$300 per kilo for dried daylily flowers," Kacaw says of the village's chief agricultural product. "But it went down to NT$90 per kilo within a year."
Several factors gave rise to the steep decline in the value of daylily flowers, which are dried and commonly used in soups and, according to Chinese medical scripts, can be used to combat depression. In 2001, the Consumer Protection Agency reported that dry daylily flowers contained significant amounts of herbicides and that they were grown using excessive amounts of nitrogen fertilizer. News spread, and consumers panicked.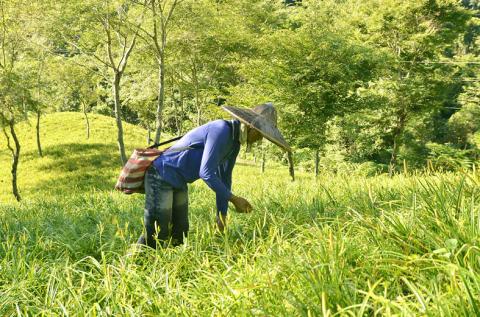 A farmer harvests organic daylily flowers in Talampo.
Photo: Lee Yi-tze, Taipei Times
Taiwan's entry into the WTO further devastated the already weakened industry because it opened up the market to overseas competition, particularly from Chinese producers who flooded the Taiwanese market with daylily flowers. With little help from the government and consumers turning their back on the product, the Talampo daylily industry, and the village that depended on it for its survival, looked as though it would disappear.
The story of the Talampo Amis and the daylily flowers they've grown for generations are intimately tied up with the region's post-World War II history, when Han Chinese settlers took control of the land from the Japanese, who had over-logged the area's camphor trees.
These new settlers, after failing to grow tea, brought the flowers to the region and forced the Amis farmers to grow them.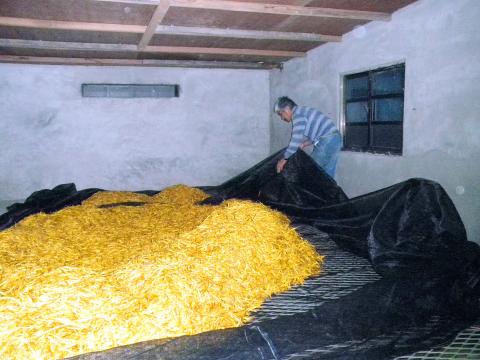 Organic daylily flowers are dried before being bagged and sold.
Photo: Lee Yi-tze, Taipei Times
After the crash, the region's Chinese farmers survived by shifting their resources to tourism, particularly guest houses (民宿), and promoted the region as the "Little Switzerland of Taiwan" due to its spectacular mountain vws punctuated, during the autumn months, with fields of yellow daylily flowers. Amis farmers, however, with no savings for the sudden change, weren't so lucky and found themselves working as laborers for the Han businessmen who could survive off tourism.
Tragedy averted
By the end of 2002, Kacaw and many of his fellow villagers had already left Talampo to find better working opportunities elsewhere. But they were soon enticed back when World Vision Taiwan offered them contract work. At the same time, Patal, a pastor in the village was discussing new ways to revitalize the daylily flower industry with Wu Mei-mao (吳美貌), a researcher at the Development Center of Biotechnology (財團法人生物技術發展中心), who wanted to collaborate with indigenous communities to grow organic produce.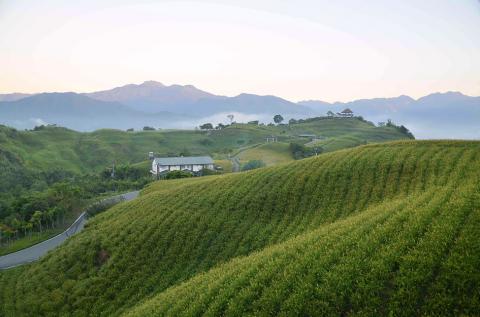 Talampo, a community in Hualien County, offers spectacular mountain views.
Photo: Lee Yi-tze, Taipei Times
Wu says indigenous communities are ideal for organic farming because they are less likely to be affected by chemical cross-contamination.
"Those with less income will benefit from the higher revenue afforded by organic products," Wu adds.
Convinced of Talampo's suitable location, Wu began teaching Talampo farmers the basic principles of organic farming — the way to make organic fertilizers from manure, for example, and how to substitute simple bioformulas for pesticides that can be harmful to the environment.
She also included Talampo as one of the five indigenous communities under the Tribal Organic Platform (原鄉有機平台), an organization that helps to promote organic agricultural products from Aboriginal communities.
Rebuilding a community
Responding to the help from Wu, Patal also encouraged Talampo farmers to organize their malabaliw, a traditional labor-exchange system, for all work such as weeding, fertilizing and harvesting Talampo's 24 hectares of land.
They have also returned to a semi-traditional lifestyle during the weeding period that would be eminently understandable by their ancestors.
"We like the feeling of working together, singing, and joking with our neighbors. It is not just about cultivating the daylily," Kacaw says. "It's also a time when men flirt with women, elders pass on their knowledge of wild vegetables to the younger generation and men share their hunting stories."
"We feel like a real community again," Kacaw says.
In 2008 the Hualien Farmer's Association invited the Institute of Marketecology (IMO), a Swiss organic certification agency, to certify their rice production. Wu convinced the IMO agent to stay an extra day in Talampo to see if their daylily operation could be certified organic. Surprisingly, the rice production site supported by the local Farmer's Association failed to pass the inspection. The IMO inspector, however, granted the Talampo three-year organic certification.
Organic certification
The IMO certificate is still proudly displayed at the Talampo Signature Good Store.
"It was like getting a lifebuoy after a shipwreck," Kacaw says.
With organic certification, Kacaw earns an average of NT$600 per kg of the flowers — all while remaining in the village of his ancestors, exerting more control over his land and being proud of a product he knows is of high quality.
Now that the Swiss certification has run out, the Talampo are currently working for organic certification from Tzu-Xin Organic Foundation (慈心有機基金會), which they hope will grant certification by the end of the year.
"Organic farming is like rolling a large stone down a hill. It is very difficult in the very beginning. But once you get it started, the movement is unstoppable."
Comments will be moderated. Keep comments relevant to the article. Remarks containing abusive and obscene language, personal attacks of any kind or promotion will be removed and the user banned. Final decision will be at the discretion of the Taipei Times.