Showing the love
British expat Shaun Bettinson has invited 2,012 people to create a massive picture mosaic at Taichung City Hall with the phrase "I Love Taiwan," which he hopes will break the current Guinness World Record
If you're driving down Taiwan Boulevard (臺灣大道) in Taichung on Oct. 10, you just might see the words "I Love Taiwan" displayed across a 20m by 50m mosaic. And, the 2,012 people supporting this proclamation hope to make history by forming the world's largest picture mosaic.
Shaun Bettinson, the organizer, hopes the event held at Taichung City Hall will shatter the current two-year-old Guinness World Record, when 1,458 people formed a picture mosaic in the US.
"I have a lot of passion for this," Bettinson said.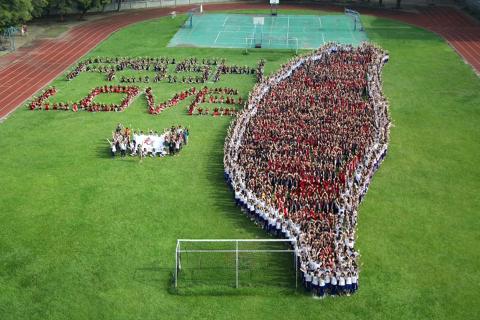 Photo from a Facebook campaign showing people with their arms in the air as a sign of their love for Taiwan.
Photo Courtesy of Shaun Bettinson
So, it seems, do others. He's enlisted the aid of nearly 230 volunteers for the day to register participants and give out T-shirts, stickers and balloons adorned with the slogan, "I Love Taiwan."
Bettinson, an affable 32-year-old native of England who has called Taichung home for the last eight years, garnered recent media attention with a Facebook campaign that gathered thousands of photos of people with their arms jutting into the air as a sign of their love for Taiwan.
Participants were not only asked to submit a picture, but also to explain why they love Taiwan and state how the country can be improved.
Photo from a Facebook campaign showing people with their arms in the air as a sign of their love for Taiwan.
Photo Courtesy of Shaun Bettinson
Bigger picture
Showing your love for Taiwan is as simple as taking a picture, he said. "You can take a lot from Taiwan. But this is about giving something back that's bigger than yourself."
The Taichung City Government is throwing its weight behind the project. The city will provide tents, water, tables and chairs for the Oct. 10 event, which will coincide with festivities celebrating the Republic of China's (ROC) Double Ten National Day.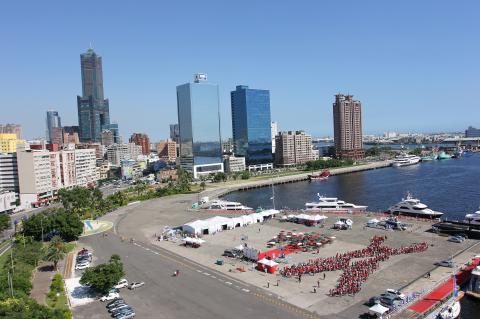 Photo from a Facebook campaign showing people with their arms in the air as a sign of their love for Taiwan.
Photo Courtesy of Shaun Bettinson
Double Ten (雙十節), as it's commonly known in Mandarin, celebrates the start of the Wuchang Uprising on Oct. 10, 1911, which led to the collapse of the Qing Dynasty and the founding of the ROC in 1912.
"Shaun is really great and really sweet," said Huang Shao-fu (黃少甫), the chief of the city's Marketing and Planning Division. "He's bringing people together to show that everyone loves Taiwan."
Huang said that Taichung Mayor Jason Hu (胡志強) believes the outpouring of emotion for the country is amazing, especially since it's spearheaded by a non-Taiwanese. Only during election day or national day do you usually hear people declaring their love for their country, Huang added.
Bettinson said that while he welcomes the government's help, the "I Love Taiwan" campaign has no political agenda.
Giving back
"This is just a way to say thank you," he said. To Bettinson's joy, throngs of others have also been empowered with national pride.
One photo shows 2,500 high school students in Kaohsiung standing in the shape of Taiwan, while raising their arms declaring their love for the country. In another, a baby's arms are thrust into the air forming a "V" sign. Photographic backdrops throughout the island have varied from skyscrapers to mountaintops.
"It's amazing how the whole community has come together," said Patrick Byrne, an 11-year resident of Taichung.
Like many expats living in Taiwan, Byrne has his own story to tell of Taiwanese generosity — which seems to have rubbed off on Bettinson.
Byrnes' son, Fionn, was born prematurely and needed medical care totaling NT$1.2 million. Without health insurance the bills seemed insurmountable, but Bettinson organized several charity events that raised enough funds to cut the bills nearly in half.
"He's an amazing friend. We couldn't have done it without him," Byrne said.
The original idea for the "I Love Taiwan" photo campaign came in April with a Facebook appeal for photos. Within a half hour, he had his first photo. Five months later he's collected more than 35,000 photos and his initial YouTube video has been viewed upwards of 500,000 times.
At first, Bettinson planned to showcase a stockpile of 201,210 photos in a massive collage on the side of Taipei 101 for Double Ten, but the NT$10 million cost proved prohibitive.
Despite the setback, Bettinson continues to amass a collection of photos, and is considering other venues to display the collage. "I'm just going to keep going and get as many pictures as possible."
Breaking a record
In the meantime, Bettinson is focused on gathering together as many people as possible for the Oct. 10 event so as to break the world record. While he doesn't expect Guinness representatives to be present, he is hoping video, photos and witnesses will validate that the 2,012-person mosaic is indeed a world record.
One of those who will be helping out is Taichung resident Pay Liu (劉權霈), who saw Bettinson's online photo appeal and was determined to get involved. Liu was able to help bring in sponsors who will be supplying promotional balloons and stickers.
"This is a meaningful event," he said. "People should get involved."
Publication Notes
Event Notes
What: I Love Taiwan picture mosaic
When: Oct. 10 at 10am
Where: Taichung City Hall, 99, Sec 3, Taiwan Boulevard, Greater Taichung (台中市臺灣大道三段99號)
On the Net: www.liveall.com/event/ilovetaiwan
Comments will be moderated. Keep comments relevant to the article. Remarks containing abusive and obscene language, personal attacks of any kind or promotion will be removed and the user banned. Final decision will be at the discretion of the Taipei Times.